Day 4. Suburbia. Stifling. Still. Safe. Suffocating. The natural habitat of the American. Everything you could seemingly want or need is catered for, usually with a few minutes drive. And yet, I couldn't ever see myself living there. Too bland. Too... homogeneous.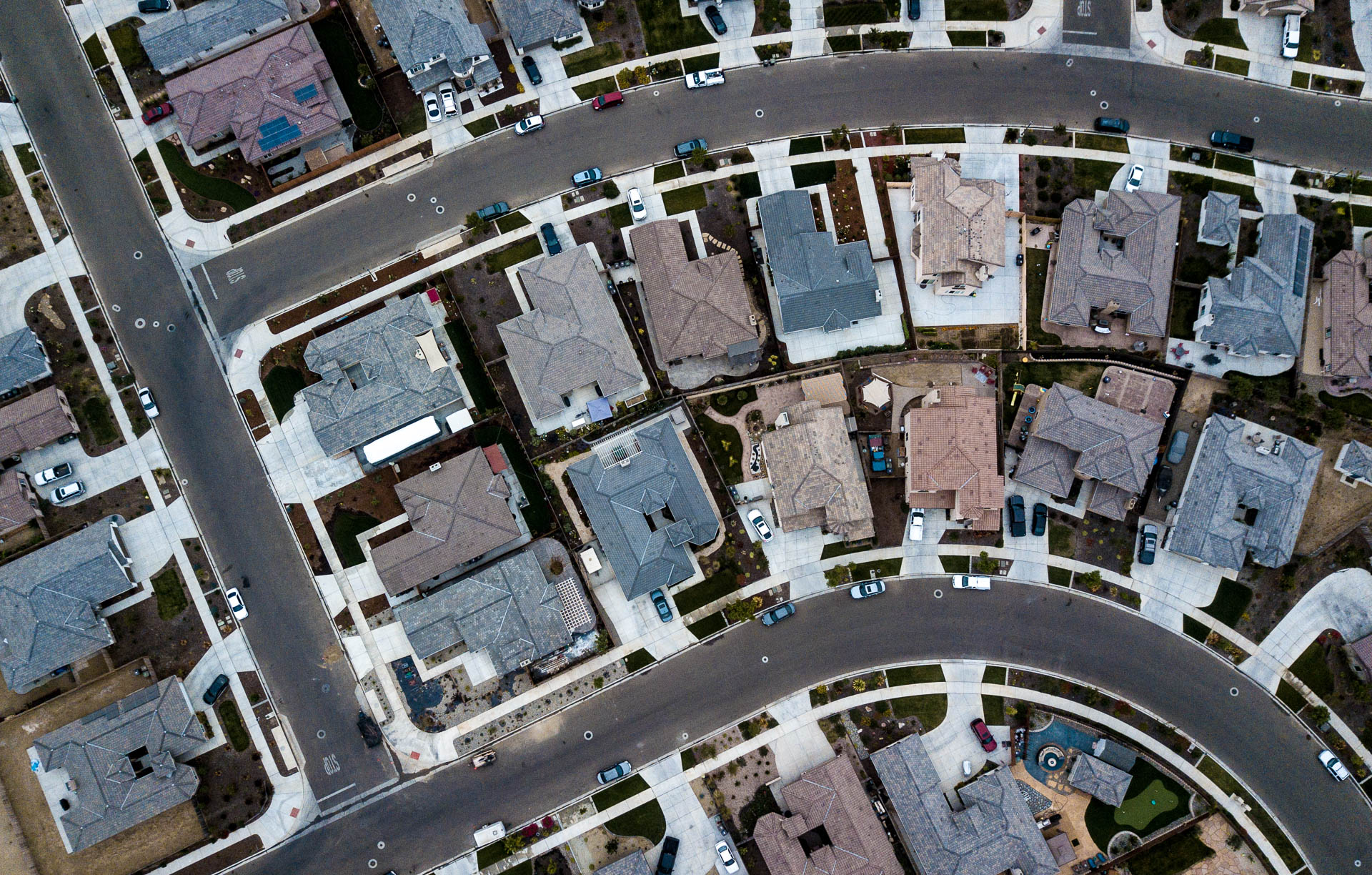 The town high school was nearby, a massively massive place. The Pioneer Valley Panther's Football field proved quite alluring for a drones eye view, would love to catch a game for real one day alas - schedules didn't quite permit this trip. 8am on a Sunday morning, the place was deserted so hovering over it seemed fine, I do like to be mindful of the regulations, though.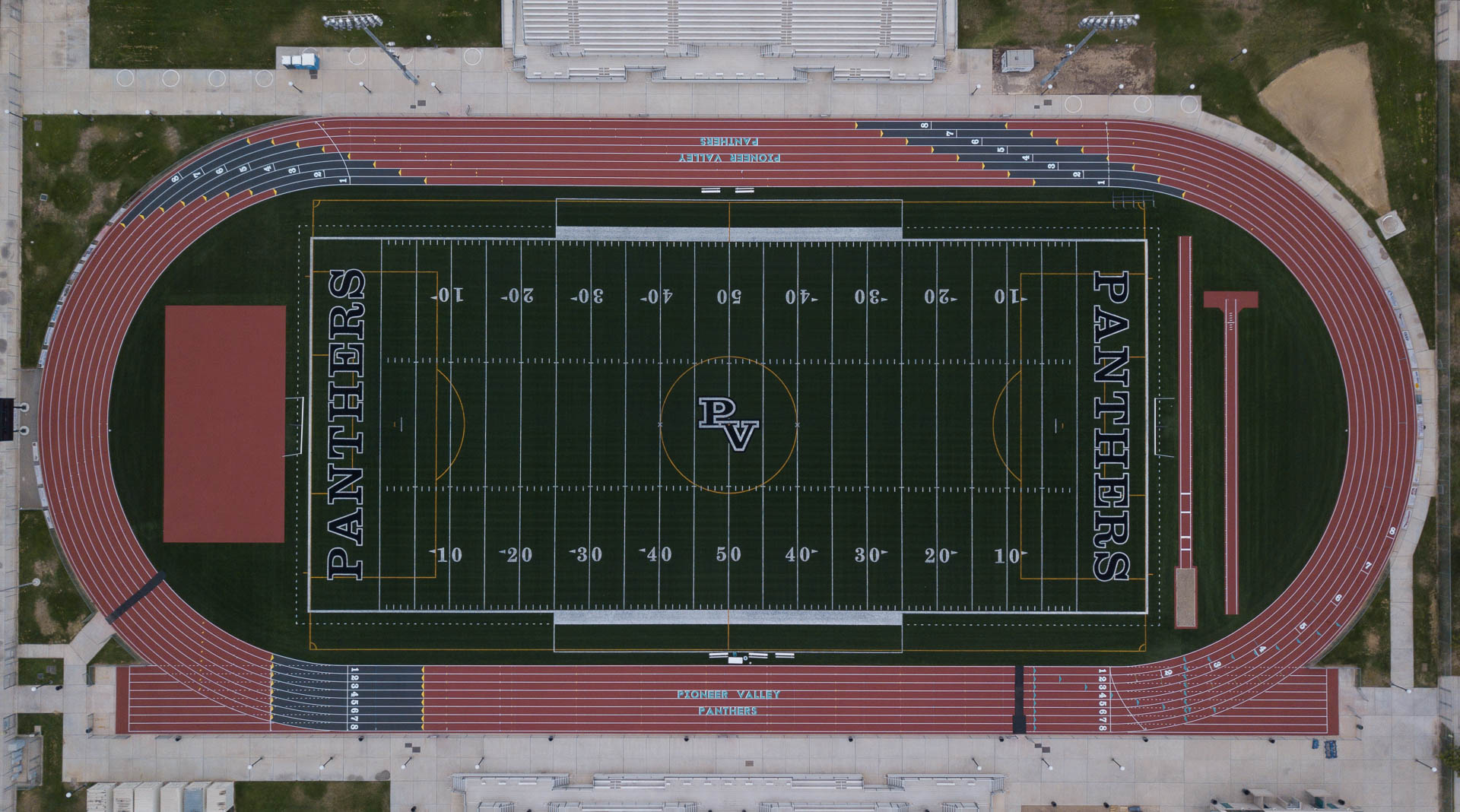 About an hour up the coast from our glutenous Denny's breakfast was a small place called Harmony (pop. 18). Blink and you'd miss it. Indeed we only pulled in to set the GPS for Big Sur. There is a pottery, a glass works and a creamery here. Made for a nice rest stop in actually!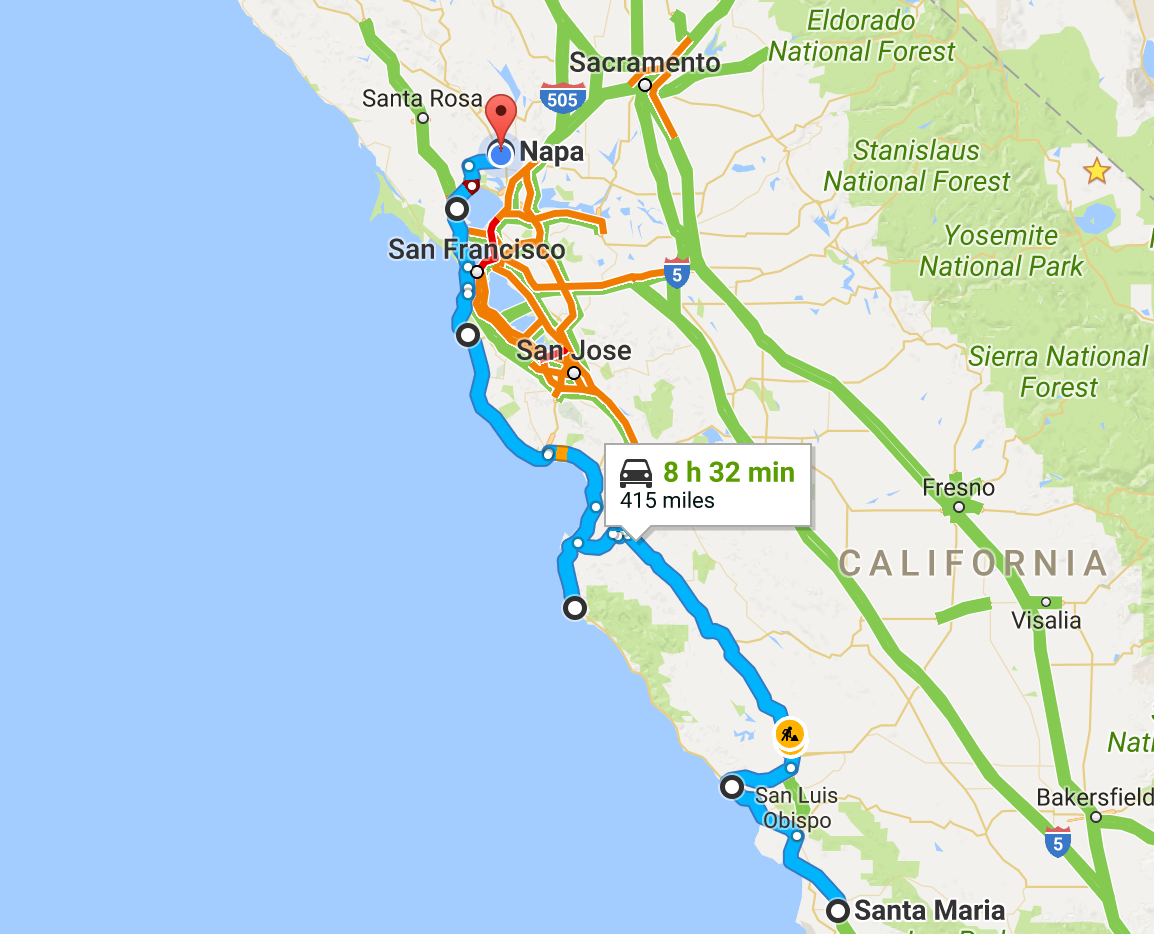 We hauled ass today. Out by 8am and we didn't arrive into Napa until nearly 10pm. We're squeezing a lot into each day, that's for sure, but we're stopping regularly and trying to look at the country around us - not just drive through it. I randomly pull off the freeway if I see a town marked, just to drive down Main St. Sometimes I even just take a 20 minute detour simply because I liked the name of the road! Freeways, highways, interstates are not really the way to see the country. You just see lots and lots of this...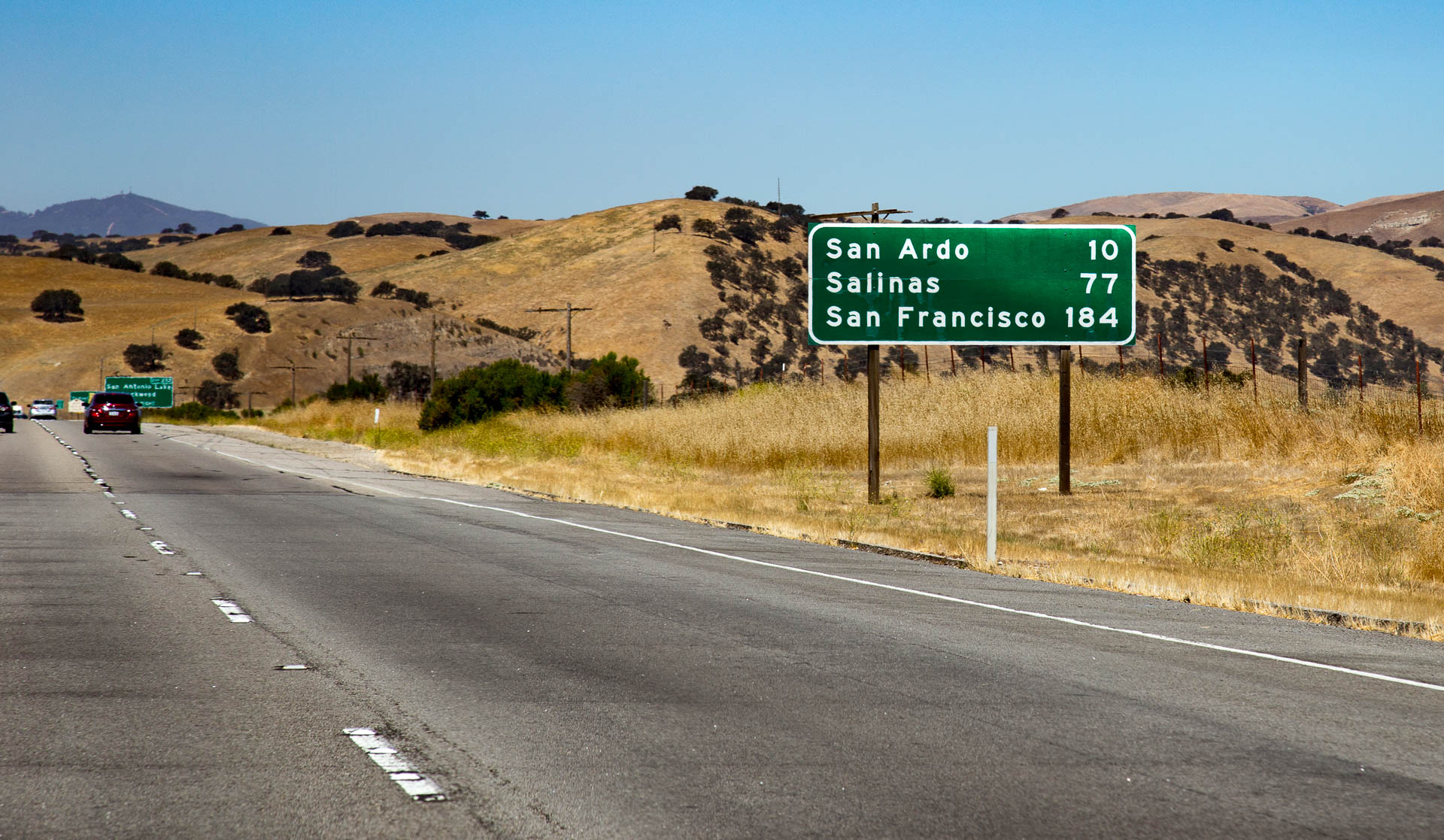 Cat took her first bite at driving today ticking off a number of firsts. Driving an SUV, tick. Driving on the wrong side of the road, tick. Driving on another continent, tick! She said to me that it was really a bit terrifying the first hour or so until we turned in land and got onto the 101 northbound freeway. Then, within 15 minutes it was boring as hell! I must admit to being more than a little bored on the inland freeway instead of the coastal highway I'd envisaged but I was provided with entertainment in the form of an epicly long (Mum told me about these!) freight train.

Just look at the size of that thing! Crazy!! A few miles later was a field of pumpjacks. Really interesting to look at actually and I was glad of being in the right seat for a change! We passed a sign that I was too slow to photograph hailing "Freedom - Next right"!
All day, I'd been fighting the negativity surrounding the road closure as so much of intinerary was based off fitting in this drive to the trip. As fortune would have it though, we ended up driving right past Laguna Seca Raceway - something we'd have otherwise completely missed!
I cannot tell you the countless hours over the years I've spent driving around this circuit in video games. What an absolute highlight this was. I drove in the main entrance, fully expecting to be stopped at any moment but wasn't. We kept going, up the drive. Past another ticket hut, noone there. A minute later, there we were. Overlooking the whole track (without spending a single cent). Stupendous!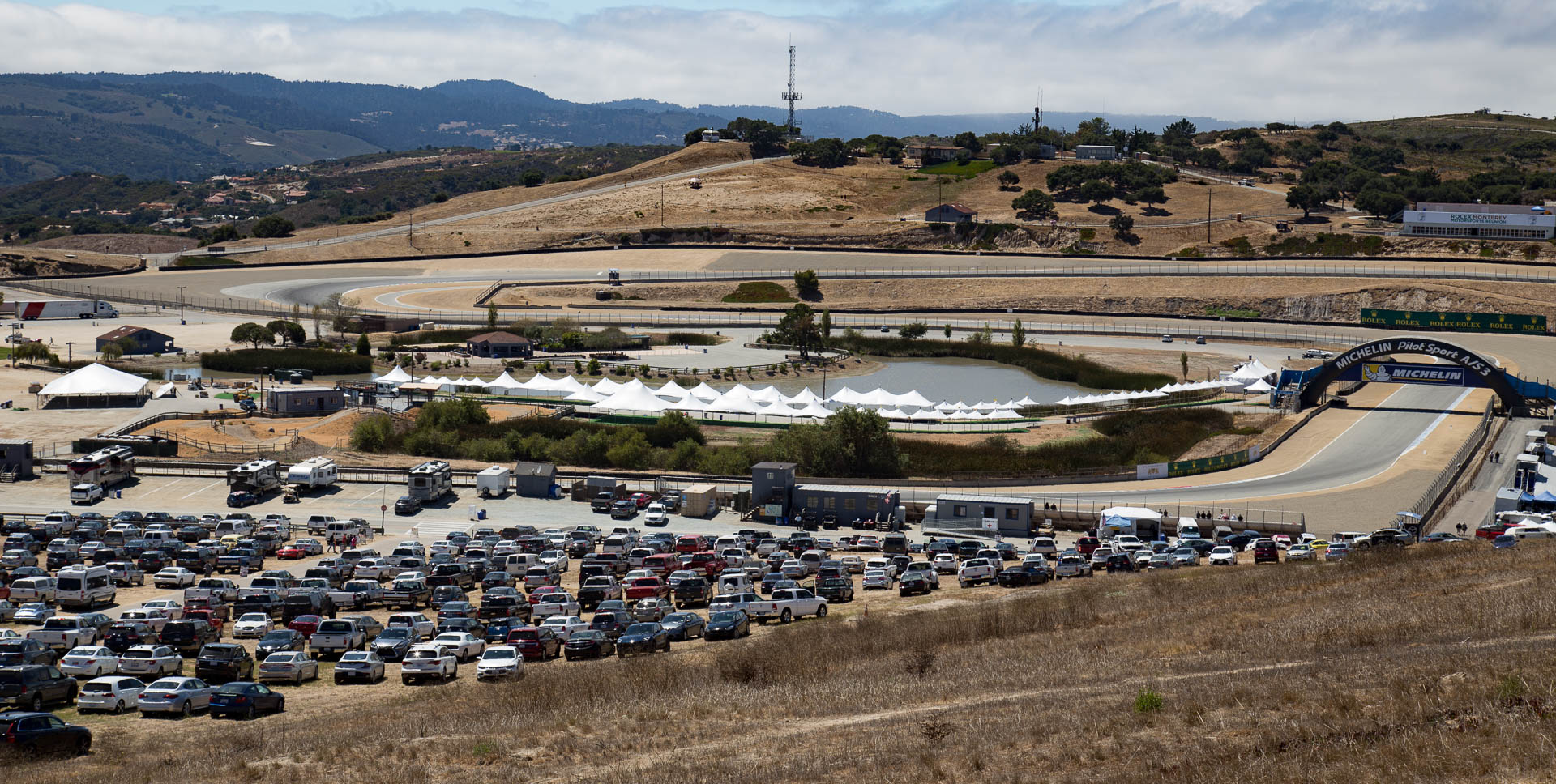 As if by some masterstroke of planning, which of course it wasn't, there was a race on! Historic sports cars - great!!! Time to break out the 150-600mm sports lens which I was so glad in that moment I'd packed. We headed, obviously, for world famous "Corkscrew" corner.
Nothing prepares you for how steep it is.
Absolutely astonishingly steep in person, like a corner on Hard Knott or something but as part of a race track! Nothing prepares you for how steep it is. I was absolute giddy with excitement. I love photographing cars and getting the exposures mixed with motion blur just right - it's one of my favourite photography techniques.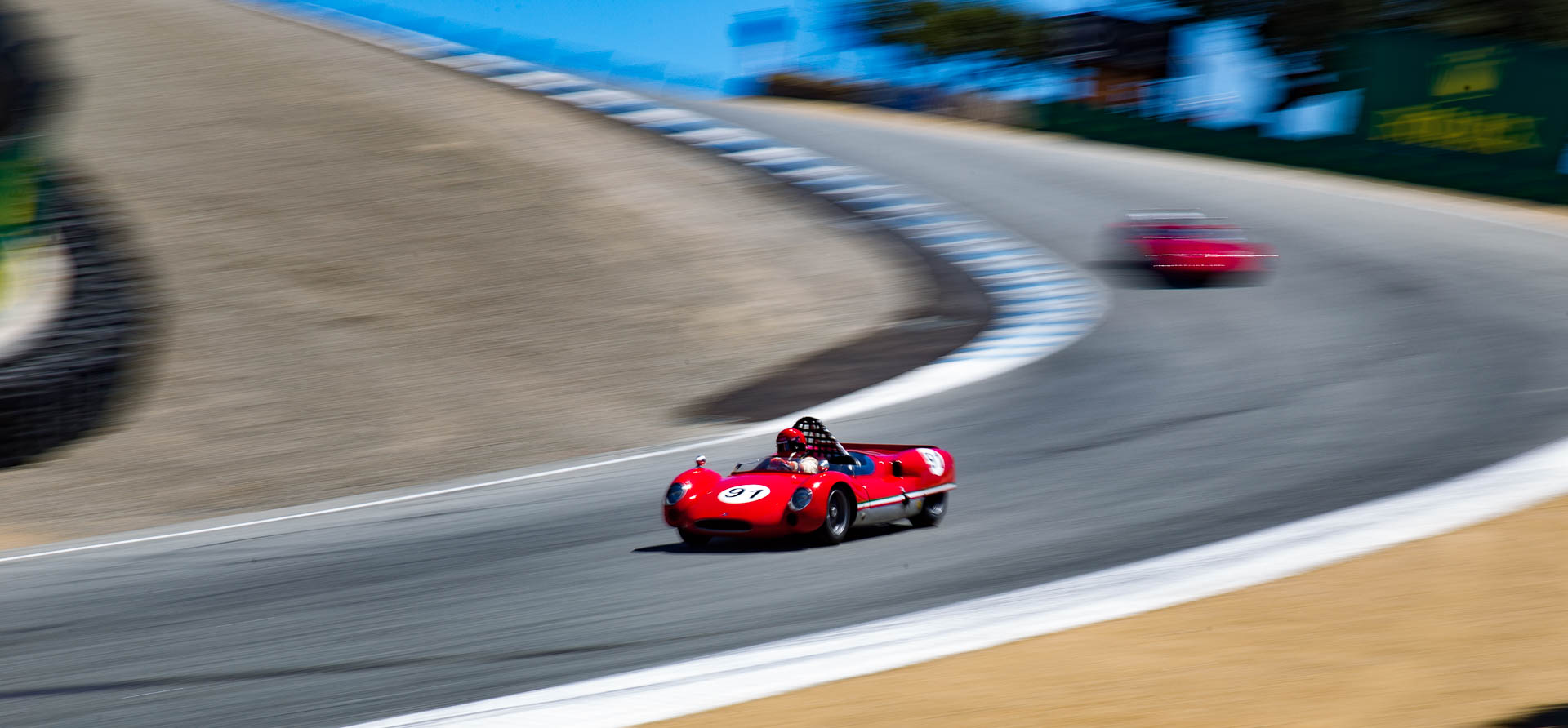 All the practice from days at Snetterton and Brand's Hatch really paid off as within a few minutes I had the image above. Quite tricky to do as it wasn't your standard panning shot - which I can do in a jiffy these days. There was such a lot of vertical and lateral movement to capture - that's what made this one special. A few laps later I caught the same car in a standard panning shot but it didn't tell the same story as the backdrop of the corkscrew was not visible. A good image I think, but not the image.
Turn up the volume. The noise of these classics is fabulous!
We loitered for around an hour and by the time we left it was approaching 3pm. That was an hour I hadn't planned on loosing plus the hours detour round the closed road! We were going to be pushing it quite late to get to Napa. I set the GPS for Bixby bridge south along the Pacific Coast Highway. Wow. What a stunning road.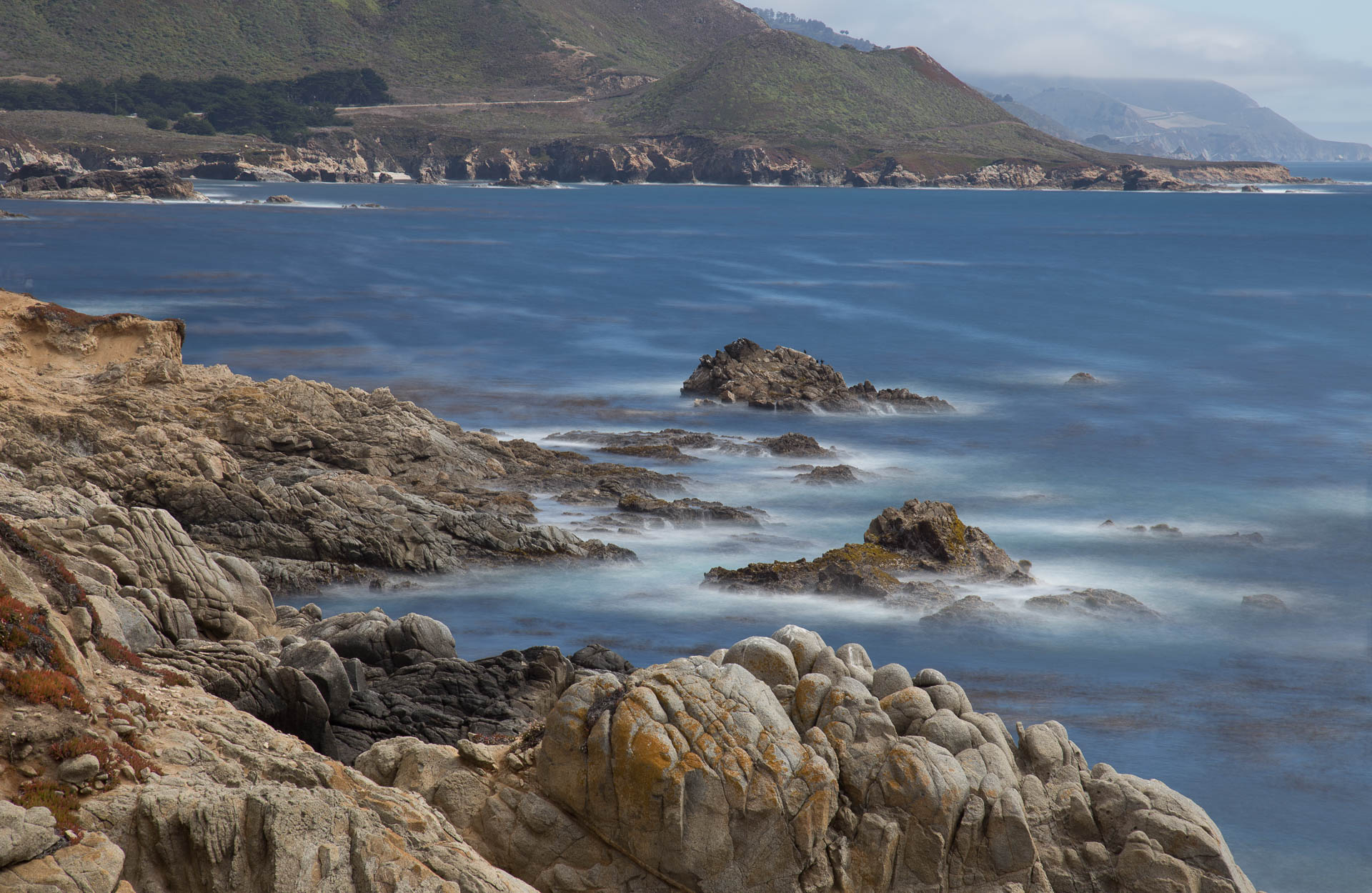 I experimented with the compositing of multiple exposures again (I think I need a few more slightly longer shutter speeds) for the above image. It was really worth the detour to come see this stretch. The drone made hard work of the sea breeze but it survived!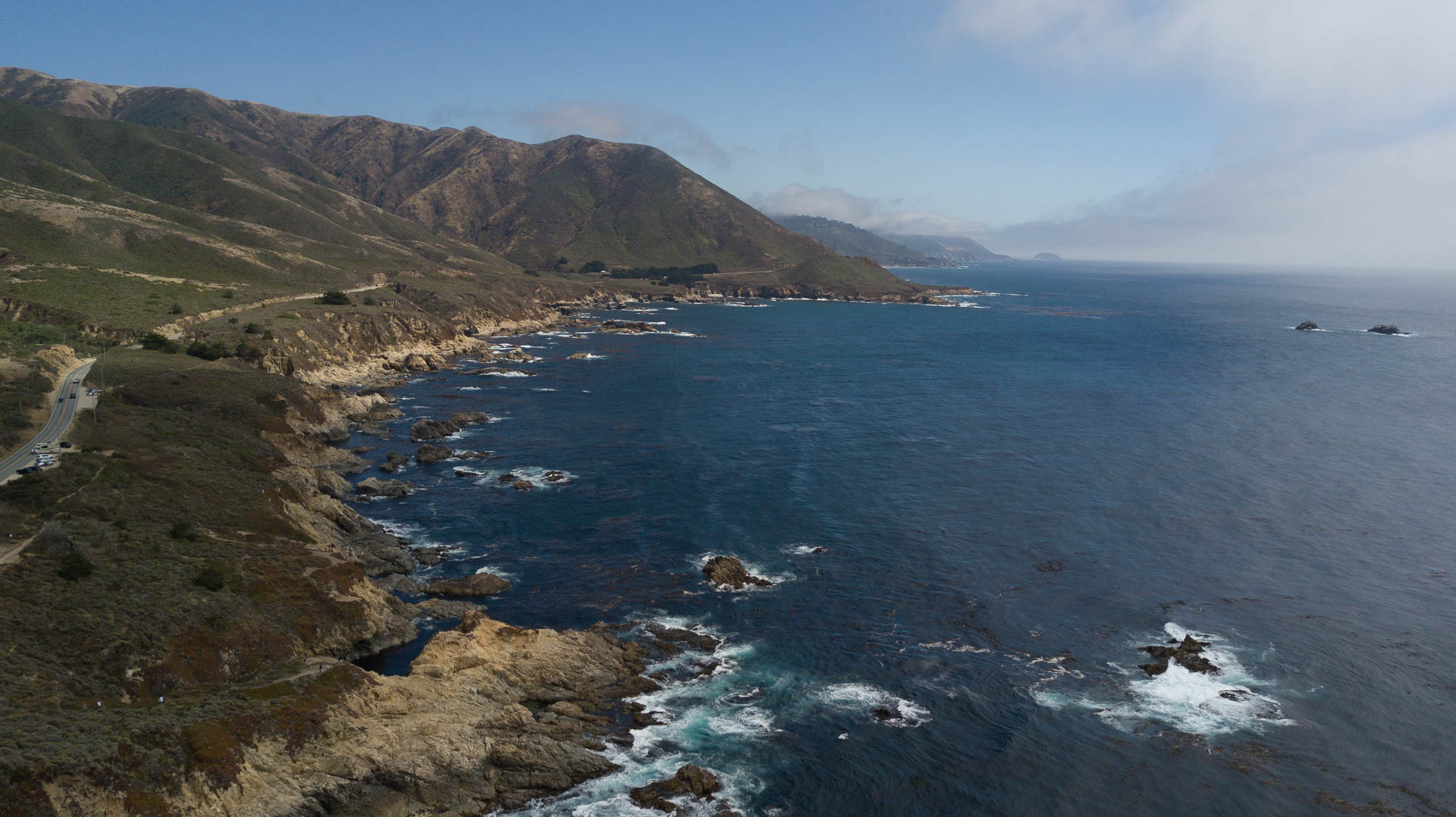 Again, the drone got views noone else could dream of. This is absolutely why I brought it. You can see the different perspective a drone gives you from the composite image to this. It's the same view but on this occasion I think I prefer the human level images. However, I turned the lens downwards and the colour of the water was gorgeous.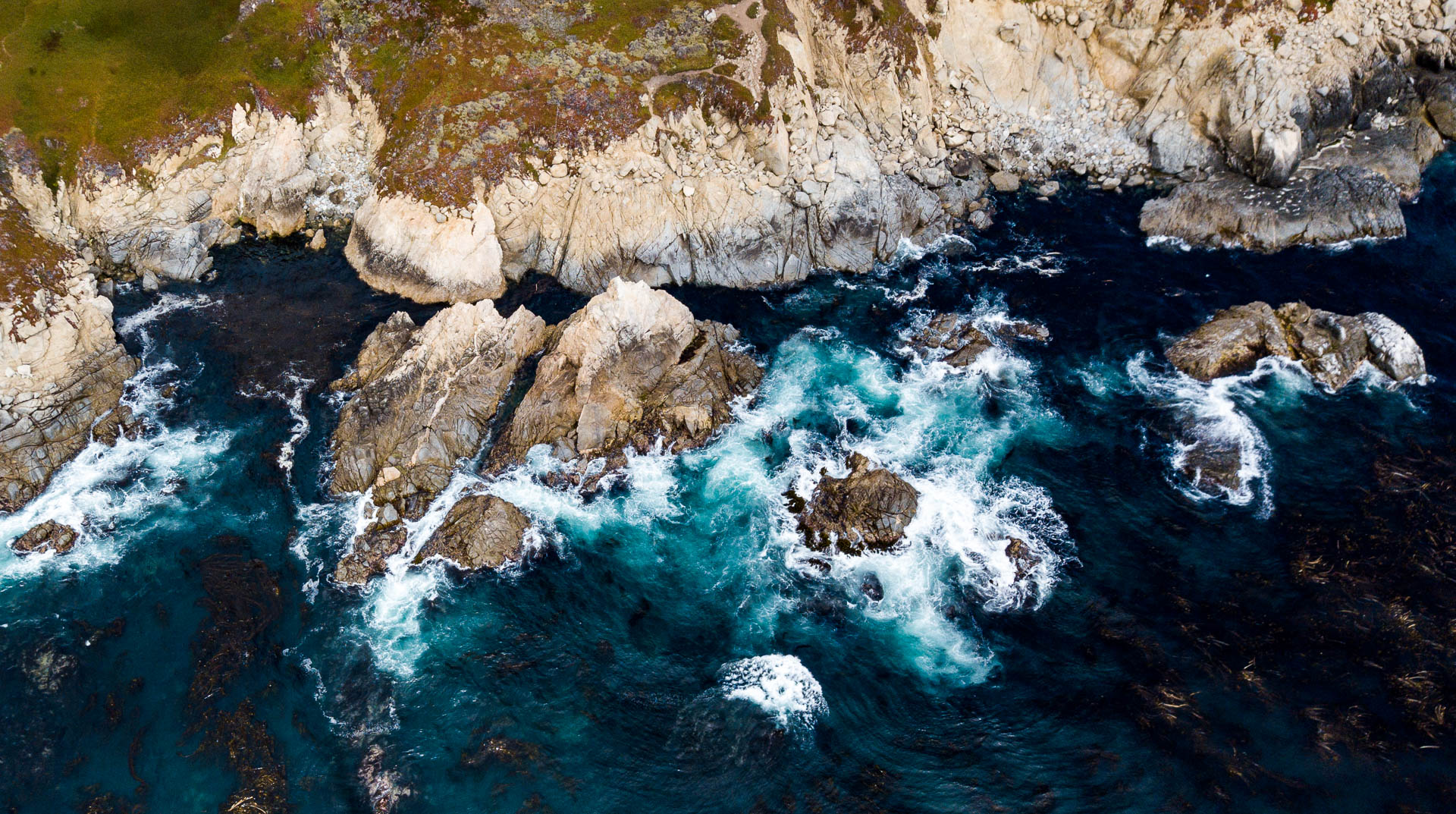 Now that, is a drone's eye view!

The viewpoint at Bixby bridge was pretty cool. Busy, too. Especially considering that the road was closed just a few miles further up. Go on then, just time for a selfie.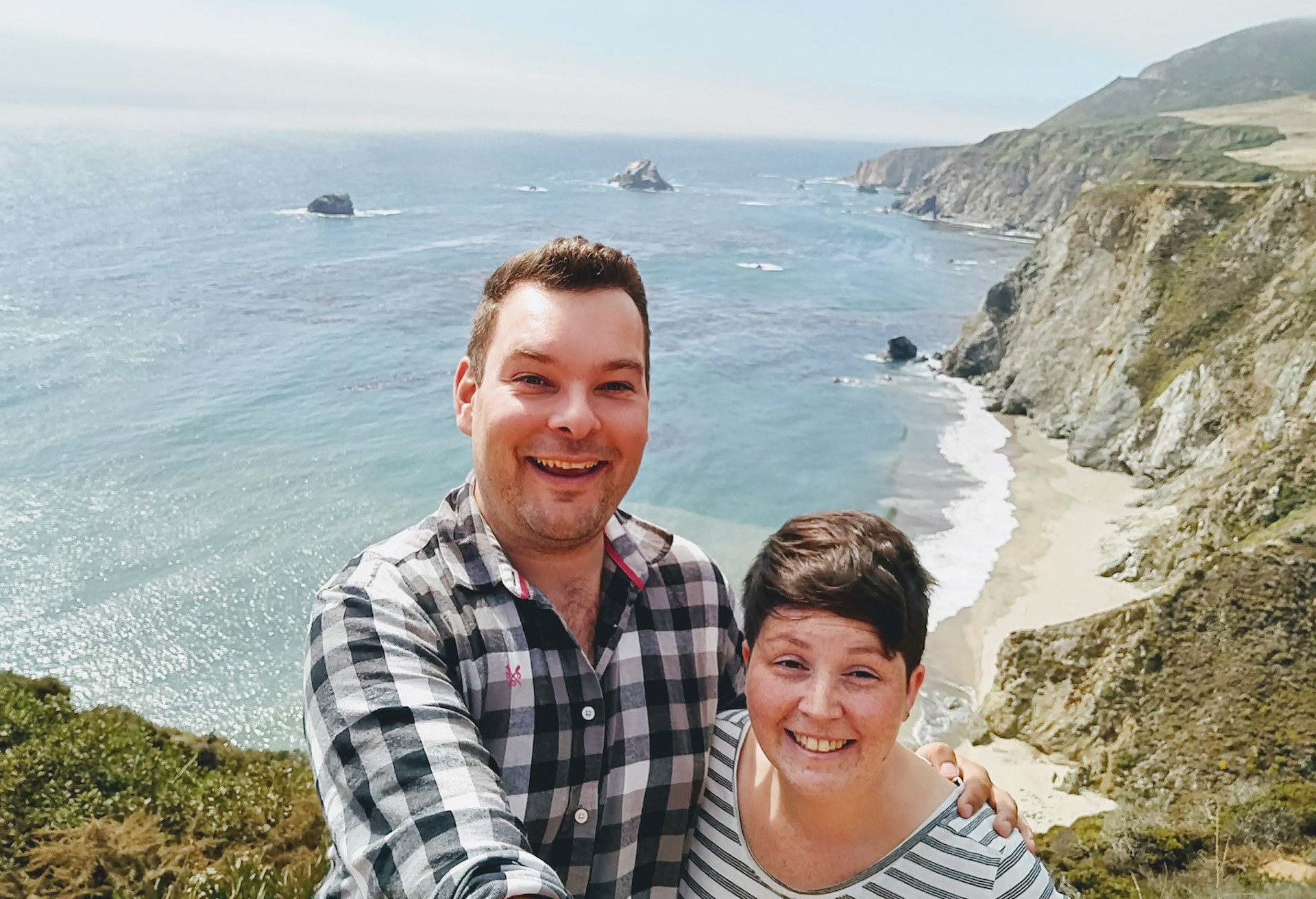 We turned around and headed North again, hugging the coast road all the way up. About an hour short of the Golden Gate we stopped to stretch our backs and did a spot of beach yoga. It was then that the mist descended.

The mist precluded us a view of Half Moon Bay and the entire reason we'd chosen the hour longer route up the coast... the Golden Gate bridge. You have to laugh, I suppose!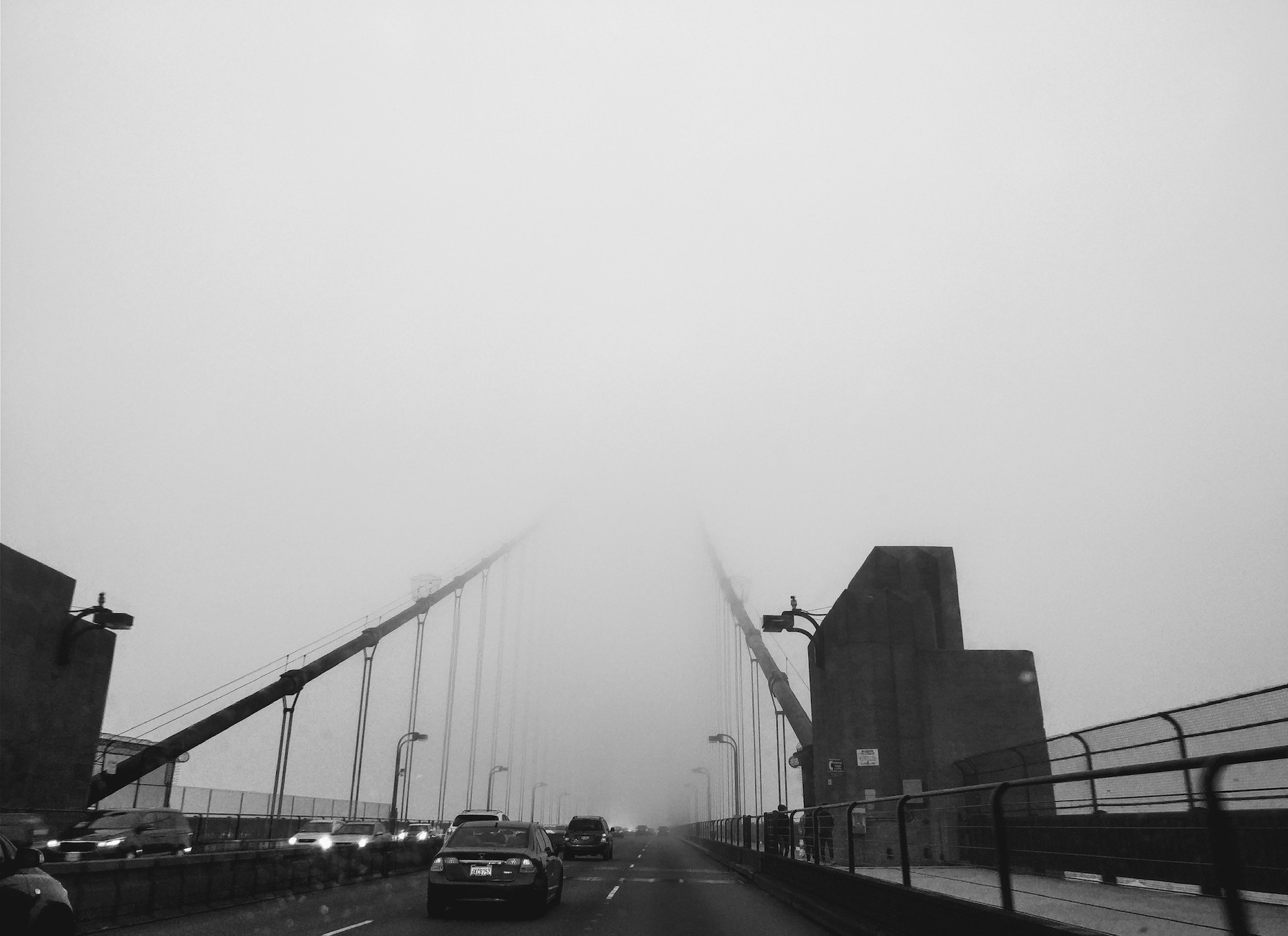 Majestic. Prolific. Stunning. These are all words one might use to describe this bridge. Me? I couldn't see (literally!) what all the fuss is about.
Half an hour down the road the mist was beginning to clear so I put the drone up to the maximum 400ft allowed here and got some absolutely stunning images.

We arrived in Napa pushing 10pm. Our hotel, not Airbnb this time, was a drive in motel sort of place. Very nice, comfy and the lady on the front desk gave us some of the nicest service I've had anywhere in the world.
Tomorrow, we shall drink some wine and eat some food then head back to San Fran in the evening. What a day that was! Tremendous!