Day 15. Cliché title? Glitz and glam papering over the slighty grotty cracks in the desert? That can only mean one thing, Vegas baby!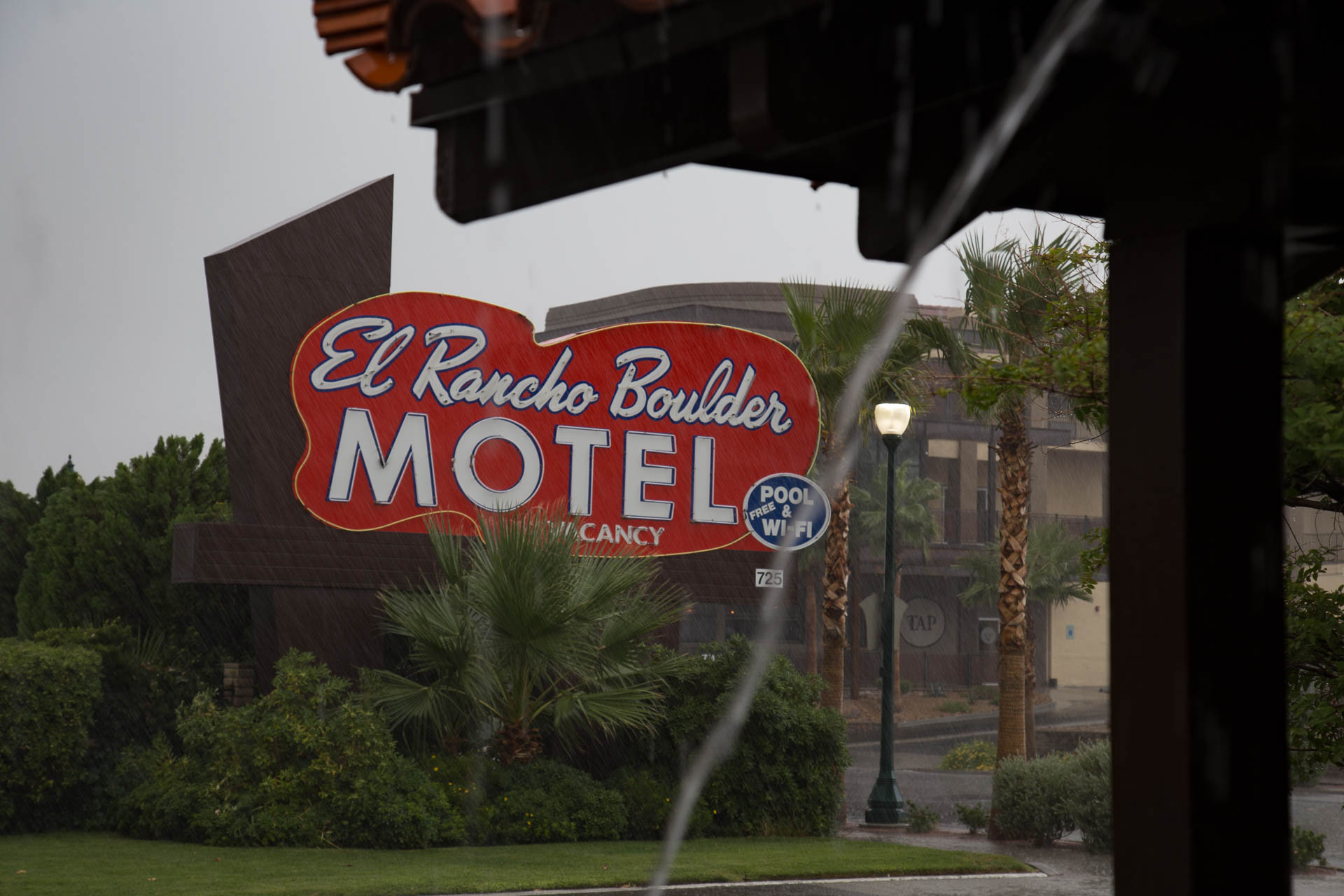 As I write today's entry we are flying northwards to Vancouver to spend a few days with my Uncle David and Auntie Anne. Our route took us over directly over Death Valley. I was able to spot the valley from above by recognising the road structures, a favourite game of mine from the air! In the distance the view is framed by the High Sierras - oh and there's Lake Tahoe. (Edit an hour later, now we're flying right over Mt. St Helens).
Vegas was totally nuts. As bonkers as I'd hoped and expected. Want an Eiffel Tower in the desert? Sure. A rollercoaster? Sure! Why not even a dancing water fountain in the desert. Humanity just showing off if you ask me.
The audiobook we listened to on our road trip, one second after about the EMP pulse wiping out North America as we know it. It really makes you stop and think about what would happen if this actually happened. A city in the desert that is naturally inhospitable to humans. Houses and buildings that without a/c wouldn't be habitable and obviously without the abundant water source nearby of Lake Mead neither would the valley itself. There would surely be massive population as the city itself has no natural way to sustain life.
The desert southwest is just that. Desert. I find it hard to know where we should draw the line. Our visit to the Hoover Dam this morning only served to further that narrative with me. We as a species have massively altered the flow of the Colorado River and made hundreds of square miles of previously unusable earth reliably irrigated and capable of sustaining vast cities like Las Vegas and Los Angeles. Water is set to be the next big battle as humanity continues its relentless growth. Anyway... enough doom and gloom!!!
Our motel last night had an outdoor pool of which we partook first thing before breakfast and the rain. Movie rain. Biblical rain! Street turning into river rain. Apparently this area gets 4 inches annual rainfall. I wouldn't be surprised if in the 2 hours that the rain storm was overhead we witness half that!! Luckily, breakfast was served in a diner a couple of doors up from the motel.
The diner homemade all the food served. It was normal breakfast foods like potato pancakes, bacon and egg sandwiches but all with a south western, spicy twist. My bacon and egg sandwich, for example came with a deliciously spiced avocado filling. I would never have put these flavours together but yum. Cat had potato pancakes with sour cream. Again, a deliciously spiced concoction. Afterwards we took the opportunity to clear out the hire car of our accumulated 2 weeks worth of water bottles and other assorted junk that just appears on this sort of trip.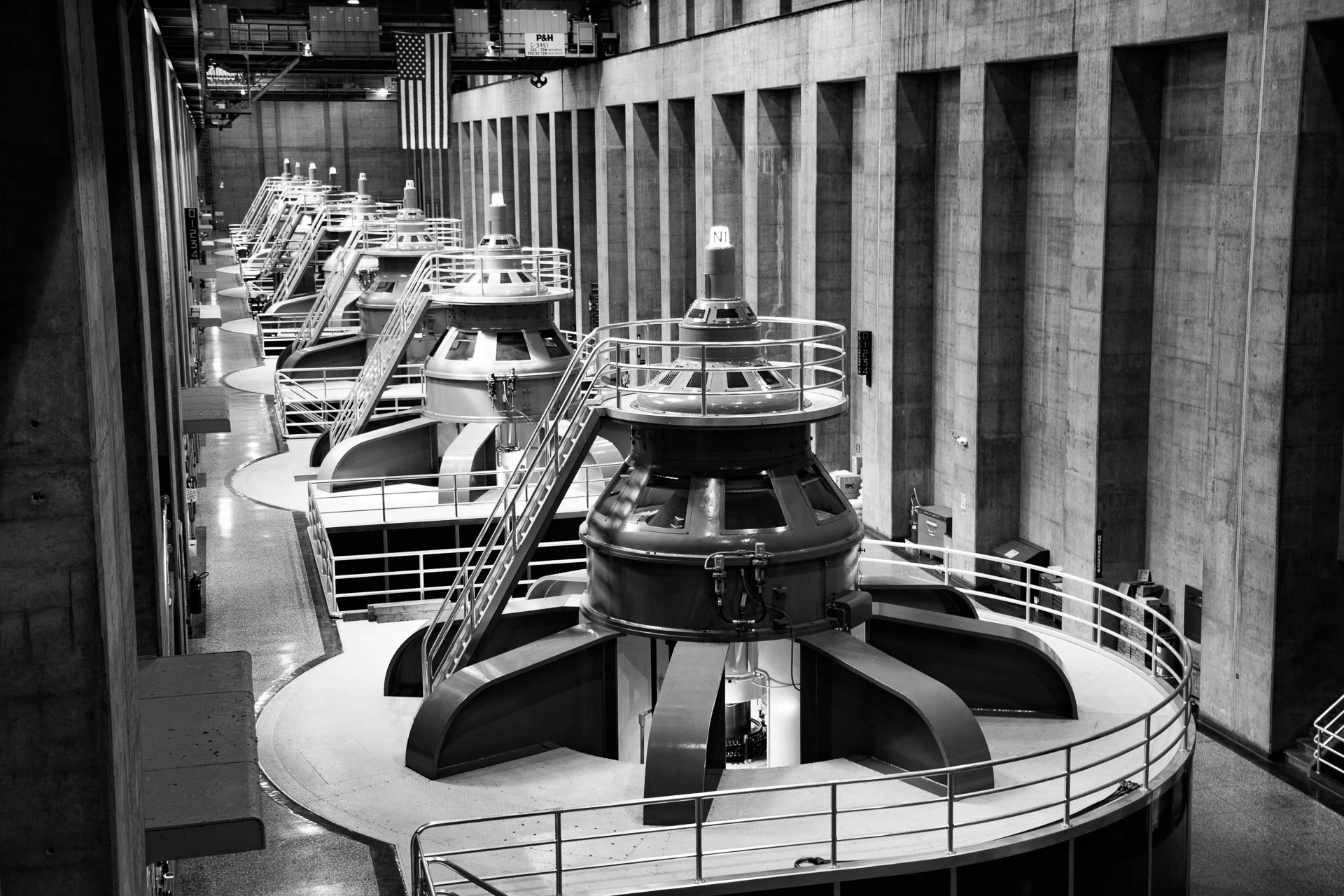 The Hoover Dam was a 10 minute drive back the way we'd come to night before and we signed up for the power plant tour. At $15 each it was reasonable value but the level of information on offer was a bit... basic. In fact, the two things of interest on the whole tour really was the massive turbine room and a hint of Soviet style propaganda in America. Keep your friends close but your enemies closer??
We visited a Russian propaganda exhibition at the Design Museum in London a few months ago and found it fascinating. Of course propaganda continues these days using more sophisticated techniques like Facebook news feed manipulation, Fox News and the more traditional Daily Wail.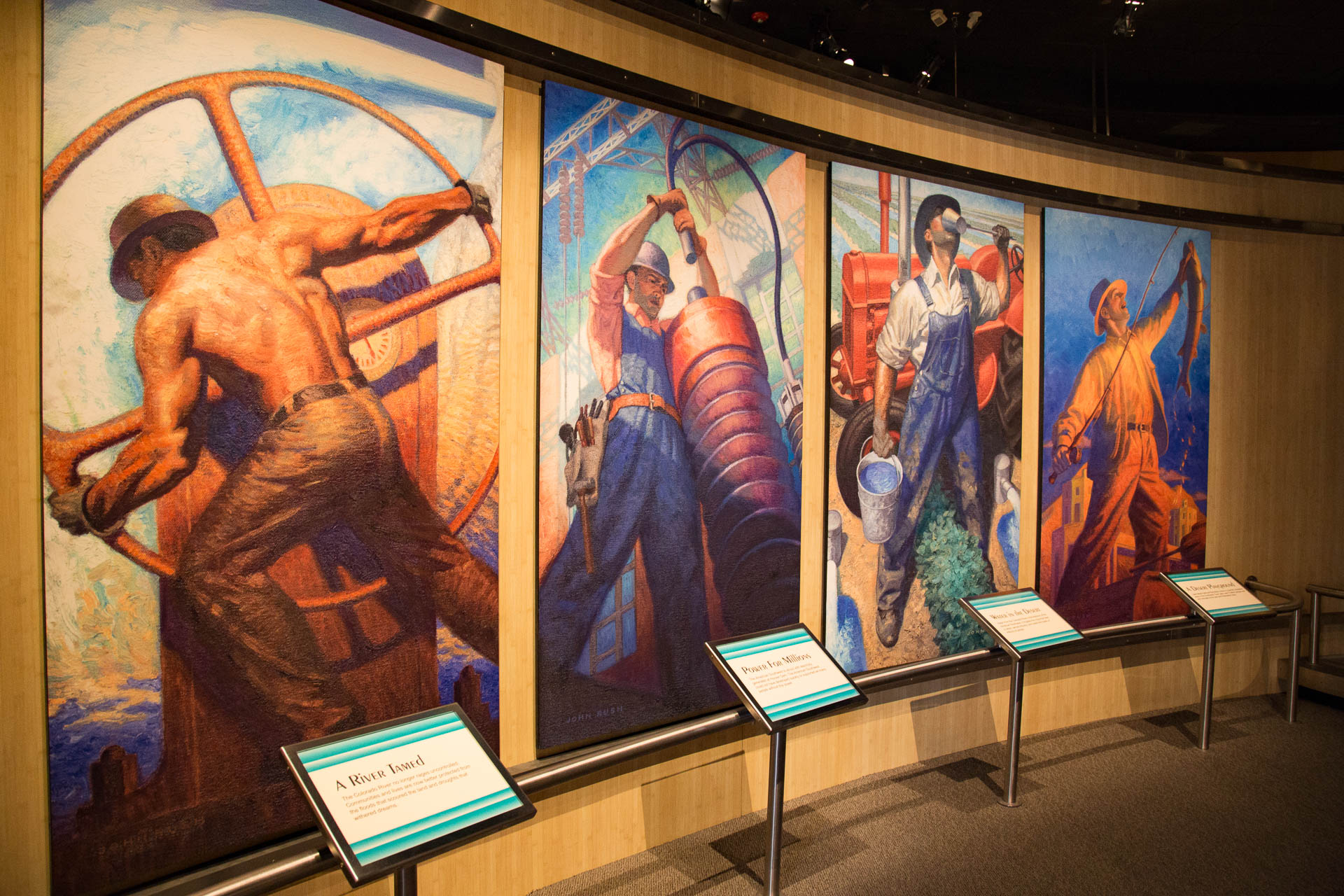 The Dam is a product of the 1930s depression and its cheap labour. The country itself was obviously not poor as the interior of the buildings are plain but lavish. Marble floors, gold elevators and that delicious 1930s Art Deco style as easily visible in the original exhibitions hall exterior. It's not too dissimilar from Piccadilly Circus station on the London Underground - the flagship station of the network in the 30s.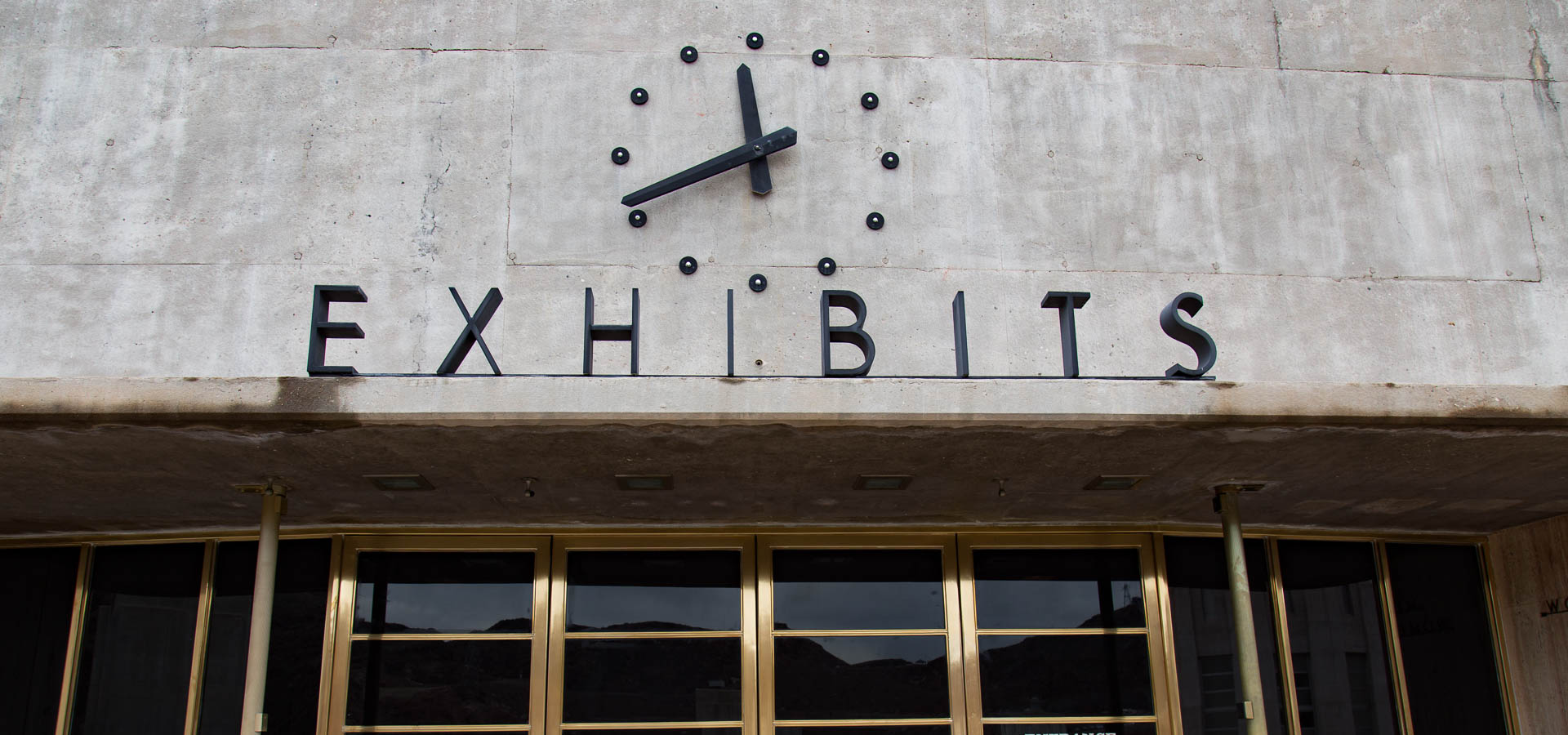 By now it was lunchtime so we set our sights for Vegas, stopping for my second ever Panda Express bowl of deliciousness on the way. There is a new museum in Vegas dedicated to the old neon signs. Tours for the day were sold out but we were allowed to wander a small section of the exhibits for an "optional" donation.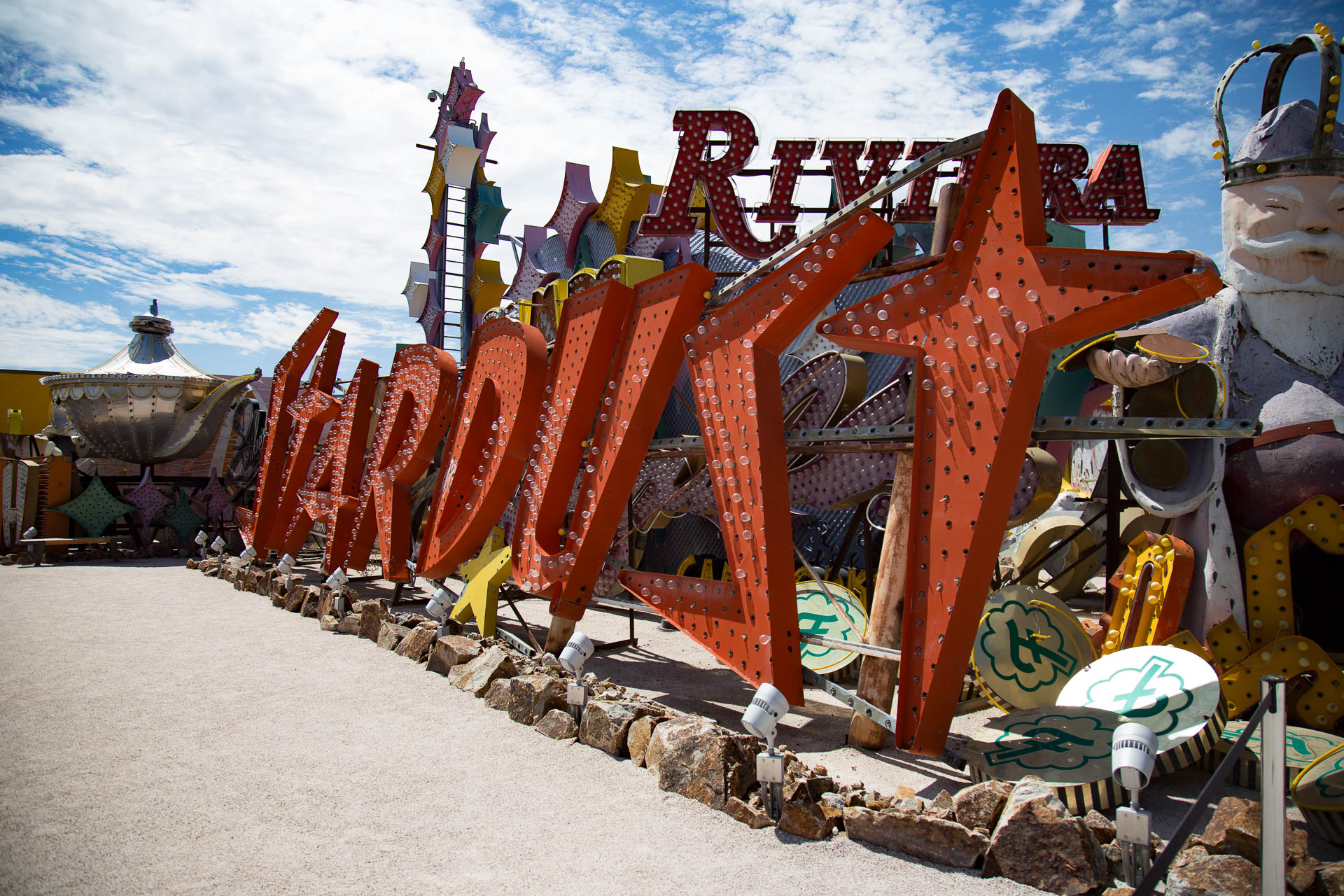 Cat imparted a piece of trivia to the guy manning the courtyard that seemed to make his day. Great Yarmouth has a "mini-Vegas" section. All the names like Sahara, Golden Nugget and more were really familiar to her. Explaining to the guide that a grotty little English seaside town is copying Vegas made his day!!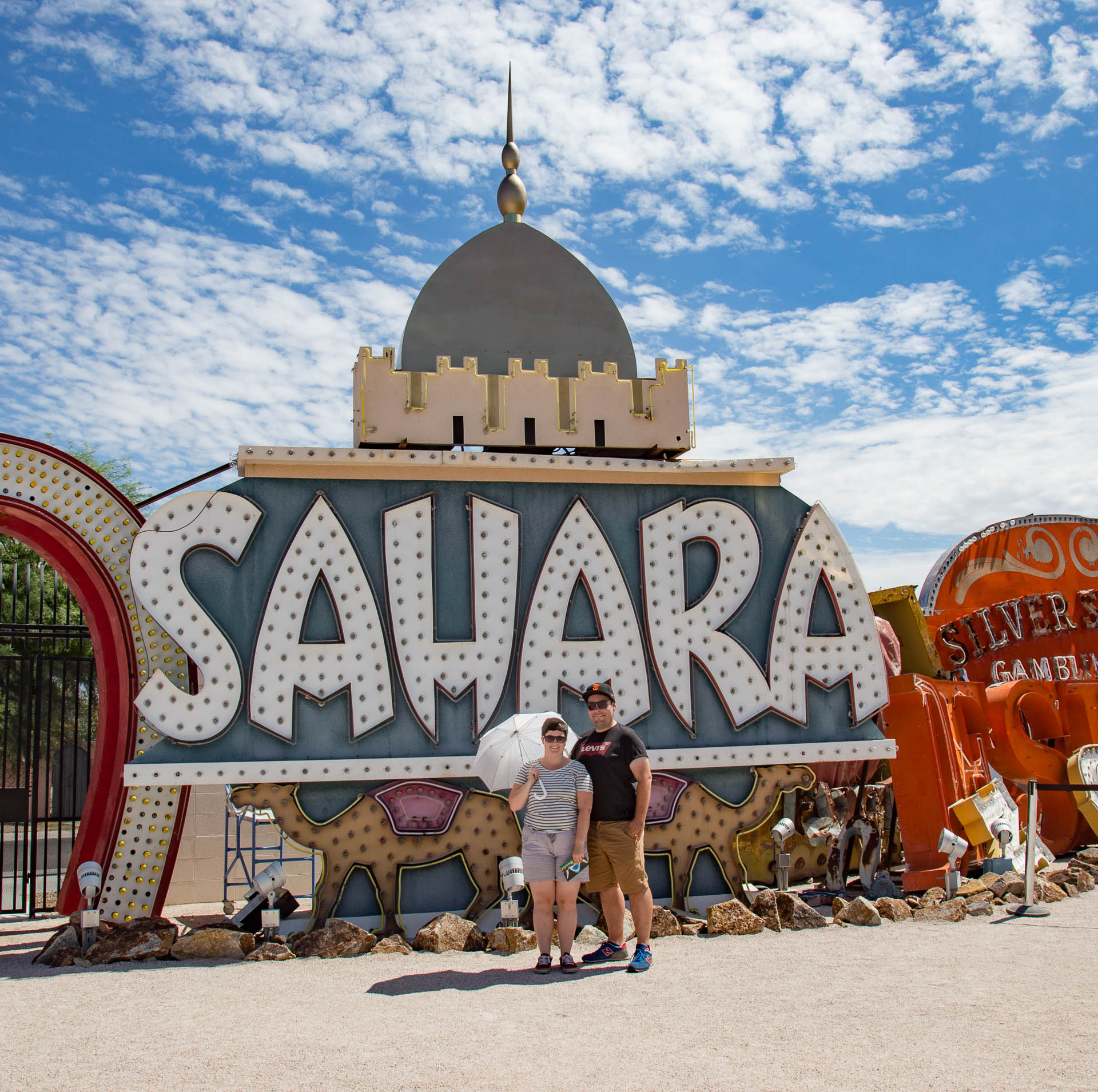 3pm was almost upon us as we drove towards our hotel for the evening, The Bellagio. To pass the time until then we drove a couple of laps up and down the strip ogling the crazy, nuttiness on offer. It really is like nothing I've seen outside of a theme park. That's what Vegas is I suppose, a theme park for adults.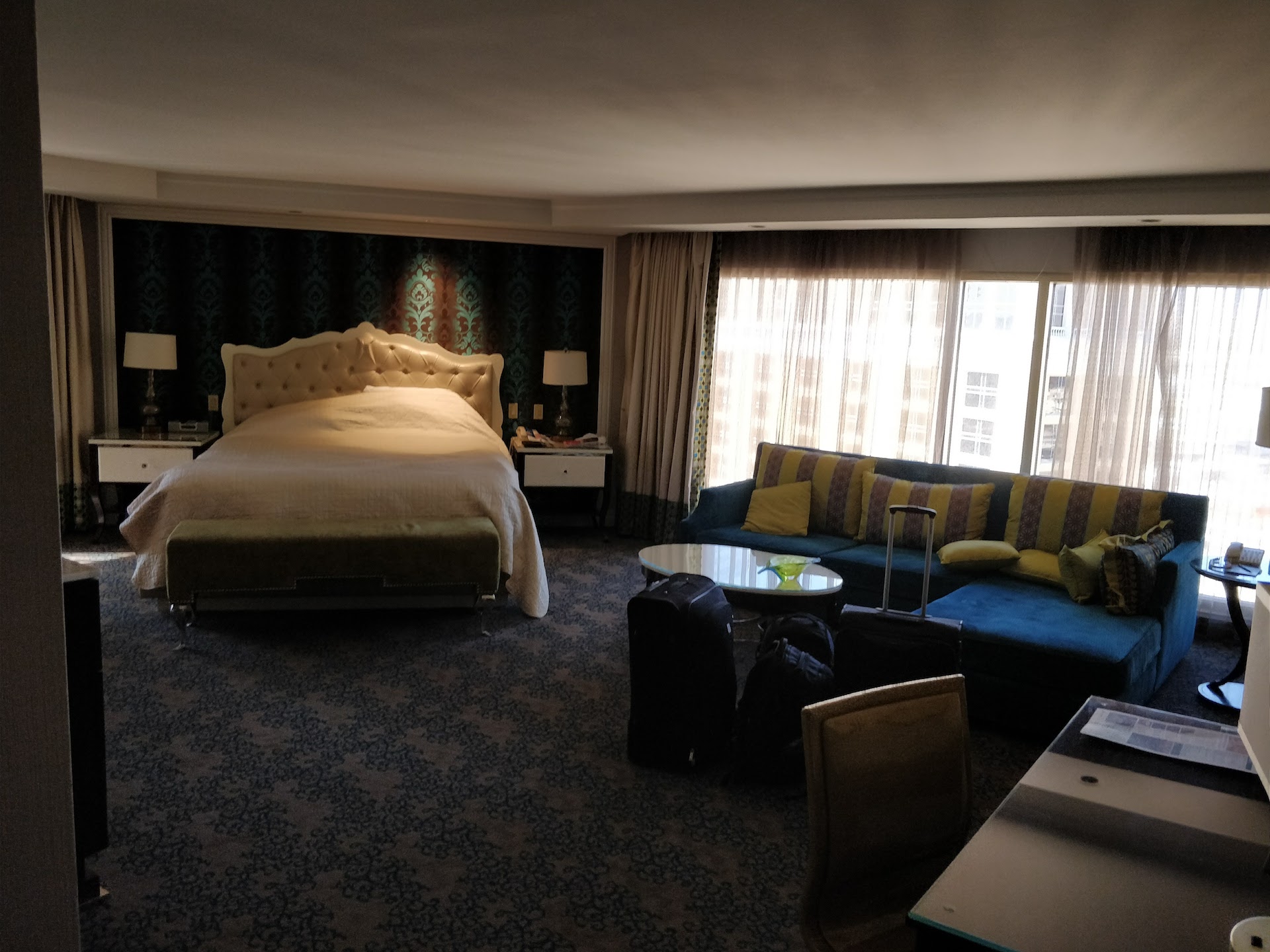 We'd left it quite late to find accommodation for our evening in Vegas and got lucky with a last minute deal finding a £570 room available for under £150. Well... it'd be rude not to right?! The Bellagio is the one with the fountains and though we hadn't paid the extra supplement for a fountain view room we were given a corner suite on the 26th floor overlooking the Interstate at the back but also half of the fountain lake. Cool! The epically proportioned bathroom contained a whirlpool tub which overlooked the fountains too.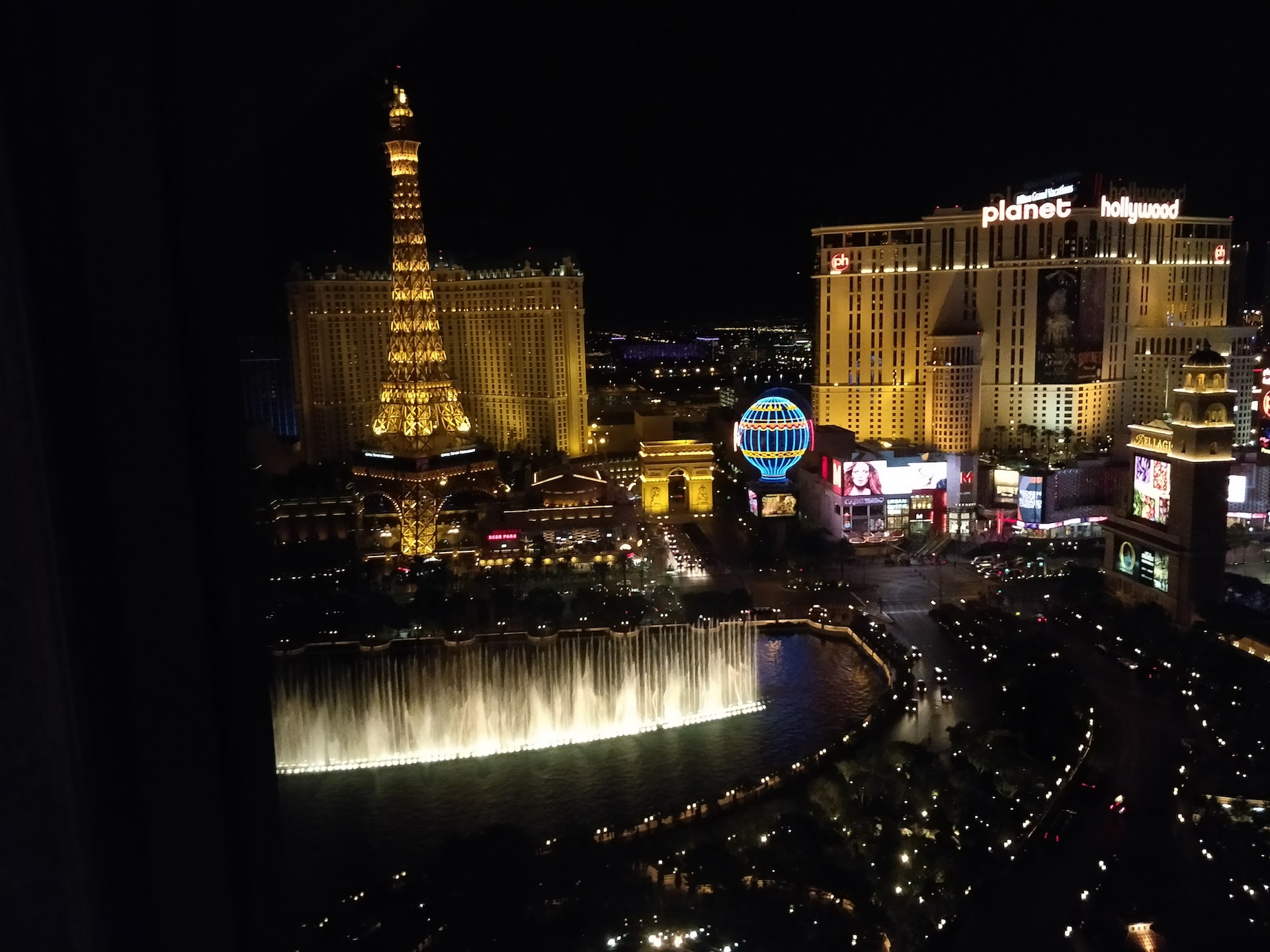 I've always wanted to play Poker at Vegas since learning how to play the game after watching Lock, Stock and Two Smoking Barrels as a teenager. Feeling pretty intimidated and not really knowing where to start I did some research starting with my trusty tour guide, Reddit. All the casinos use software to manage their Poker rooms which feed information into an app called "Bravo Poker". Using this I was able to see which casinos had which games live and the waiting lists to play. I also began to get a feel for the different casinos' price brackets by looking at the games available.
Eventually I settled on the Flamingo a cheap, slightly grotty casino opposite Caesar's Palace. They had a game of 4-2 limit Texas Hold 'em going. I registered on the waiting list as whilst I waited for a slot at the tables went off with Cat to look at the slot machines. We took all our accumulated shrapnel to the cashier and exchanged it for $3. We walked around for a bit, a little bewildered eventually finding a game that was 1c a play. Cat sat down, fed in her $3 and began button mashing - I wish I could say it was skill at this point but sheer dumb luck led her to win, in just under a minute, $26.80. The woman on the slot machine next to us was giving us daggers!! The button mashing switched to mashing cash out, cash out. Heading back to the cashier we were both a little stunned!! For her $3, Cat was furnished all evening with drinks and a little spare to play a few more guilt free slots.
My turn was up on the Poker table and I used up the rest of our cash cashing in $86 worth of chips. We both set ourselves a hard limit of $50 going in but after her early win Cat wanted to quit whilst ahead I think and offered me her share!
I sat down at the table. I was shaking but trying to hide it a little. Posting the big blind ($2) I was dealt in and started playing. I won the first hand which gave me a little more confidence but made a few newbie mistakes along the way and was down to $25 after about an hour. Shit. I'd told myself anything below $40 and I was out. I'd just posted the big blind though so it wouldn't cost me anything to sit in on the next few hands till the blinds came round again. The hand before the blinds came back around I won $37 and since I was now back above my threshold carried on for another 90 minutes. In all I played for nearly 3 hours and came out with $60 in my pocket. Whilst playing players are furnished with free drinks, alcohol included. Obviously this is all part of the plan but 3 hours and a few whiskey and cokes down I felt I'd had pretty great entertainment value from my $26.
A really great experience, one I intend to repeat. There were all sorts of characters at the table and it was actually kinda easy to spot the "fish", of which I include myself for the first hour or two. The "fish" moniker I believe comes from shooting fish in a barrel. As in, easy pickings. I can really see how people could become addicted and play "just one more hand". As long as you're strict about sticking to any financial plans and play the odds, not your emotions, it is fine I think.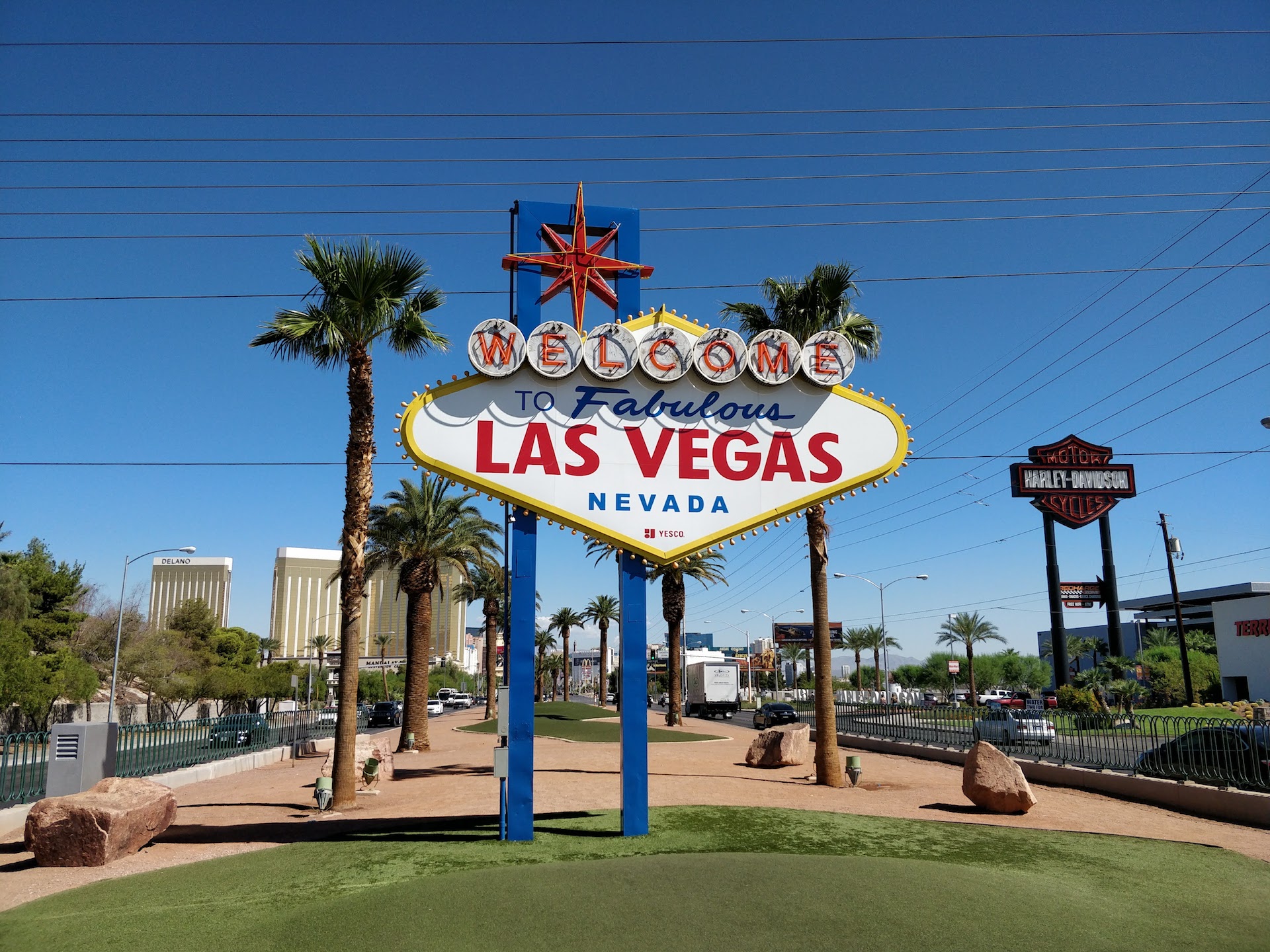 Time to bid farewell to the USA, for now. We'll be back, of that I'm certain. Now, onwards to Canadia!!!