Day 19. Our final day saw us take in the sights and sounds of beautiful downtown Vancouver before wrapping up the trip by being dropped at the airport for 6pm ahead of our return flight home to London.
Vancouver's oldest neighbourhood, Gastown, is home to the world famous steam clock. It was the first downtown core in the city in the 1860s, giving you an idea for how old Vancouver as a city is - hint: not very! Certainly not by London standards - the yard stick I measure most history timelines by. The port, railway station and main areas of the city are all very close together and there isn't much 'history' on show. It's a modern city built on industrial heritage - just look at the (many) bridges to read the history of this town. They range from ultra-modern cable stay to older, solid Iron girder bridges with many, many rivets.
Crawling with tourists it was hard to get a decent shot of the clock. The bottom of the column is uncomfortably warm to the touch, a clue to the inner workings. When not chiming the only real clue it's steam powered is a small column of steam from the top and a tiny piston inside driving a chain.
Beautifully constructed this clock was a marvel to behold. It isn't as old as you might expect though. Built in 1977 to cover a steam grate from Vancouver's distributed heating system and prevent (as Wikipedia puts it) 'street people' sleeping there. Another piece of clock trivia is that it features on the cover of Nickelback's album Here and Now.
After a pleasant walk along the front by Canada Place (complete with the clock there chiming 'Oh Canada!' just before the steam clock) watching the sea planes come and go, we headed to Granville Island across town. Apparently you can buy bumper stickers stating 'I found a space on Granville Island!', it took us less than 1 lap so it's not as bad as all that - or maybe we just got lucky!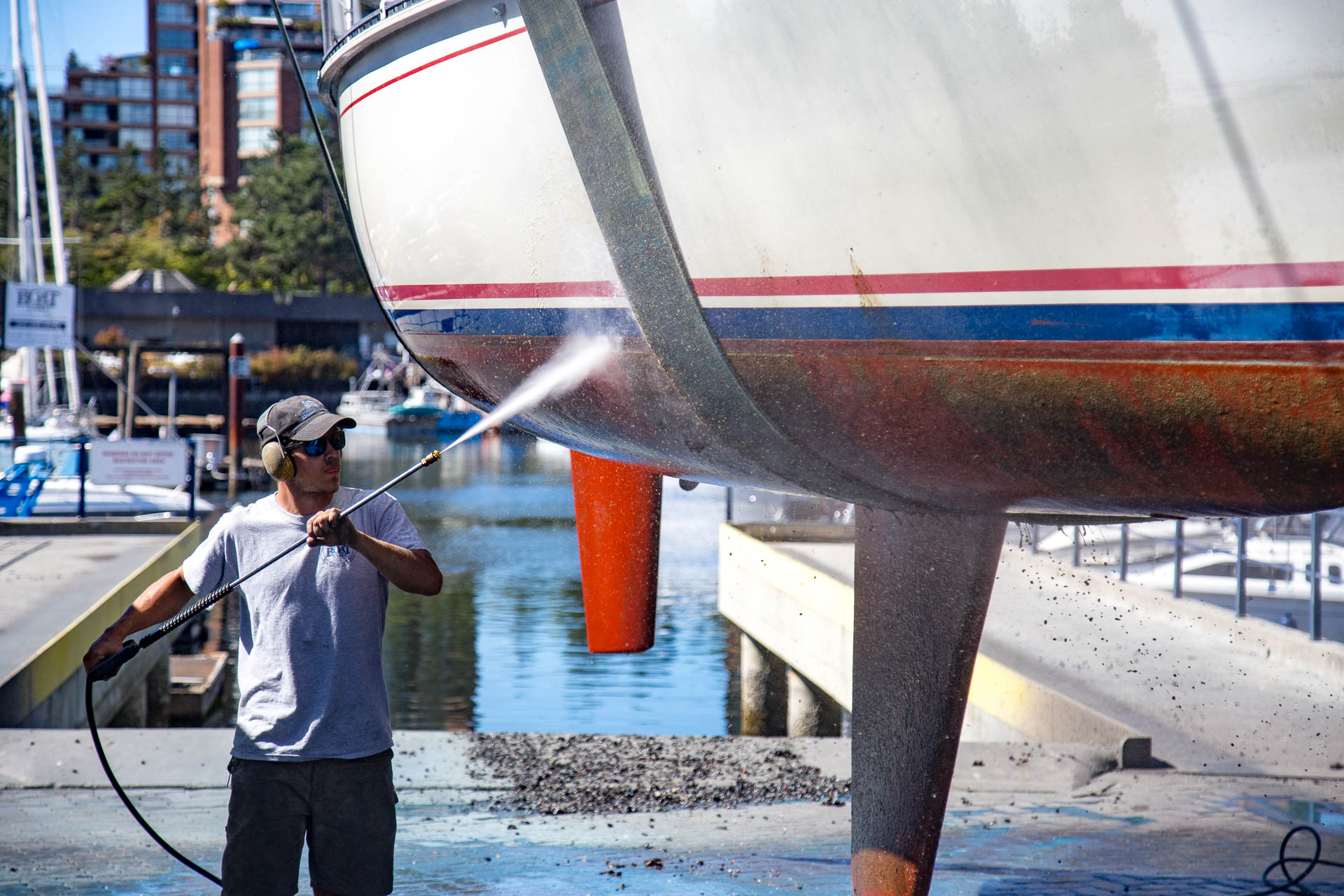 A charming little area of the city with food markets, shops and bustling marina. We came across a chap jetwashing the underside of a yacht hull wiping it clean of muscles and barnacles. A few minutes later when passing back the other way some cheeky crows had appeared. Fresh pickings! This little guy has the innards of a muscle in his tongue - clearly visible in the picture. There were around a dozen or so Crow's fighting for the scraps!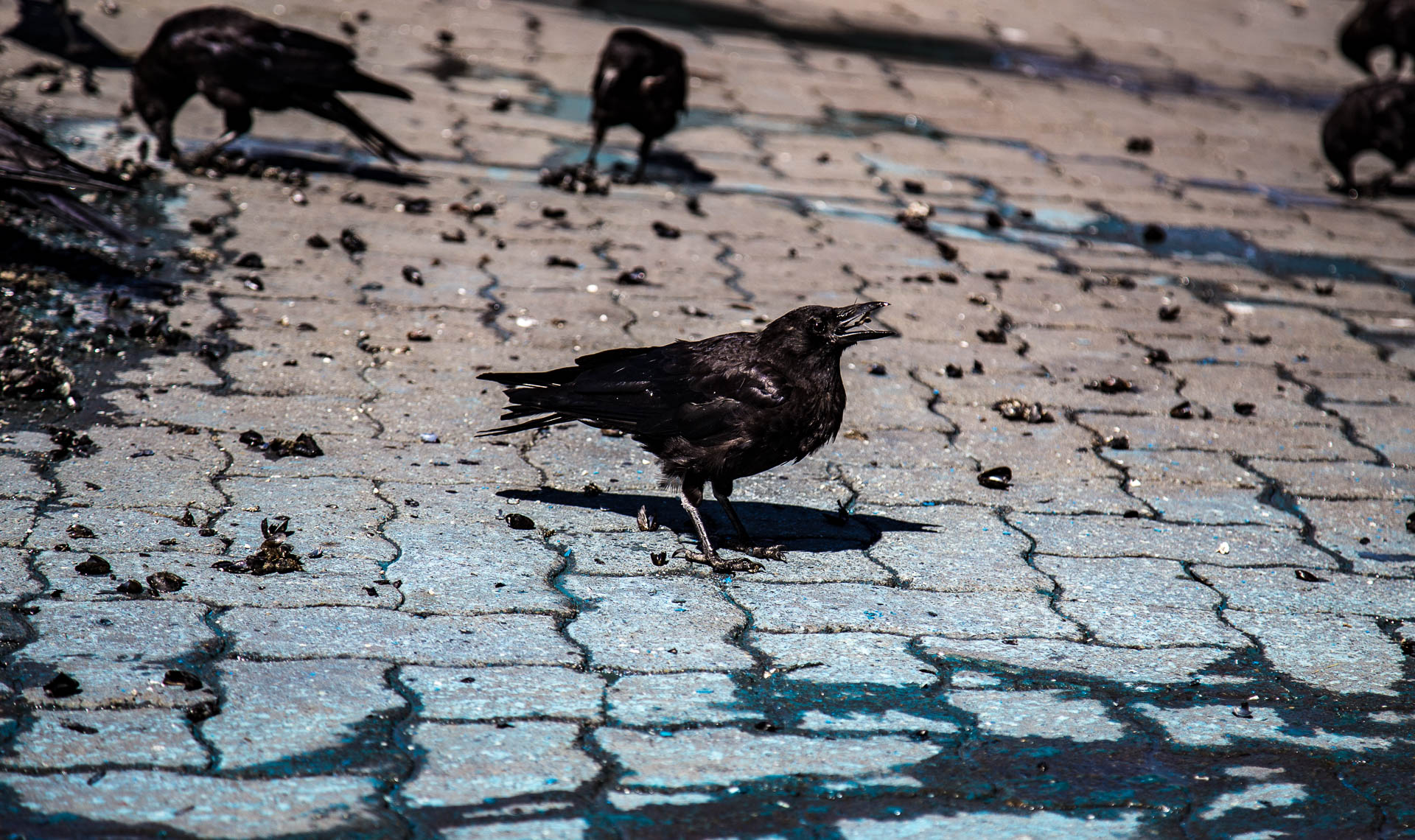 Next up, Stanley Park. A 1001 acre park to the north of Vancouver it reminded me a lot of San Francisco, especially once the Lionsgate bridge (of the film studio fame) came into view. There is a collection of Totem poles in the park, not the originals mind - they are in the UBC.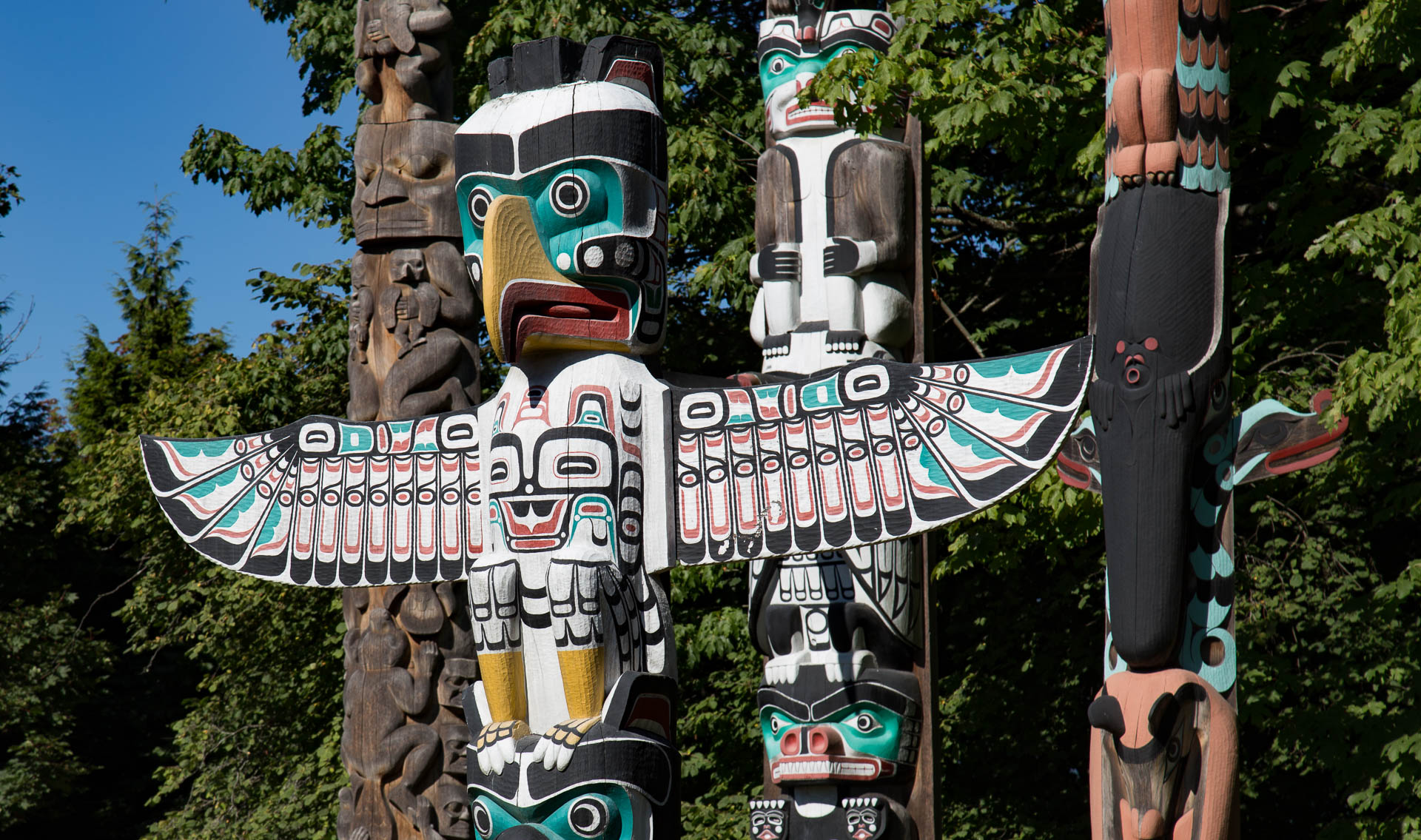 Afterwards, along with David and Anne we took a relaxed stroll along the seawall and path overlooking Vancouver's downtown. Sadly, by then it was time to head to the airport for our homeward flight. On the way out of Stanley Park we saw a Racoon! Broad daylight, sat there chewing on a hunk of grass. It mooched back into the trees behind it at a pace that made us think it was quite used to people. Surreal! Thanks both very much for having us the last few days and look forward to seeing you again sometime!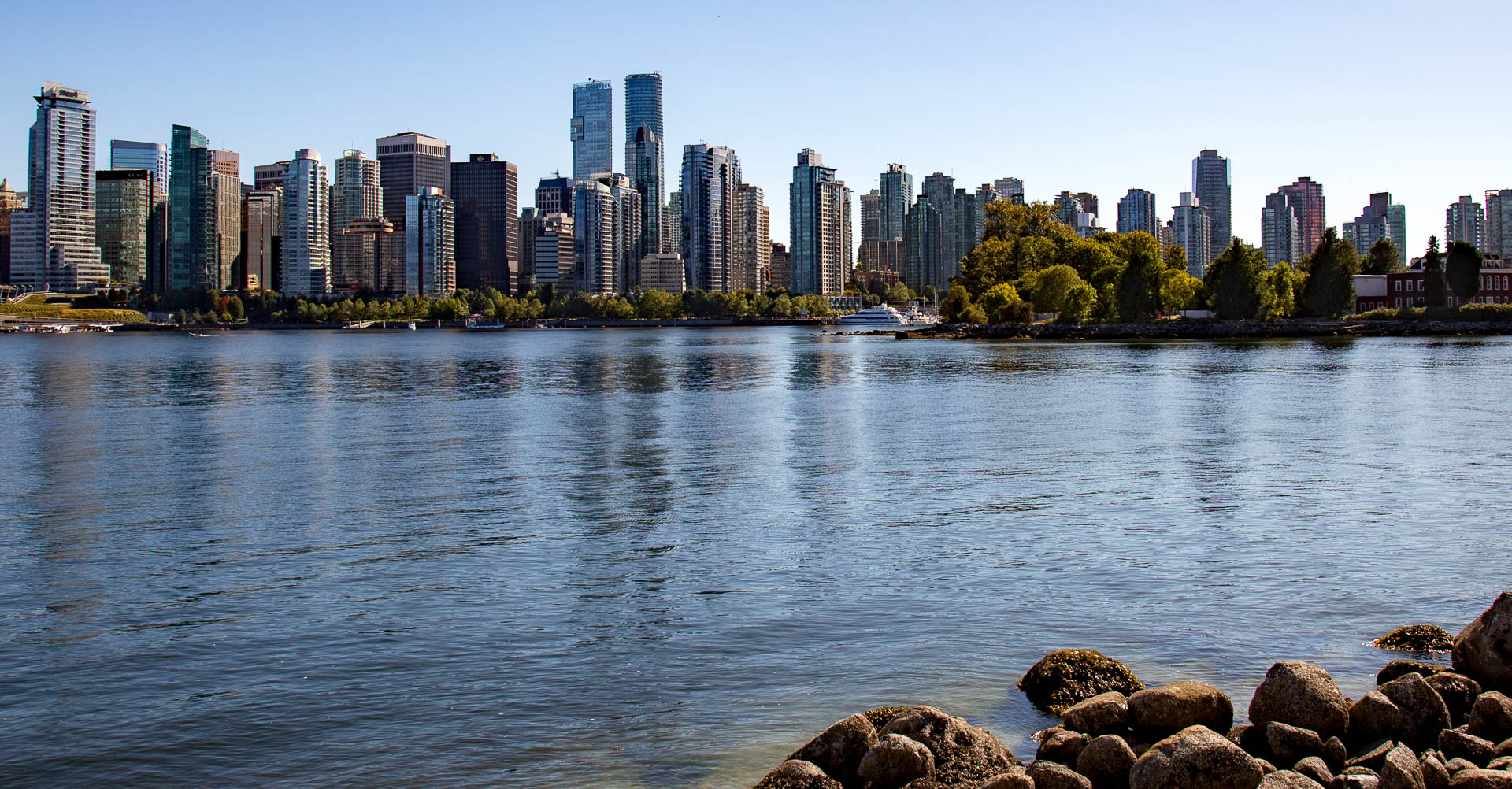 The flight was home was uneventful save for a stewardess refusing to provide a list of ingredients when advised of Cat's tree nut allergy. Then promptly serving here a Pecan desert! Quite unbelievable and I would have expected better from McDonalds, let alone British Airways. Complaint inbound!!!
The jetlag going West - East is real! I got about 2 hrs 'sleep' on the plane, if that. I'd read that passport control was subject to 1hr delays the day before on BBC news at Heathrow but we were through in under 1 minute, including the queue. Great! Thinking it was going too well, our bags were already on the carousel. Delighted to be out so quickly, we dragged ourselves across London again taking the cheaper option of the Tube / Train combo. Finally making it home around 4.30pm UK time. We managed another couple of hours until 6.30pm before finally calling it quits - 26hrs or so by that point for me (Cat, annoyingly, slept on the plane!).
And so we reach the end of a quite extraordinary holiday. I will take some to reflect on the experiences we've had, people we've met and places we've seen before writing a summary entry, I think. I am intending to print this blog out into a photography book along with the text. If you'd like a copy please get in touch. I hope you've enjoyed reading as much as I have writing and until the next one... So long and thanks for all the fish!