The home of freedom, Washington DC feels like a real city. Not just that but a capital city. The drivers here are just as impatient as you'd imagine, the road system just as complex and buildings just as tall, stout and imposing.
Driving the 4 hours or so from Raleigh we crossed an invisible, but very real, North / South divide. Gone were the Bojangles, Popeyes and other assorted Southern food outlets replaced by more traditional Pizza and Coffee ones. Gone too were the super polite and friendly people we'd come to think were everywhere in America - alas the North East (or at least Washingtonians) are a little more like Londoners in their conduct.
Our route into the city took us right past the Pentagon and Arlington Cemetery. The Pentagon is impressive in its massive monolithic monotony. Besides the fact it's a cool shape a less architecturally impressive building you will not find with such fame!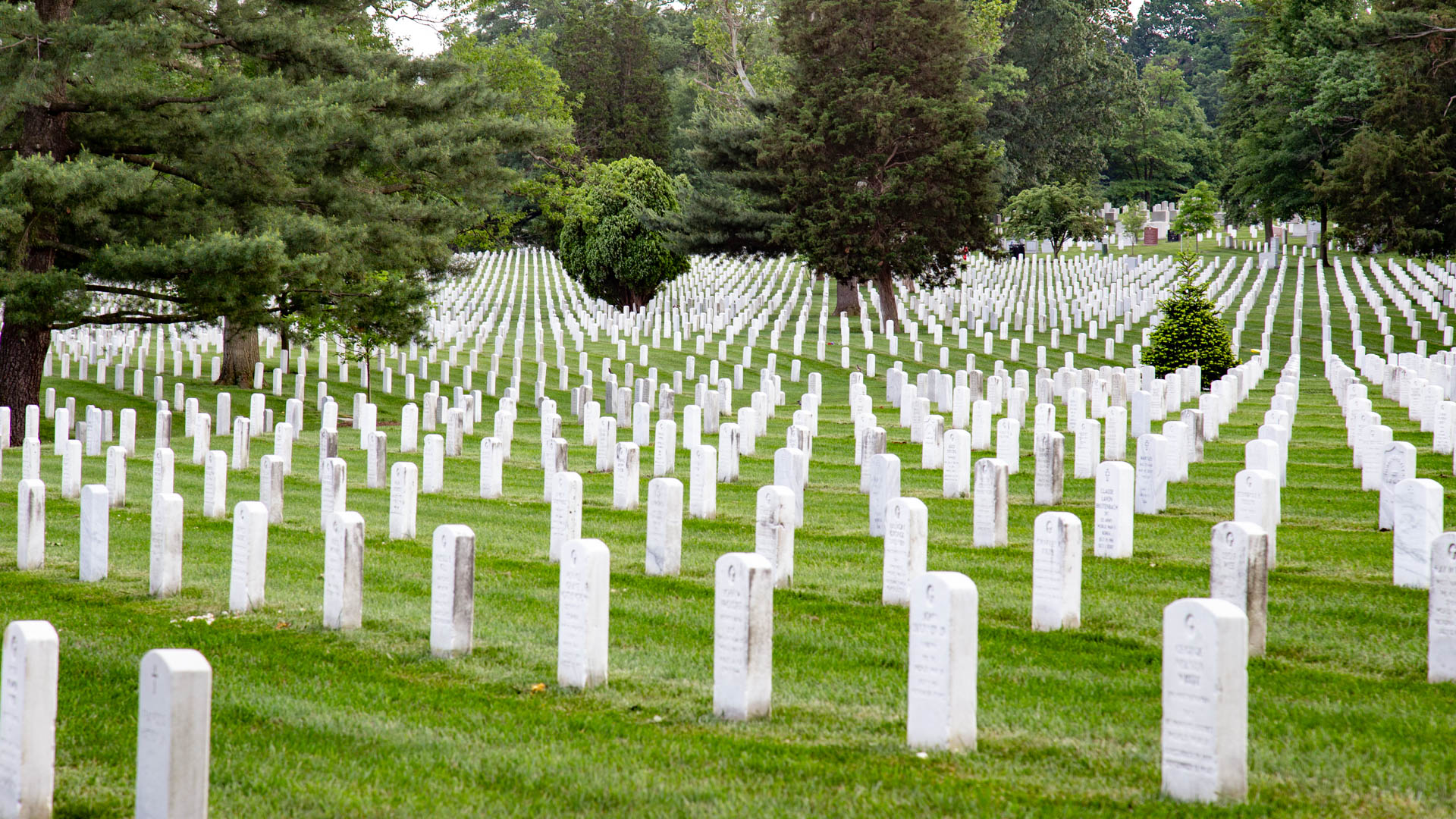 Arlington National Cemetery is probably the most famous cemetery in the world. Instantly recognisable uniform white pegs in the ground each marking a life lost in the defense of "freedom". Much like visiting a concentration camp this place makes you question "why". I felt many other emotions too but will leave it up to your imagination to fill in the blanks. We watched slightly bizarre but interesting ceremony of the changing of the guard at the Temple of the Unknown Soldier.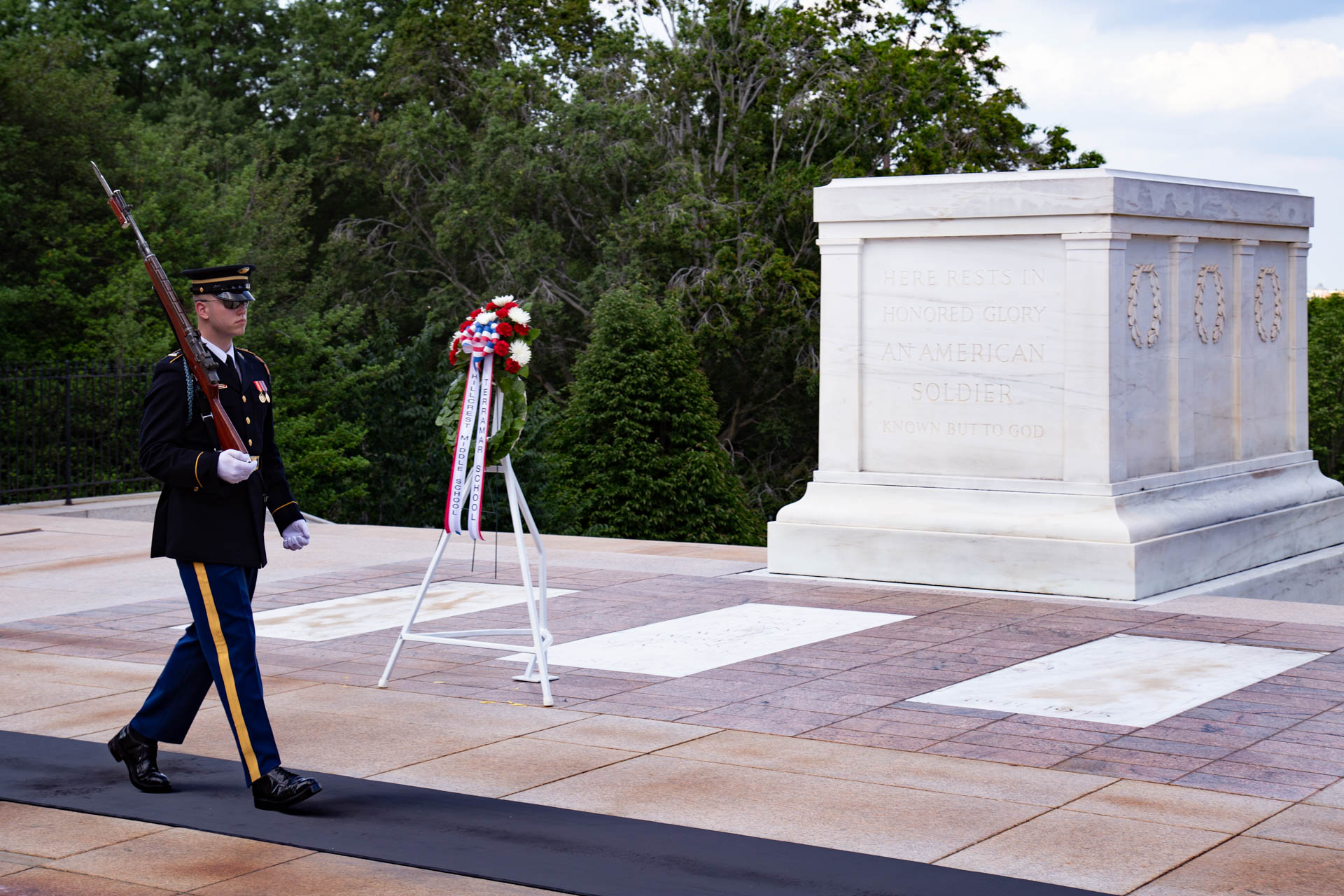 Our Hotel was worth a mention. The Embassy Suites had a huge atrium around which all the rooms were arranged. Each room was actually two rooms and featured a sofa, TV area, generous desk and basic facilities for food prep. I mention this because I think the larger chains, this establishment being by Hilton are waking up to why people book Airbnb - it's not always about price.
After a room service dinner (how decadent!) we had intended to call it quits for the evening as it was about 9pm. However when I checked the forecast for the following day rain was predicted in the evening and I wanted to see the National Mall monuments at night.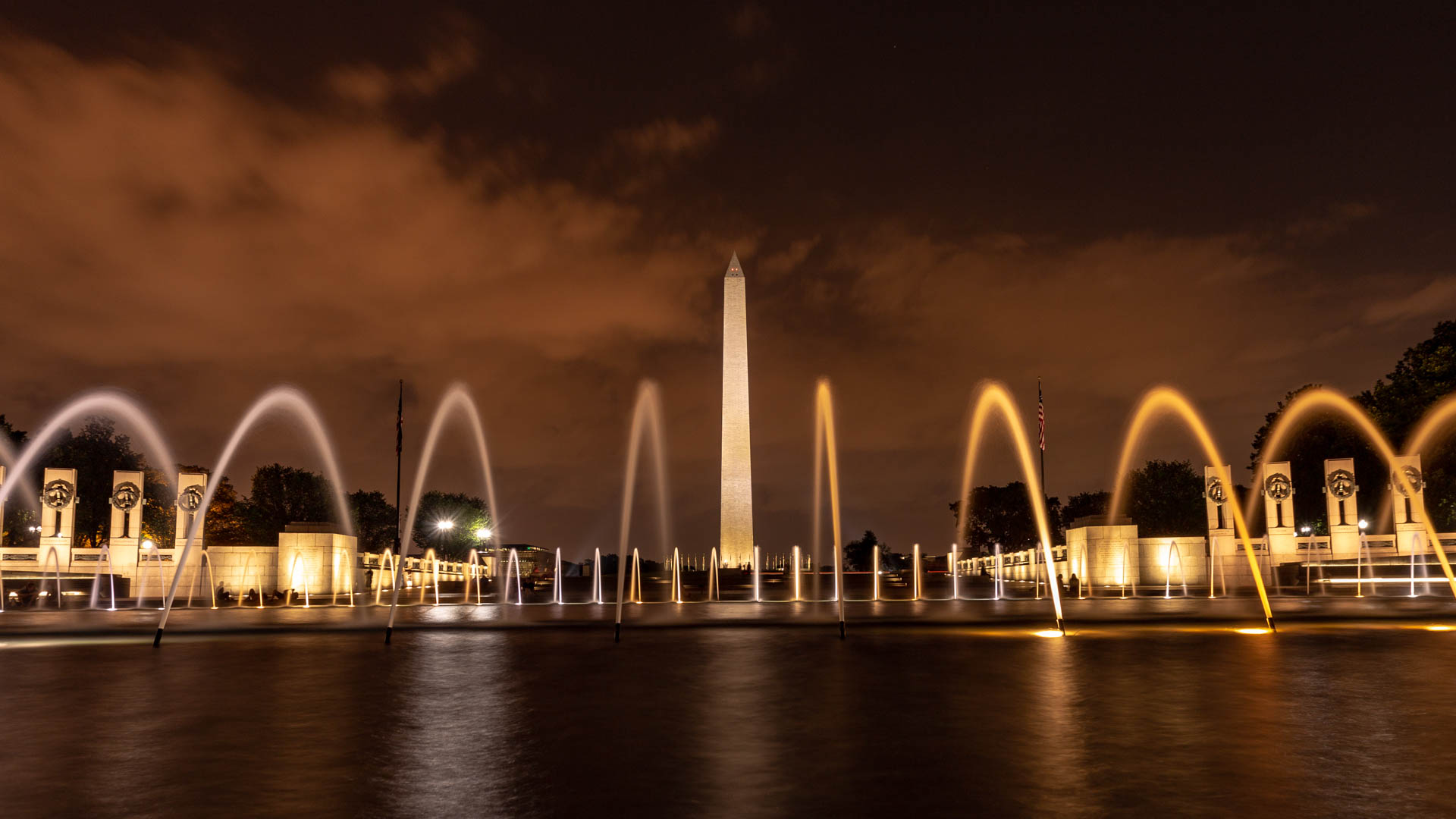 We Uber'd to the centre of the Mall and found a spot at the WWII memorial which framed the Washington memorial with decent foreground interest. I then spent half an hour in various increasingly comprising positions getting my camera as low to the ground as my tripod would allow, eventually ending up with the above shot. I was quite pleased when the clouds appeared about 20 minutes into our time at this location adding some much needed interest to the sky. I know it's not a portfolio worthy shot but it's the best so far from this trip. I'm feeling like the Blue Ridge Parkway, Texas and Colorado will offer up some decent photographic opportunities if it will only stop raining.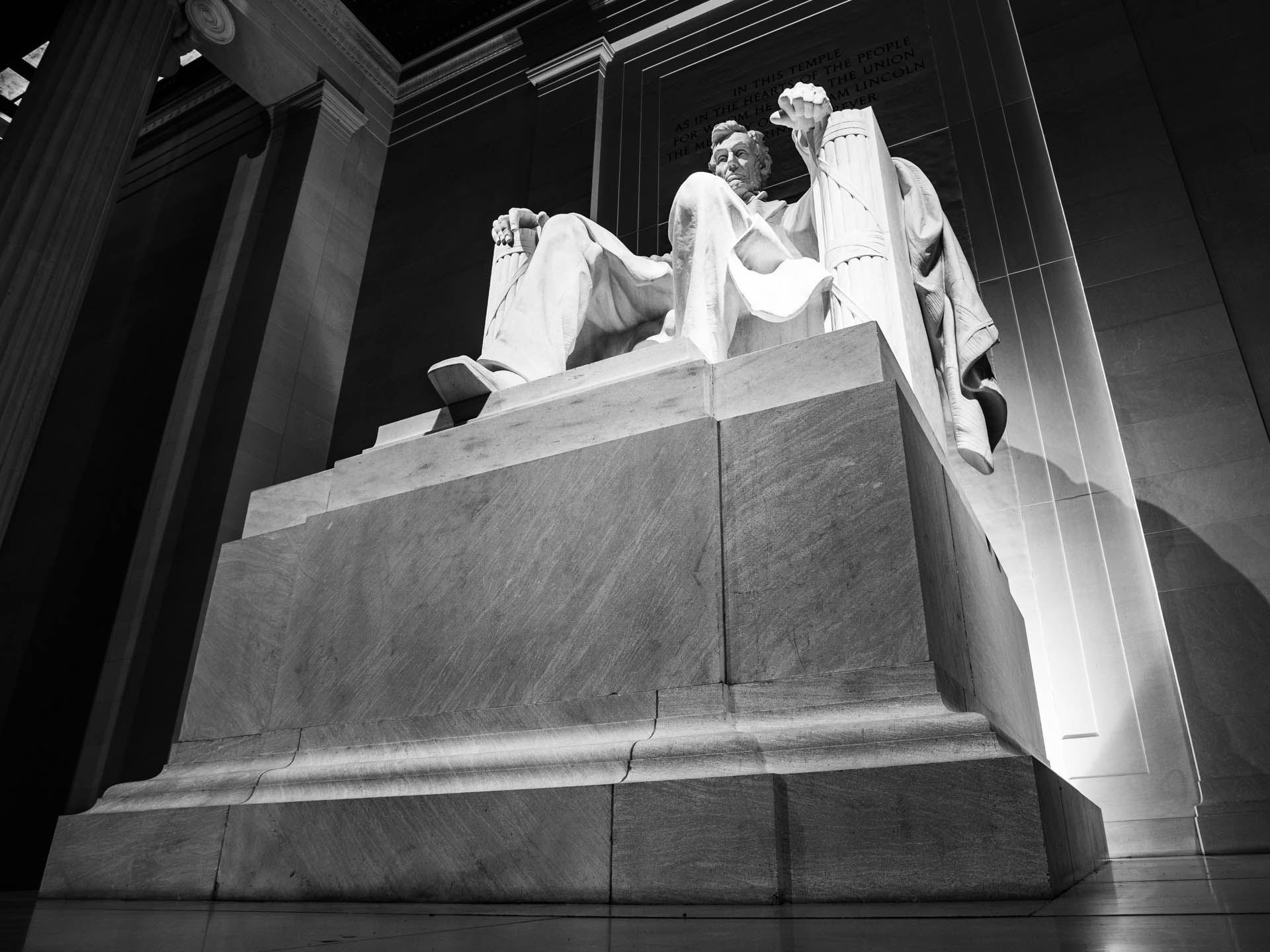 Predictably the Licoln memorial was swarming with tourists, even at 10.30pm as it now was. I always want to try and avoid a clichéd shot of a famous landmark and found an interesting angle where I was able to arrange Lincoln's face, knee and hand pleasingly. I bumped up the contrast and made the image black and white for extra effect.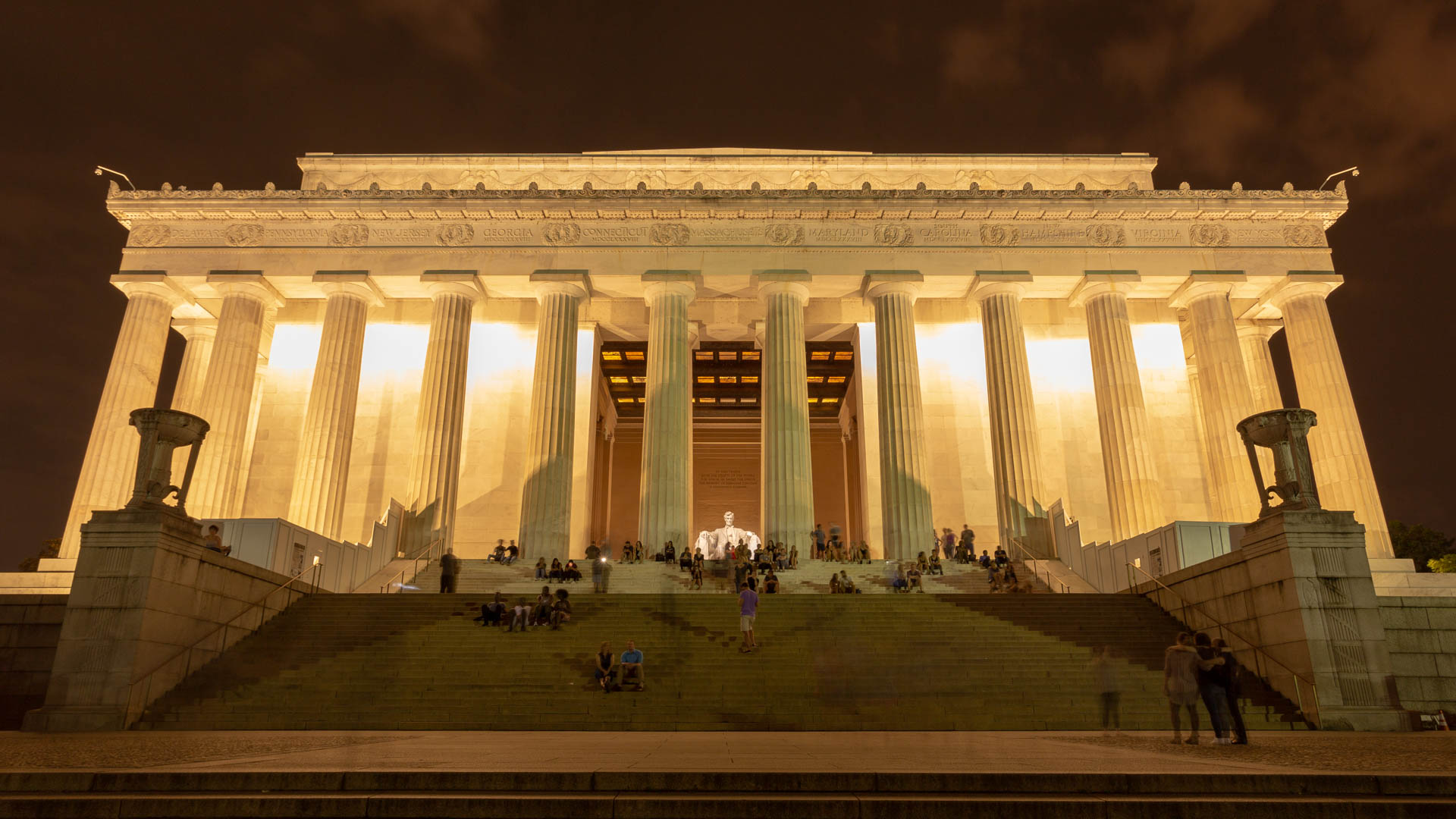 The Licoln memorial is absolutely enormous. Much bigger than I'd expected actually. An extrememly ornate modern temple. America doesn't have the thousands of years of history we do in Europe but they do make the most of what little they have! We took an Uber back to the hotel and our super friendly Uber driver gave us loads of tips about our upcoming trip as he'd just visited Memphis. The BBQ shop. Apparently it's incredible, we'll see!
I left some YouTube videos playing the following morning whilst we were getting ready advising us of different 'tourist hacks'. Various tidbits about the metro, food and hotels followed. However, one hack was to use the museums rear entrances not the 'front doors' facing the National Mall. We walked straight in at the back and when we left were feeling extremely pleased. Just look at the queue! In that heat! It was about 95f. No thanks.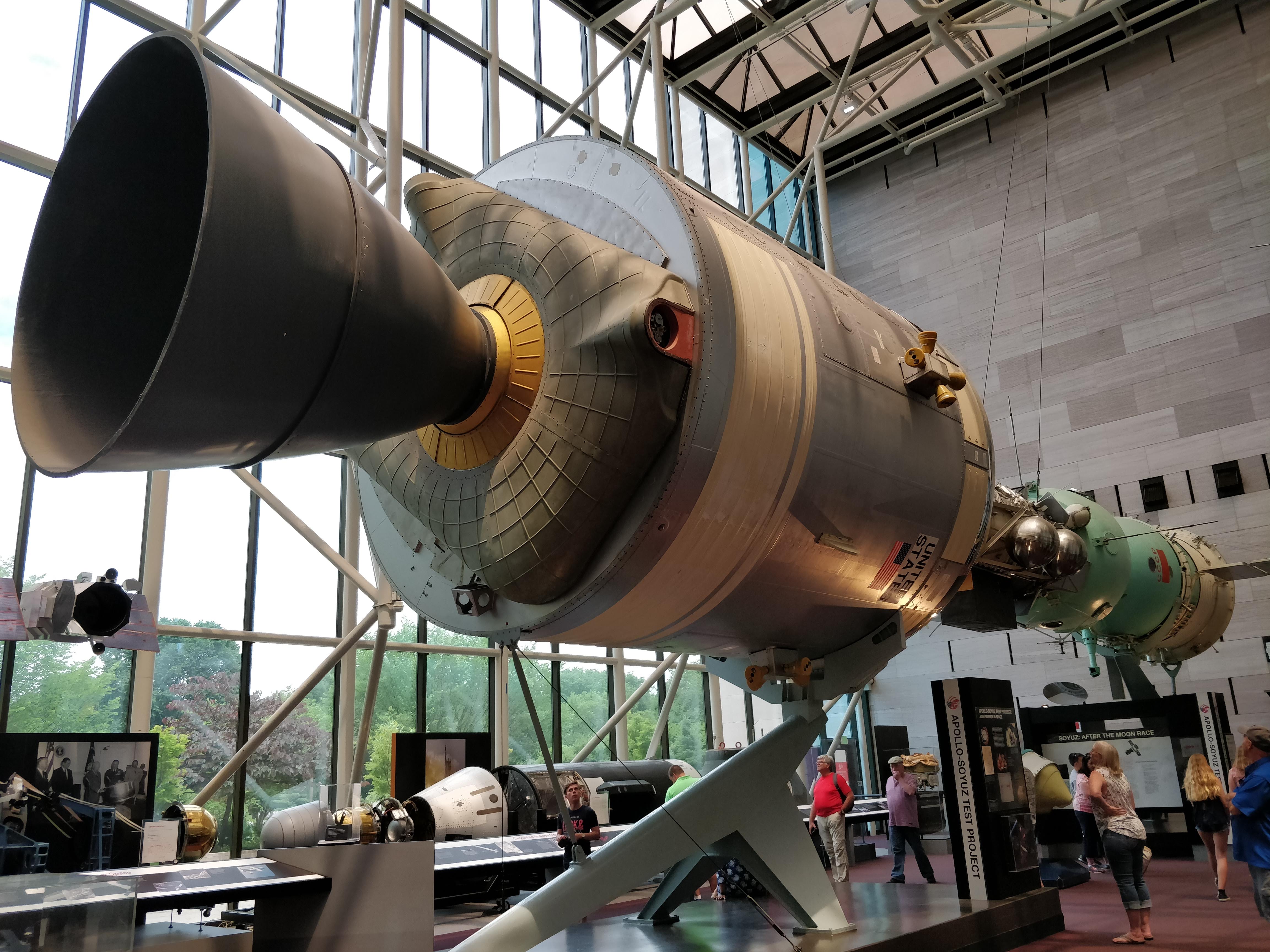 The museum in question was the Smithsonian Air and Space museum. A pretty great museum this with a really good collection of artifacts. The displays were good and informative but not too wordy. They had exhibits from the Wright brothers first plane through to Spruce Goose to V2 rockets to Saturn V engine bells (fekkin huge!!!) to Space Shuttles to the Hubble. I'm sure there were more I've already forgotten but it's well worth the trip if you're in DC.
The Apollo 13 movie was released when I was quite young and when you're that age you don't really realise the gravity (no pun intended) of the situations that film covers. For some reason the white waistcoats of Gene Kranz stuck in my memory from that film though and to see it in person was super cool.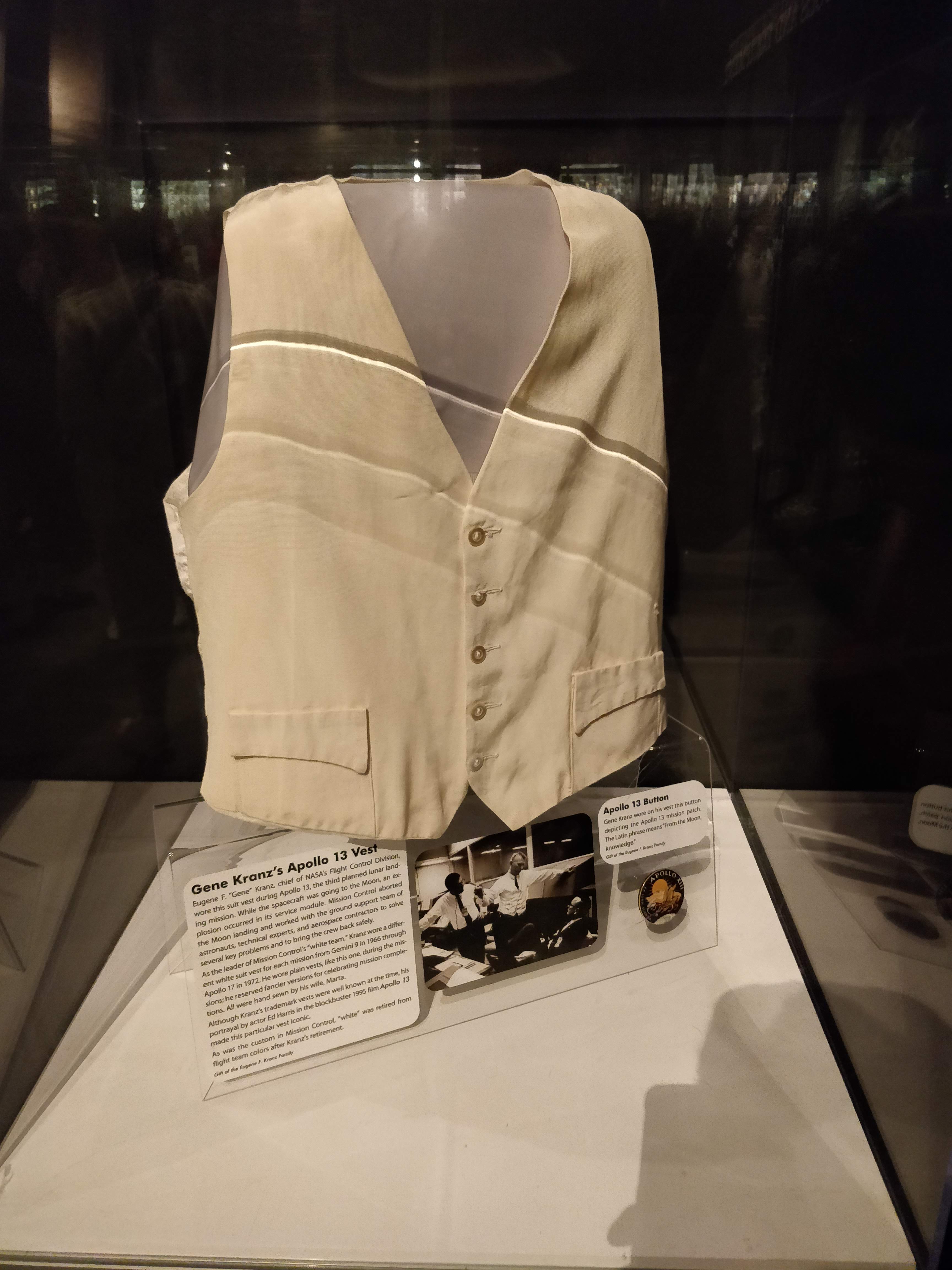 After a food truck lunch comprising of a delicious Hot Dog each we sat in the sun for a while on the Mall. The Sun quickly turned to rain and we headed for the National Portrait Gallery, specifically the Hall of Presidents.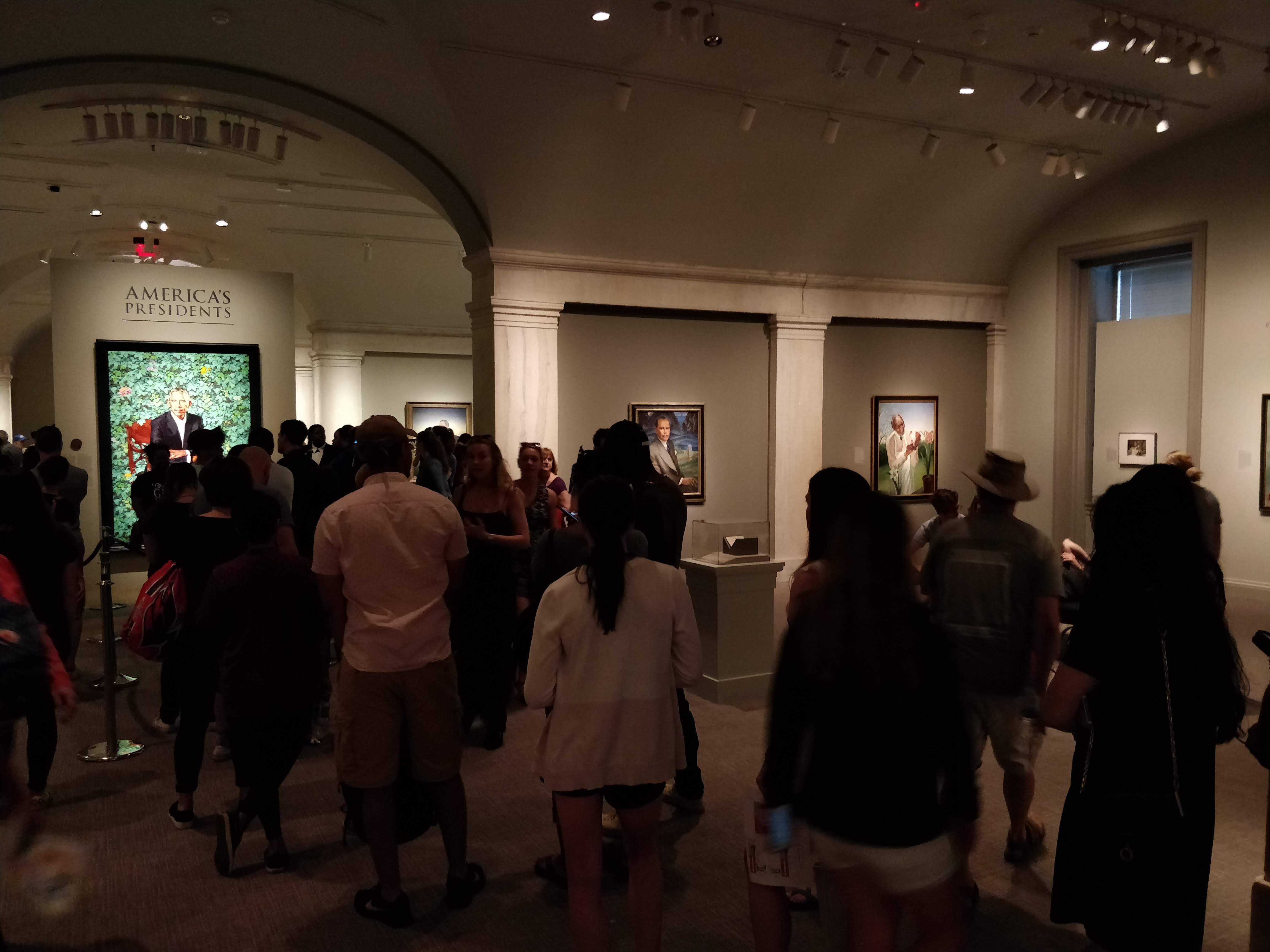 It was a great exhibit. Each presidents portrait hung, numbered, next to a small blurb about them. I know very little about Presidential history so it was great to be able to fill in the blanks this way. Obviously it's a very coloured / slanted version of history but interesting none the less. We were both delighted to see that Obama's portrait garnered a roped off queue so that people could take pictures with it. No other President had that!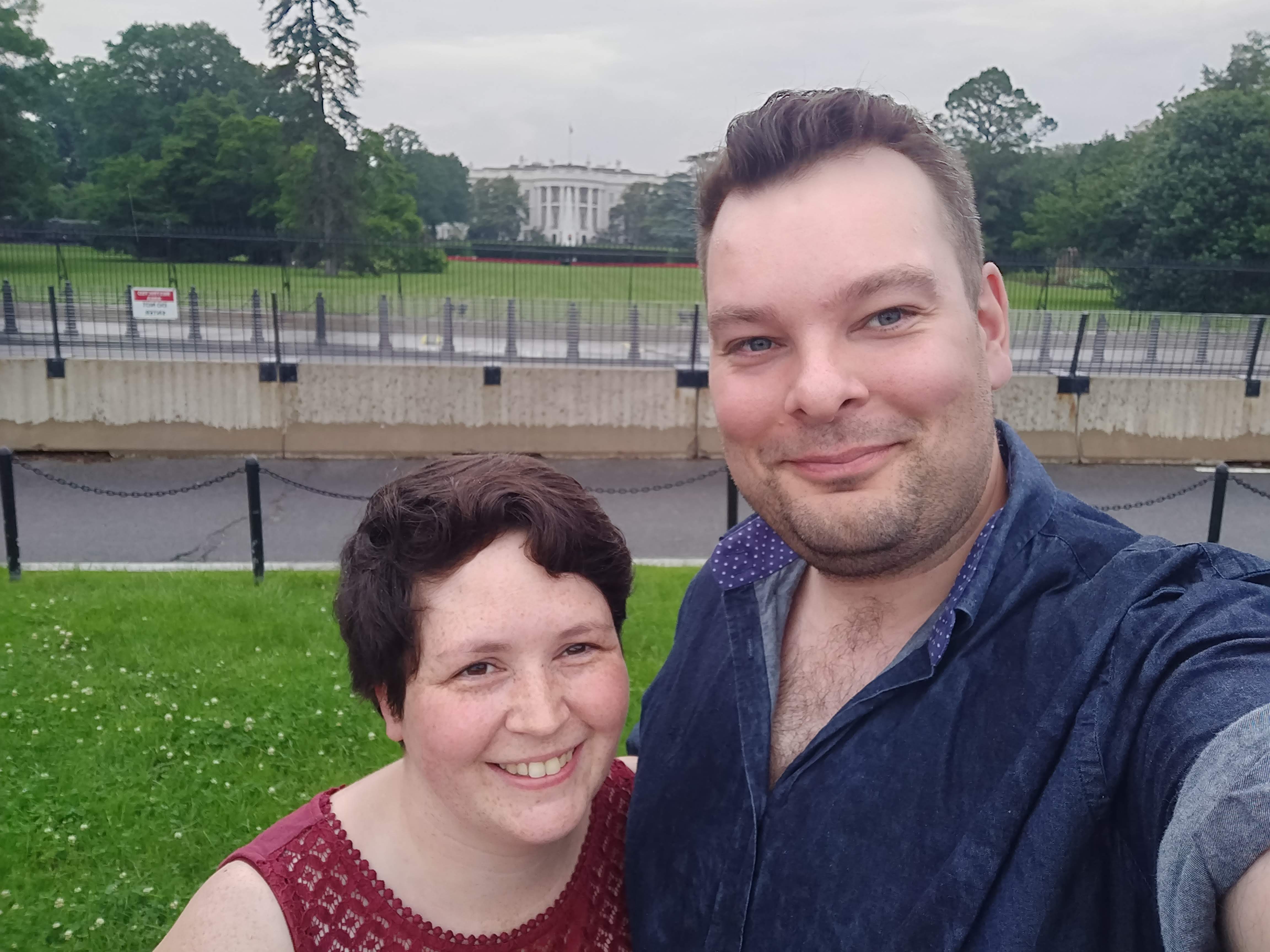 No trip to DC would be complete without a White House selfie. It was raining as we took this and dodged several low flying umbrellas to bring it to you safely.
On Saturday evening we met up with a couple of friends from my Linuxserver.io site who'd made the trip down from Baltimore. We had some delicious Turkish food and afterwards went to Columbia Station for cocktails and to listen to some rather excellent Jazz.
So that's DC then. A proper capital city. Definitely the North more than South. I wouldn't rush back here but if it happened to be on an itinerary of mine again in the future I wouldn't be sad.