Comparing August 1999 to June 2018 might seem odd at first but bear with me. In the UK aged 11 we move from Junior School to Secondary School and it's a huge step up. 11 year olds mixing with Year 11s (16 year olds) means you have to toughen up fast whether you like it or not! That summer before big school though I remember being acutely aware that everything was about to change, that I was performing certain actions for the last time and that above all, I should try and enjoy the here and now as much as possible. If I had to describe this feeling in one word it would be surreal.
One particular memory I have was of walking from my house, aged 11, up Oakley Lane to the small triangular car park at the end of the Junior School drive where I just stopped and stood for a while watching what was happening. Enjoying the fact I knew who almost everyone was. I knew that I was going to Harriet Costello by then and was the only kid from my school to be doing so. I think this made the step up to secondary bigger than it was for other people. I walked up the school drive consciously thinking it was the last time I would be doing so as a student feeling ready and nervous for the next phase.
I feel that same way this morning. Having accepted a job offer in America, with my house on the market and just about recovered from jet lag I find myself looking at the world with that same surreal perspective. That same sense of nervousness and readiness for the next phase. I'm back at work this morning and I write from the train en-route to Southend. The sky is littered with scattered grey clouds, the ground is damp and the air humid and cold. Business as usual on the weather front then.
I've not had to drive anywhere since landing which after the last 3 weeks is quite refreshing. Dogs are required to be 'on leash' a lot more in the US than here so I found myself looking at the lady walking her dog on the small patch of green outside the block of flats which caught fire last week without a lead thinking 'how lucky you are dog!'. Our two doggies are still staying up state with Pauline, Cat will go collect them later.
I told a small white lie above, I have driven since we got back. I got back into my Golf GTi and remembered just how much I value such a nice vehicle. Everything from the high quality steering wheel, the automatic hold brake at lights when stopped, to the fact I think "I'd like to be over there" and the car is already there such is it's poke under my right boot to there not being those confoundingly stupid stop signs everywhere - honestly what's wrong with a give way sign? I'm going to miss that car when we sell it in September but the silver lining is that I'll get to choose another soon enough! I've got my eye on the bigger brother Golf R when we go. The R has 280+bhp with 4wd compared to the GTi's 215 FWD setup, tasty!
What an incredible whirlwind 3 weeks that trip was though, we're so unbelievably fortunate to be able to have experiences like these. In the end I reckon we drove about 5,000 miles when you include all the day trips etc, an average of 250 a day.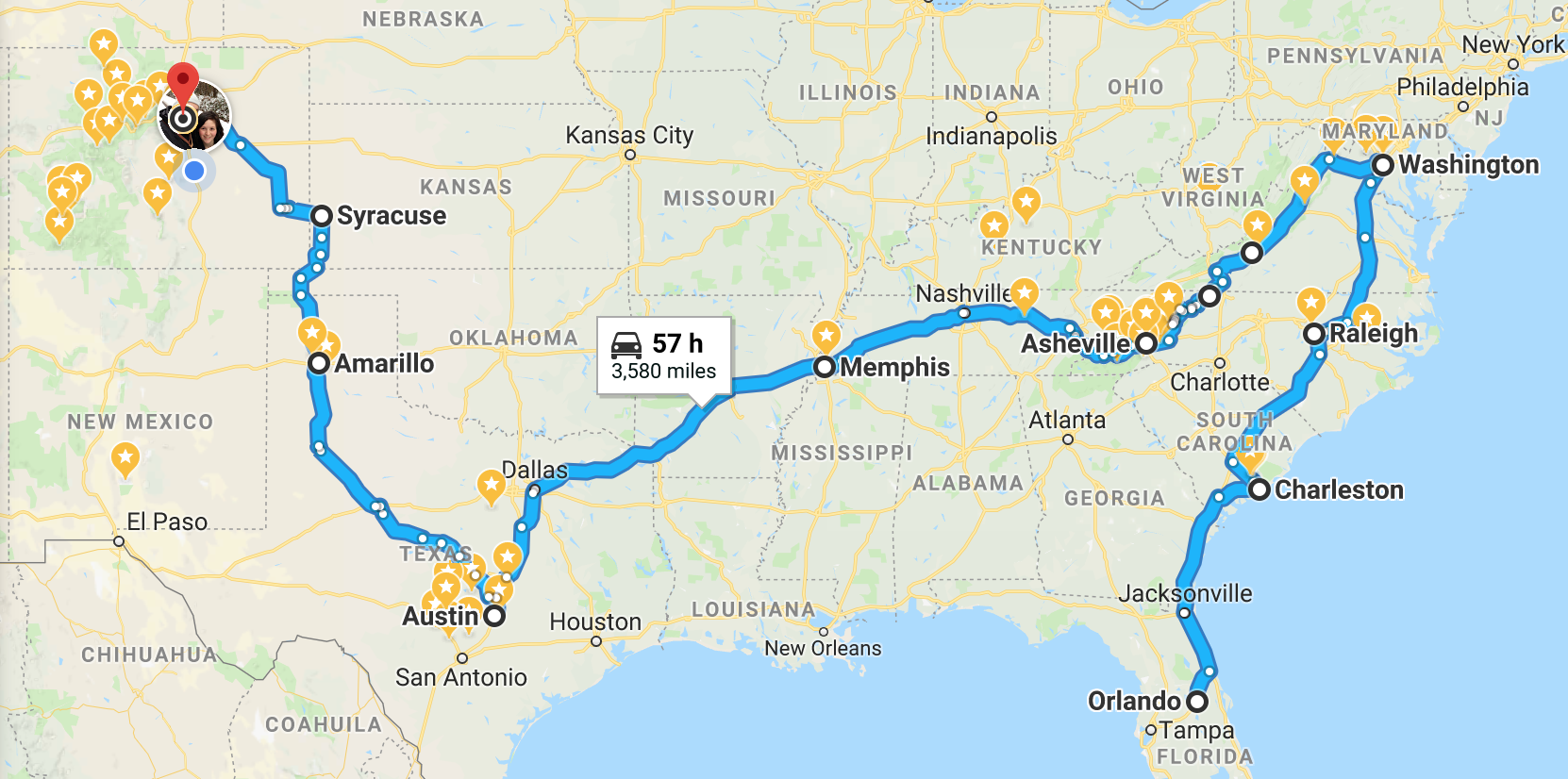 Of course some days we did 600+ and others close to 0 but driving across the middle of America is something I think most people should try and do at least once even though next time, I'll probably just fly. To quote Douglas Adams "you won't believe just how mind bogglingly big it is". Putting that distance into perspective from London, 5,000 miles driving would take us to Equatorial Guinea. We simply didn't have time to 'do America' properly as Mark Knopfler once sang but we have a much more detailed list of the places we did visit of things to do next time. The trip was slightly highjacked with job interviews and linux fests! However, once we live there it should be nice and easy to pop to Colorado for a few days or Memphis for some incredible ribs.
We did see and experience lots of new things though... Alligators, Bison, Gophers, Chipmunks, Roadrunners, Wild Turkeys, Buzzards, Eagles, Planes Crop Dusting, sub-tropical storms, baseball sized hail, a helluva Texas rain storm and quite possibly the best BBQ ever in Austin.
There are some weird things we're going to have to get used to. The pervasion of religion. Tipping, everyone, all the time. Stop signs, I hate stop signs. Fantastic service, OK that's not a bad thing. If you haven't already, take a minute to read my other blog post about my (our) motivations for leaving the UK. I'm looking forward to a fantastic quality of life upgrade and the new opportunities this move ought to bring our way.
We're both really looking forward to what the future has to hold. It's a new chapter in our lives and will undoubtedly bring challenges but it's 2018 and the world isn't as big as it once was. We can order Marmite or tea bags, video calls are a thing and flights are regular and "cheap" enough to pop back in an emergency. I'd rather regret going than regret having never gone.