Day 12. Our wedding anniversary, 6 happy years and counting, and also eclipse day! We eschewed the crowds in the totality zone (and the exorbitant accommodation pricing which accompanied it) in favour of a drive through Utah on the scenic byways.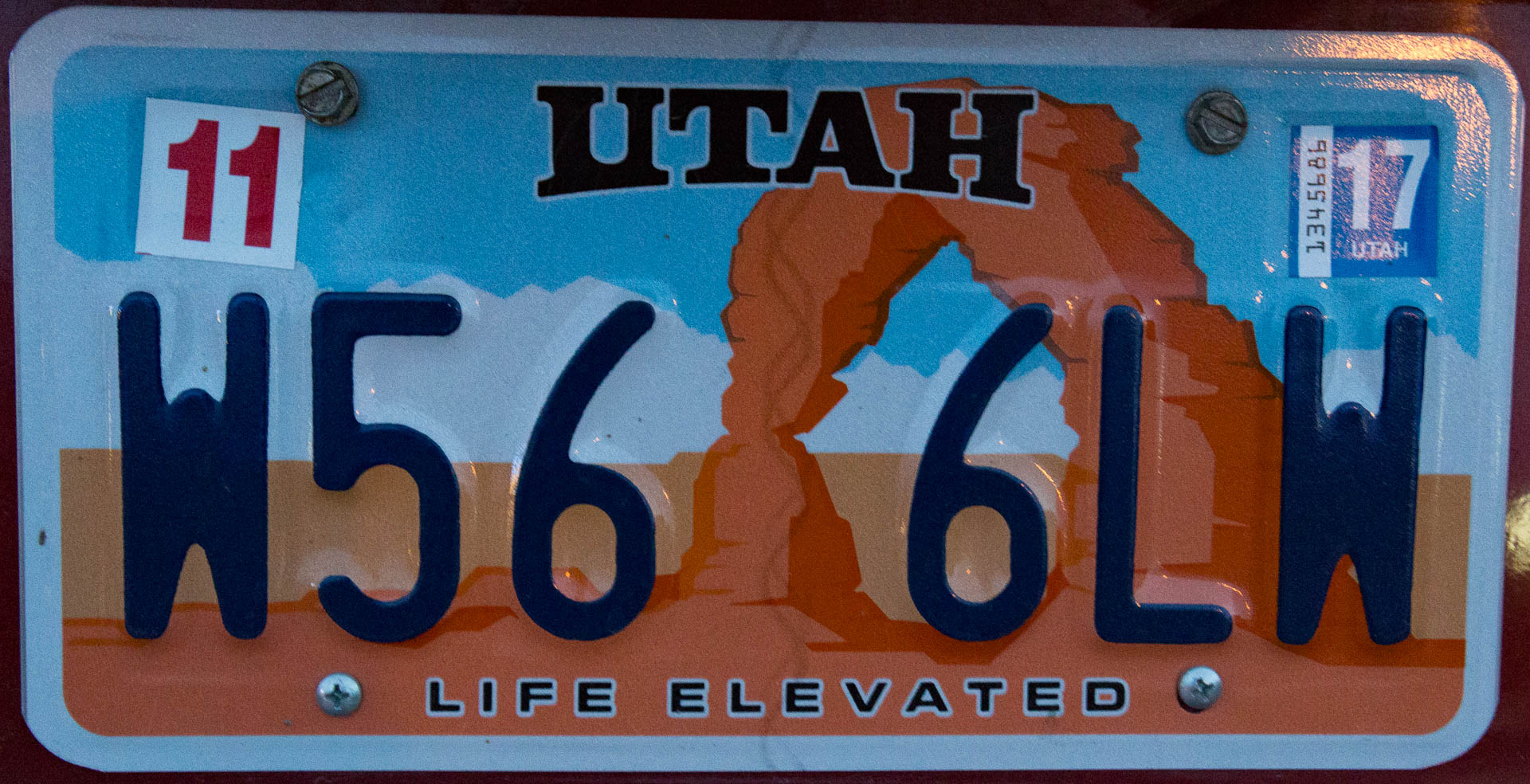 I warn you now, I ran out of superlatives days ago. Everything is absolutely amazing or the biggest I've seen or the loudest I've heard (THUNDER!) or whatever. I am blown away by everything that we've seen and experienced on this trip. It is a remarkable country with astonishing landscapes and friendly people. The drive from Tropic, UT to Dead Horse Point State Park, UT via scenic byway 12 was the most 'scenic' of the trip yet.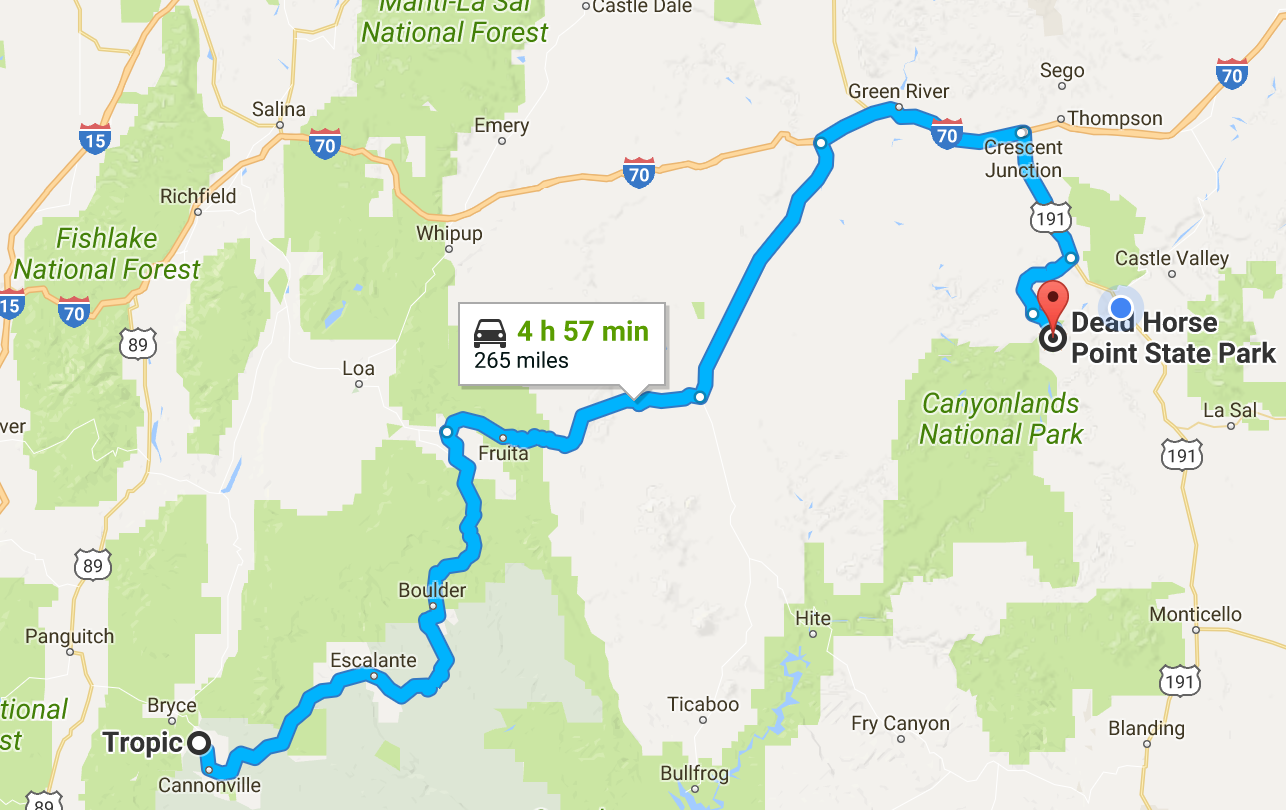 Not too much driving today, only 5 hours! We were able to stop frequently, enjoy the vistas and perhaps most importantly of all... I got a whole shedload of drone time in today. The landscapes so big, the views so awesome it begged of me to pull into a 'turnout' and get a different view.
Having taken the decision some months ago when planning the trip that neither of us were bothered enough about it to pay triple rates, we almost totally ignored it. We pulled into a few turnouts and stopped to glance up but without the special specs it was a bit unpleasant. That was, until a very kind lady pulled in alongside us and offered a view through hers! Thank you stranger! I hope you are reading this after I gave you the link to this blog to see the picture.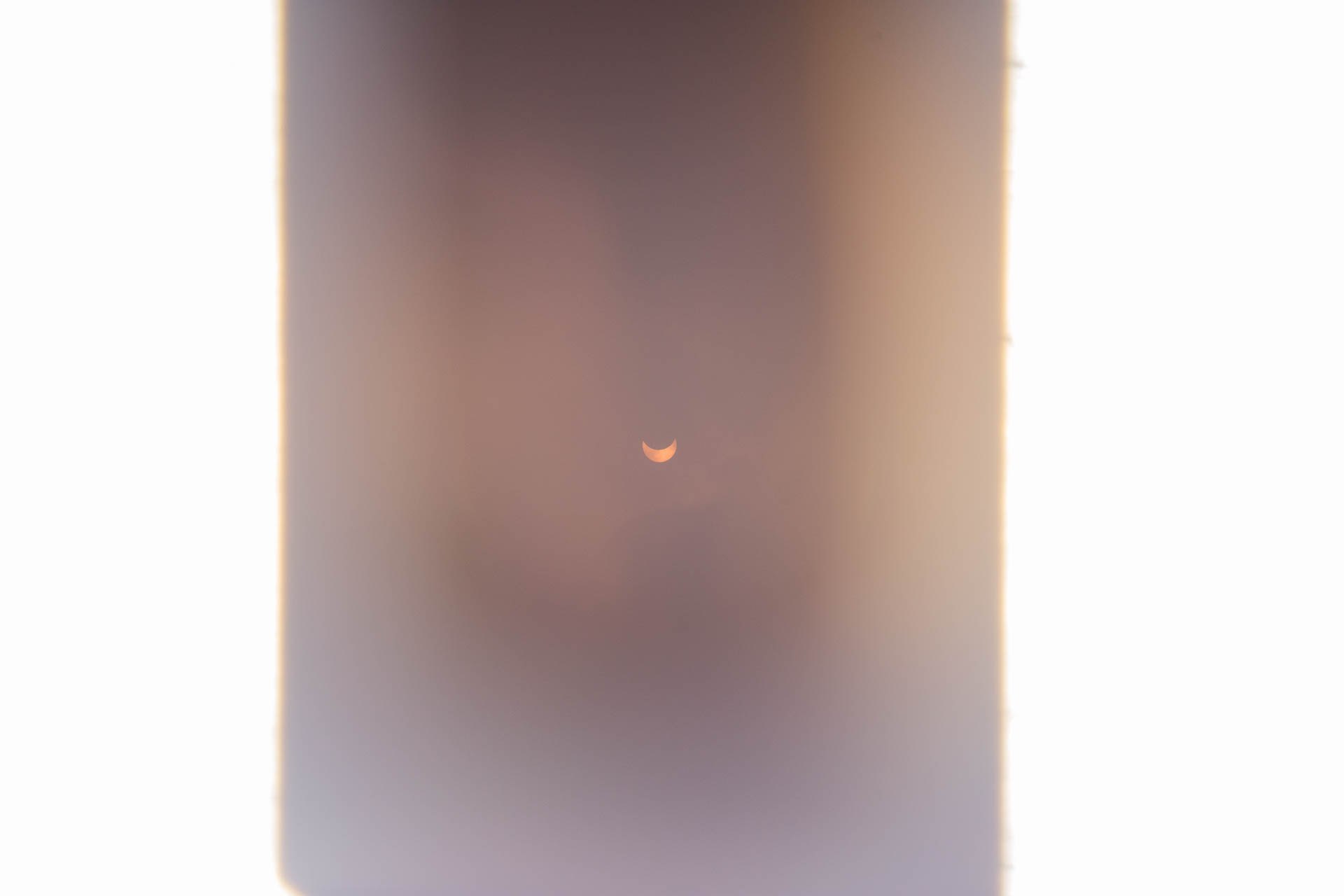 I slapped the specs over the front of my lens and began experimenting. Ok, it's not going to win any photographer of the year awards but it proves that a rock was blocking a decent portion of the sun. When we were 11 there was a total eclipse in the UK and northern France. I recall taking a charter train, with the scouts and my family, down to Truro in Cornwall and sleeping on the floor of it. Cat was in Normandy. I still remember the eerieness of those few minutes during totality. Everything turning to darkness in an instant but with broad daylight still clearly visible on the horizon. Spooky. I recall the sense of awe and wonder but also, dissapointment. All that way for a few minutes, mostly behind a cloud that day! Very cool and whilst I feel a touch of regret not seeing it again yesterday, it has meant Utah (about 4-5 hours south of the totality band) has been delightfully quiet with almost every parking lot in the parks empty.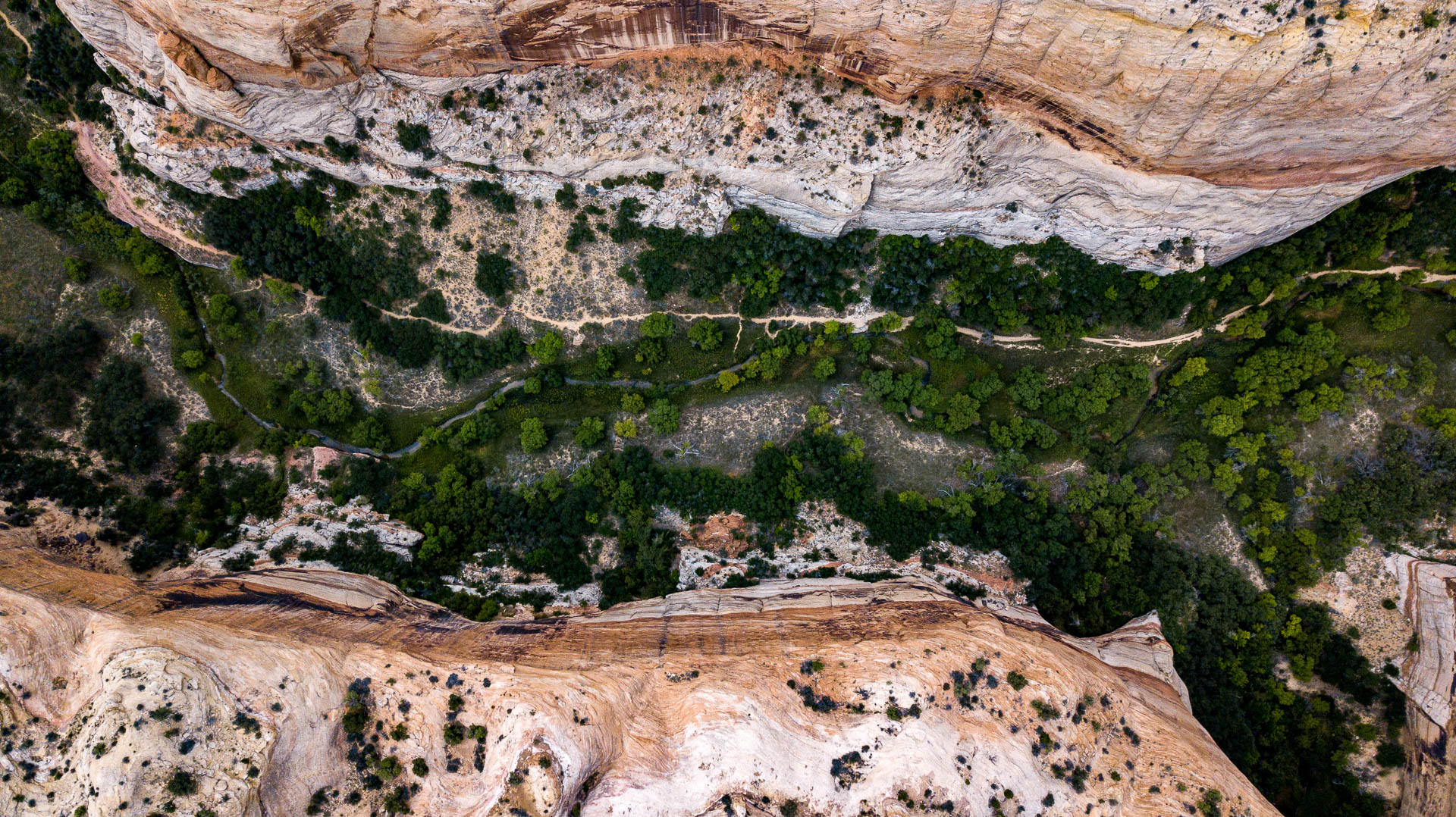 Drone time! We drove along scenic byway 12, not really because we planned too but because it meant we avoided the Interstate. My god. A road that surely lives up to it's scenic moniker. I like the shot above as it shows the life giving effect of water and contrasts wonderfully with the walls of the canyon on either side.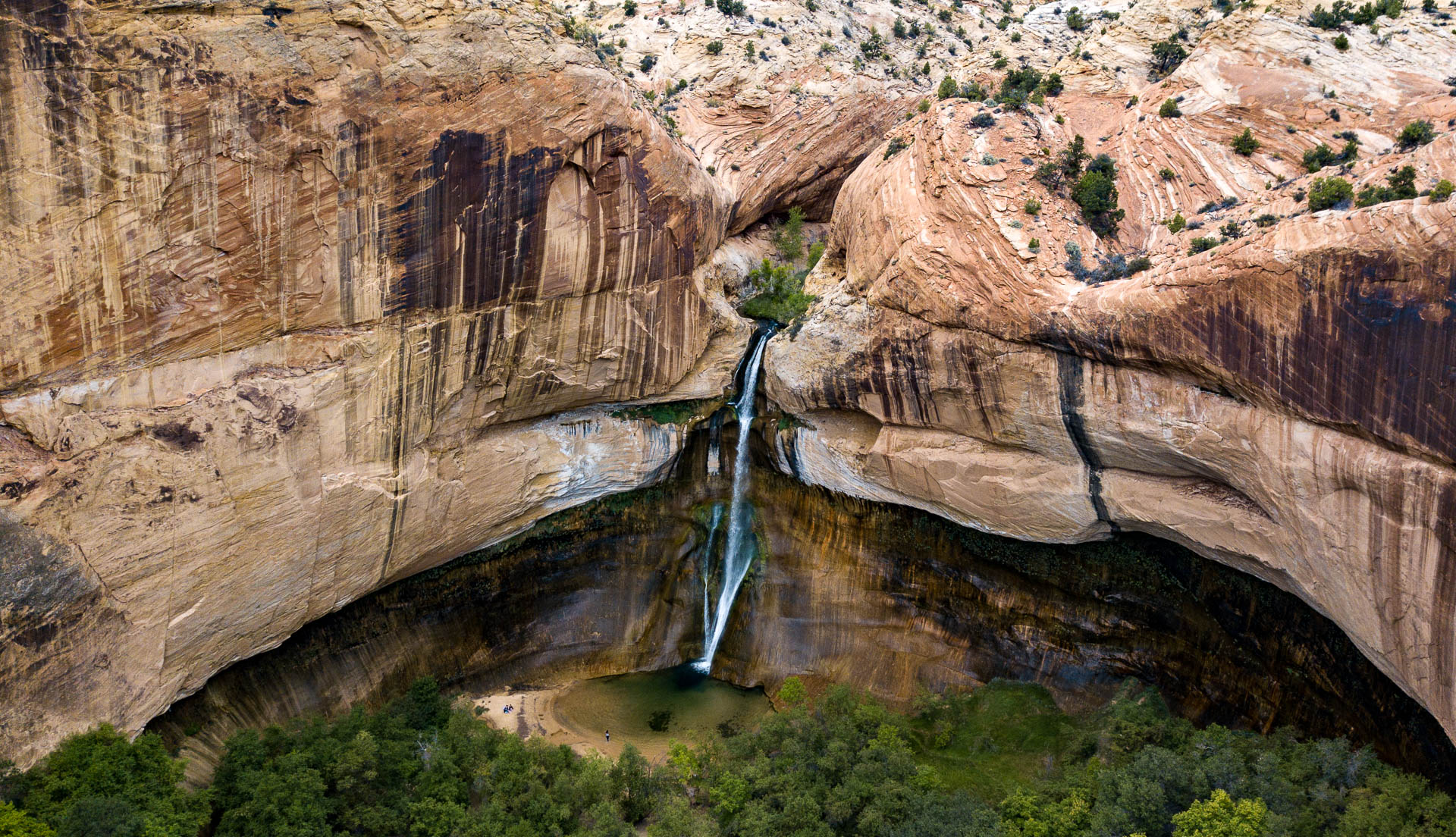 From the top of the ridge, which we'd been slowly climbing for 20 minutes a parking lot appearing as we crested the hill, you could see for miles. I sent the drone off over the edge, always a vertigo inducing moment. The altitude on my display reading 5 meters when in fact, I later discovered the waterfall above (completely by happy accident) at minus 150m.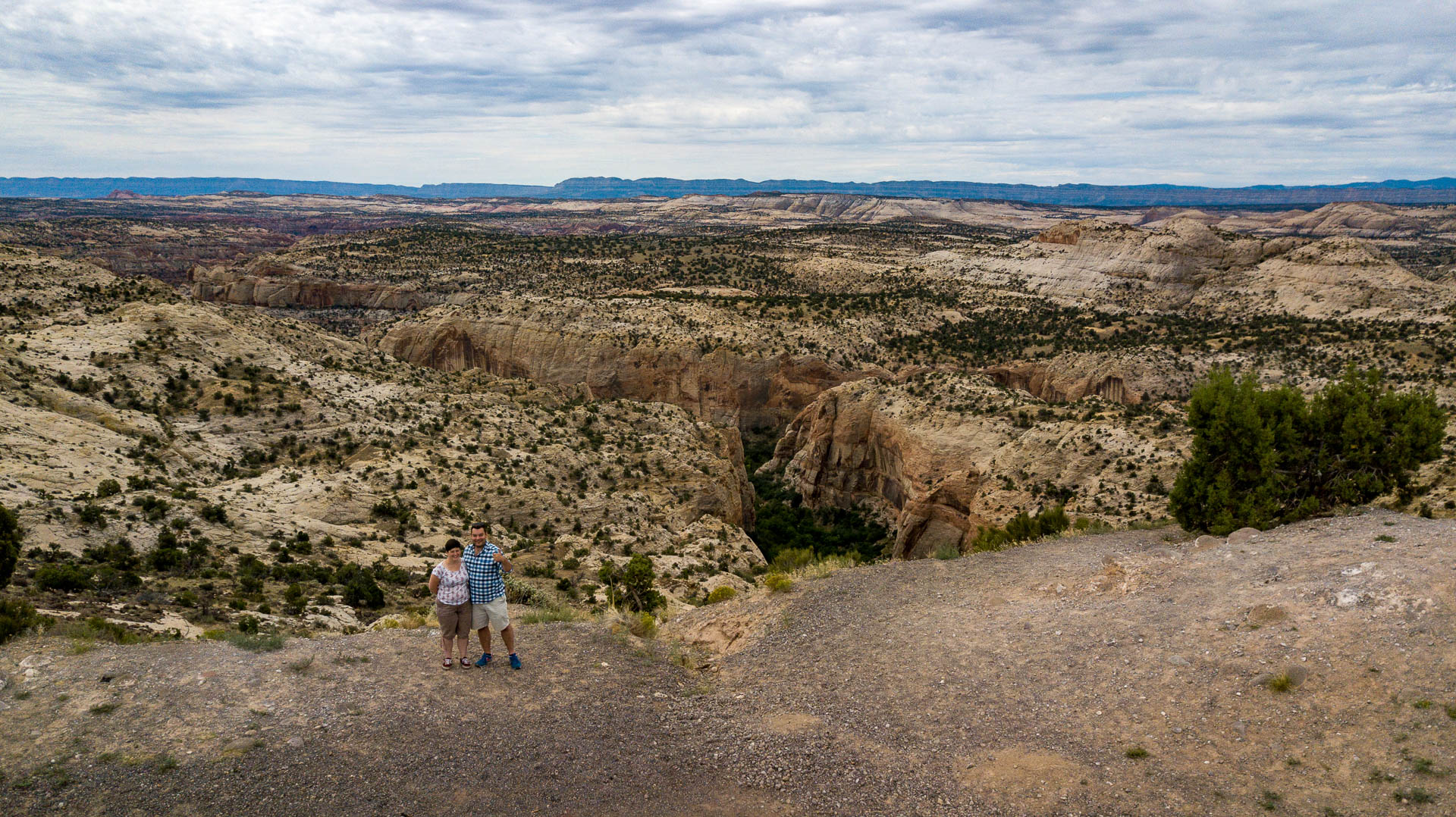 After our drone selfie (drelfie?) we continued onward along byway 12, turning into byway 24 shortly after the next image.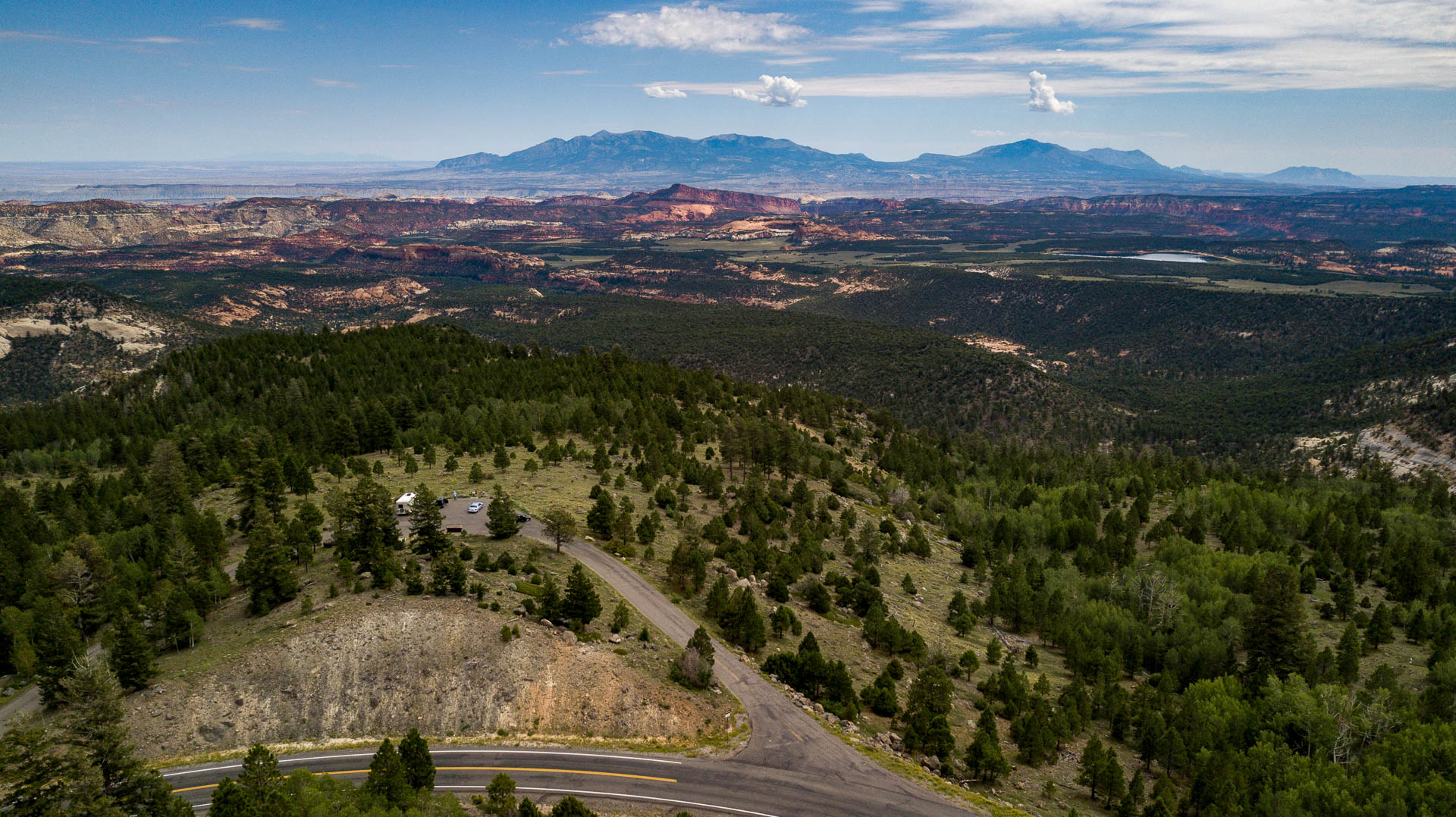 One of my favourite things about roadtripping here is that there are toilets everywhere, signs alerting you 'scenic turnout, 1 mile' or simply 'scenic view ->'. The above image, taken at 9600ft and pointed East across Utah, highlights one such rest area example.
Shortly after, we stopped for gas and the lady in the gas station upon hearing my accent asked if I was British. "Yup! London.", I replied. "Oh my Daughter is at Uni in Manchester - not far from you at all!". US concepts of distance!!
I knew byway 24 went through Capitol Reef National Park but wasn't sure where. I spotted some interesting looking cliffs so we pulled over and I set the drone off again. Drones are not allowed in National Parks, it's a federal offence so best stick the rules there. What struck me most here was the colour of the rocks and the size of the cliffs. These guys were nearly 250m tall. Over the crest of the next lump in the road, was the 'you are now entering Capitol Reef National Park' sign. Phew, close one!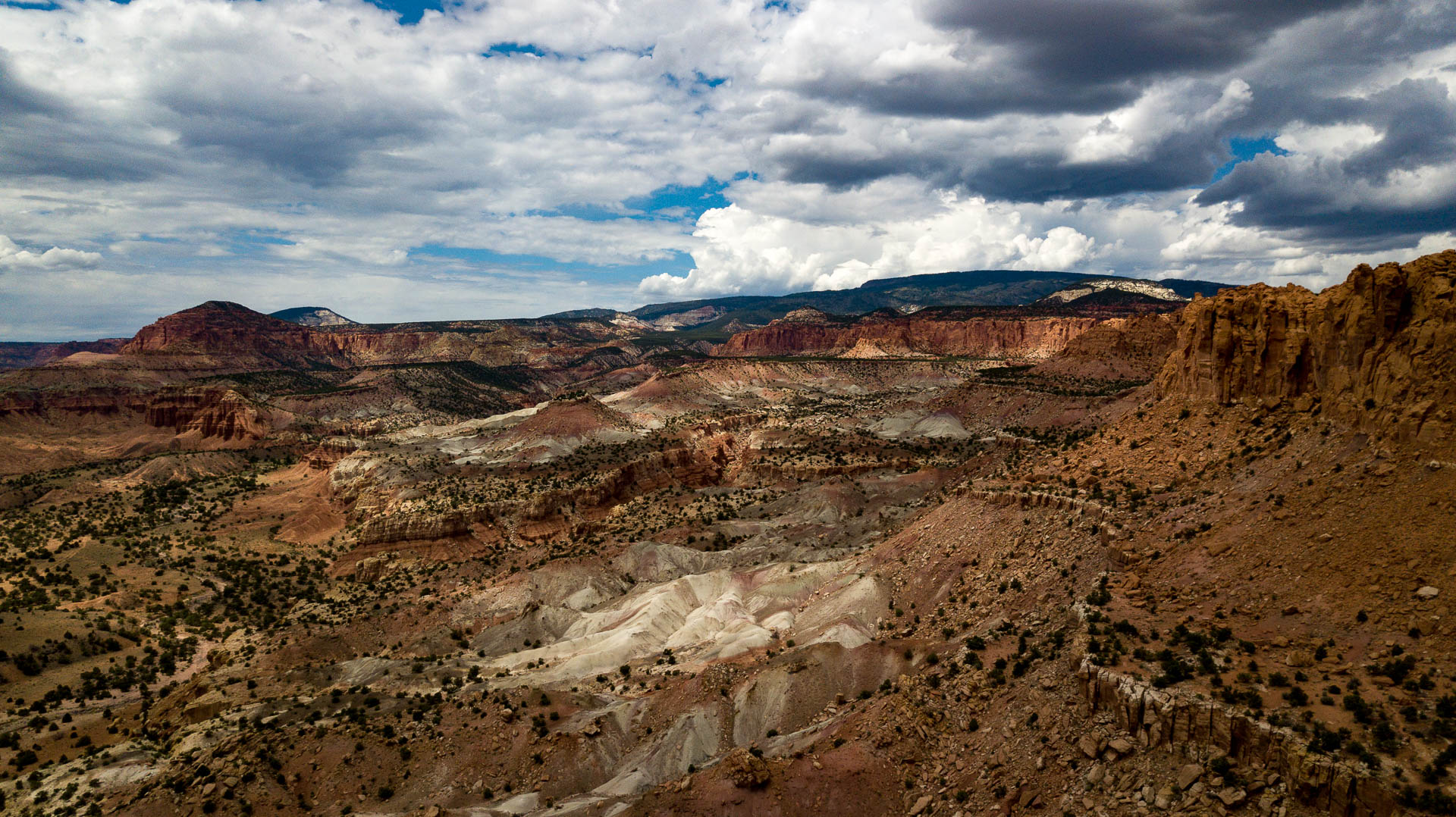 The road continued twisting and turning through the NP. I never really planned to visit this one but there were signs posted for trails all over.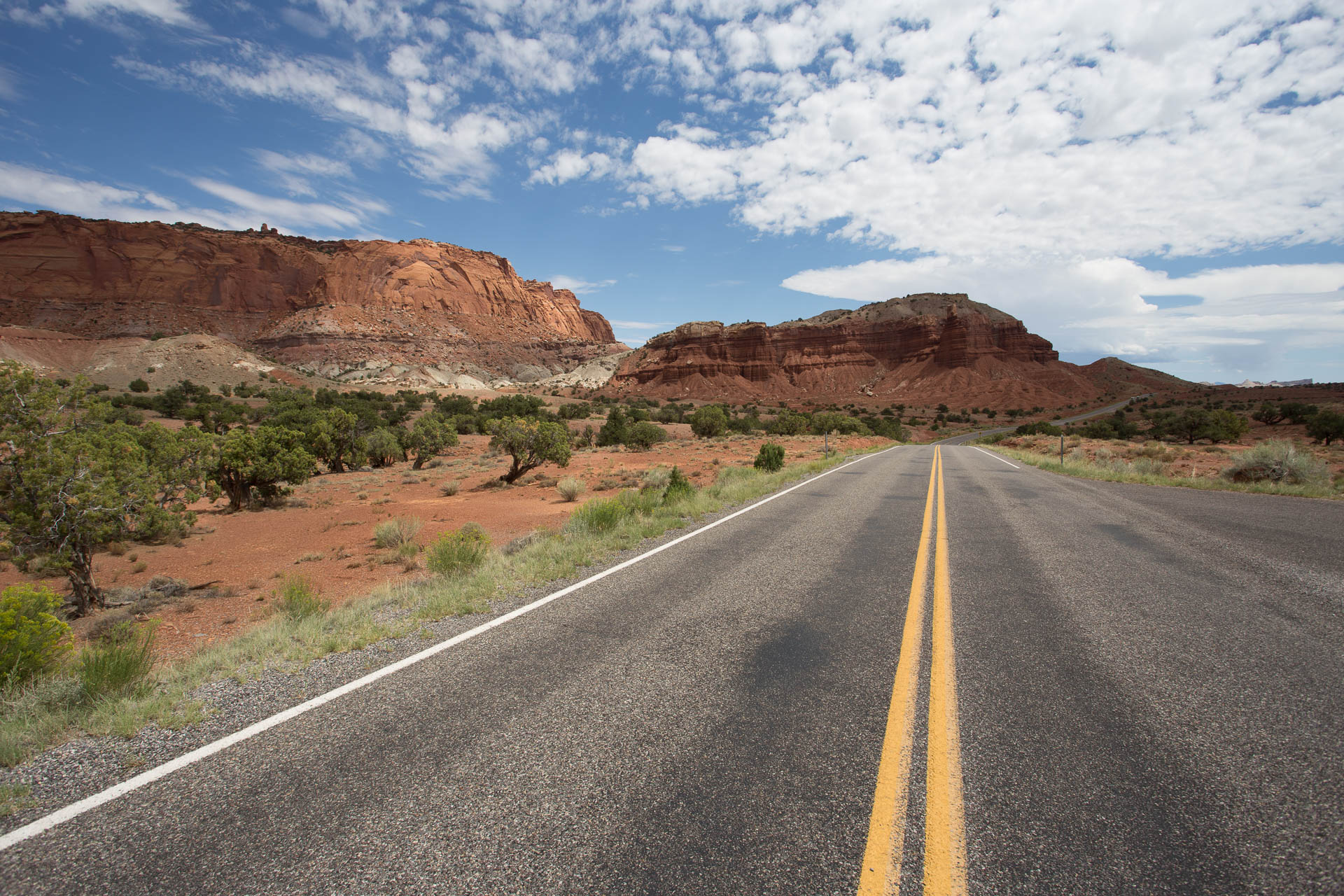 This was a classic case of trying to do a bit too much in a day perhaps. I fancied stopping and hiking one of these trails but alas our schedule did not permit. If I've learned one thing one this trip it's that in the USA take the time you think you'll want somewhere and double it. Our similar trip in Croatia last year this pace was fine but it turns out America is deserving of much more attention than this. We haven't quite been drive-by tourists to the places we've planned to visit but at times it's been close I reckon.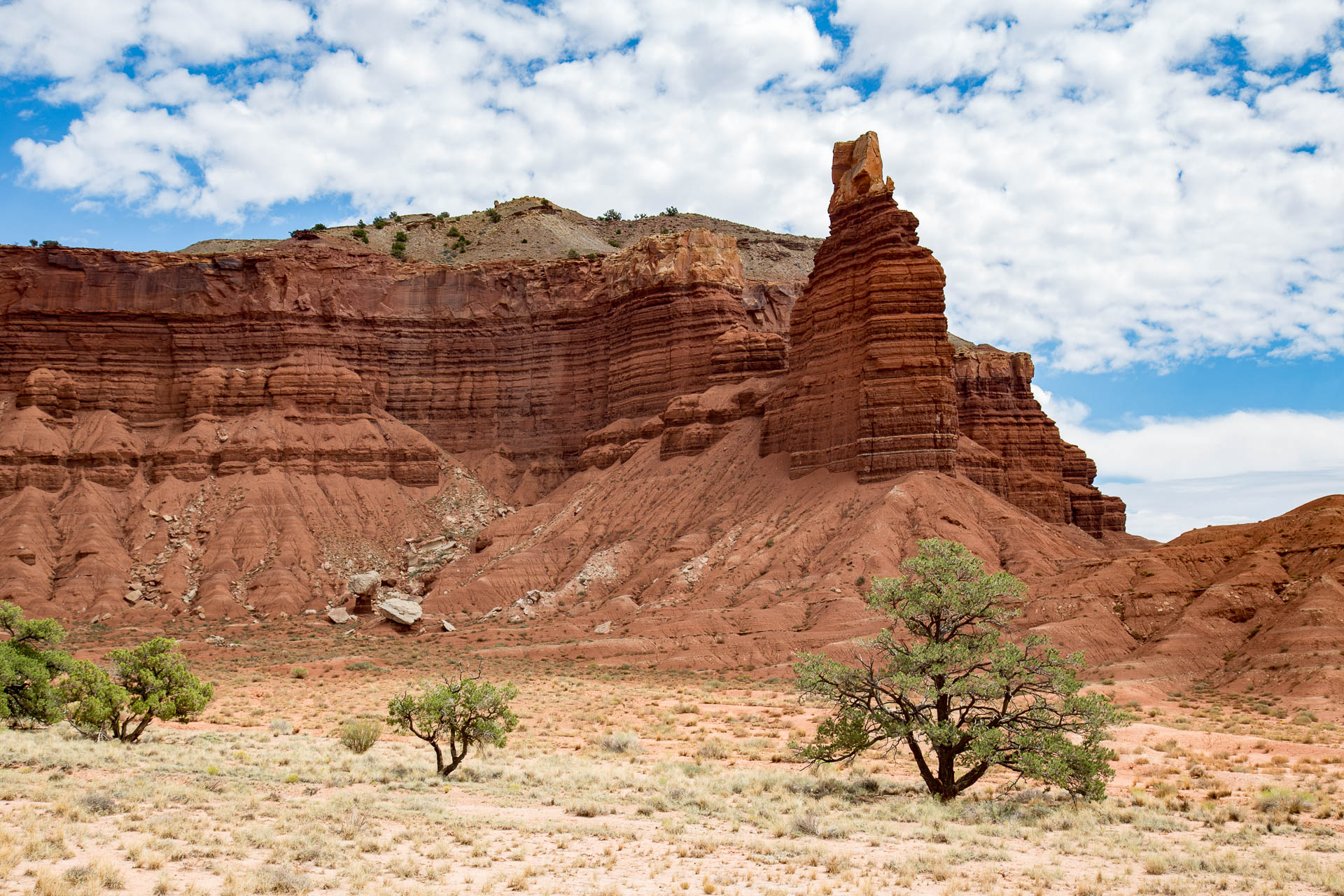 Anyway, the road afforded us some great views of the park including Chimney Rock.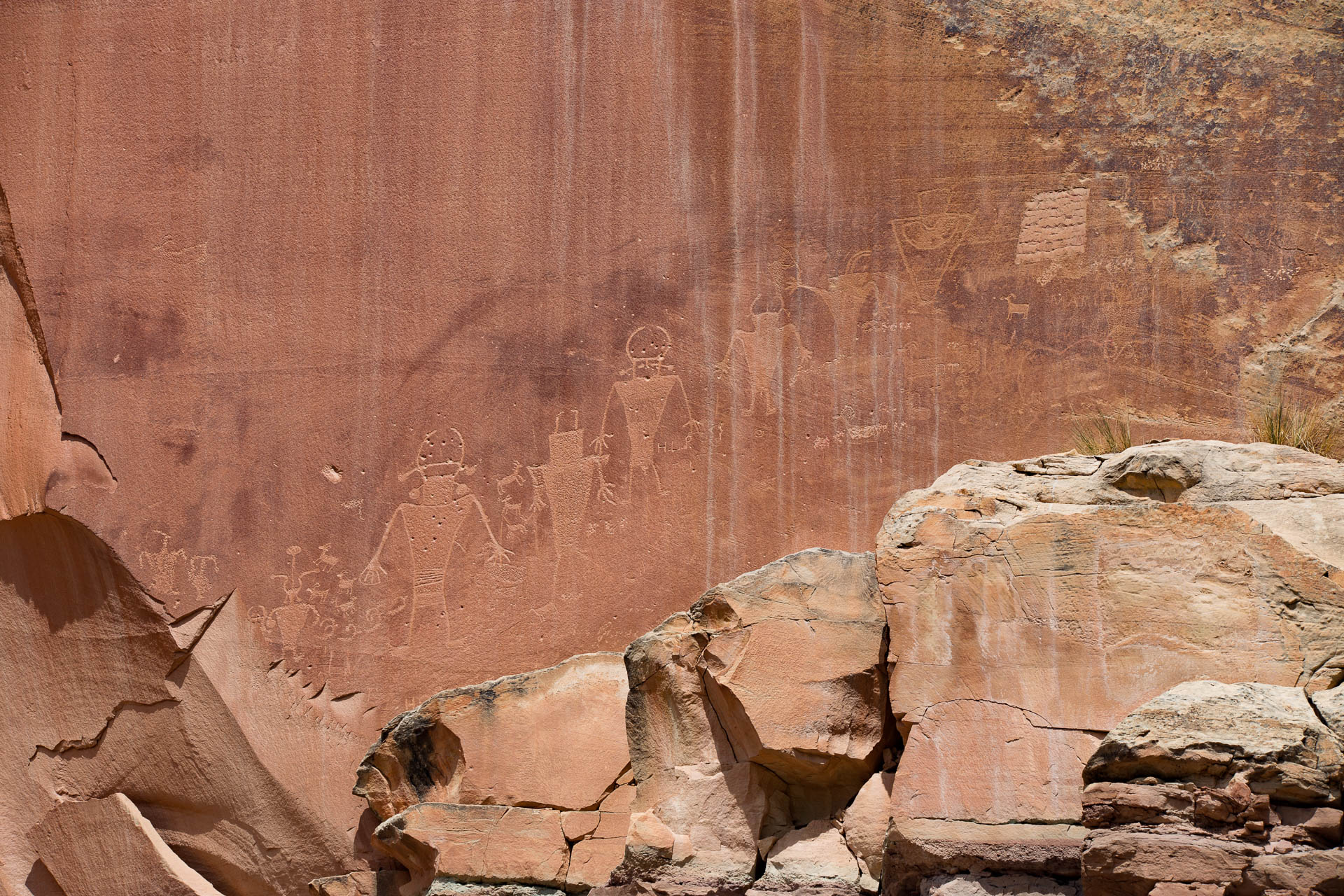 A little further down the road we began our descent out of the park plunging down a tight and twisting canyon passing some petroglyphs etched into the rock many thousands of years ago.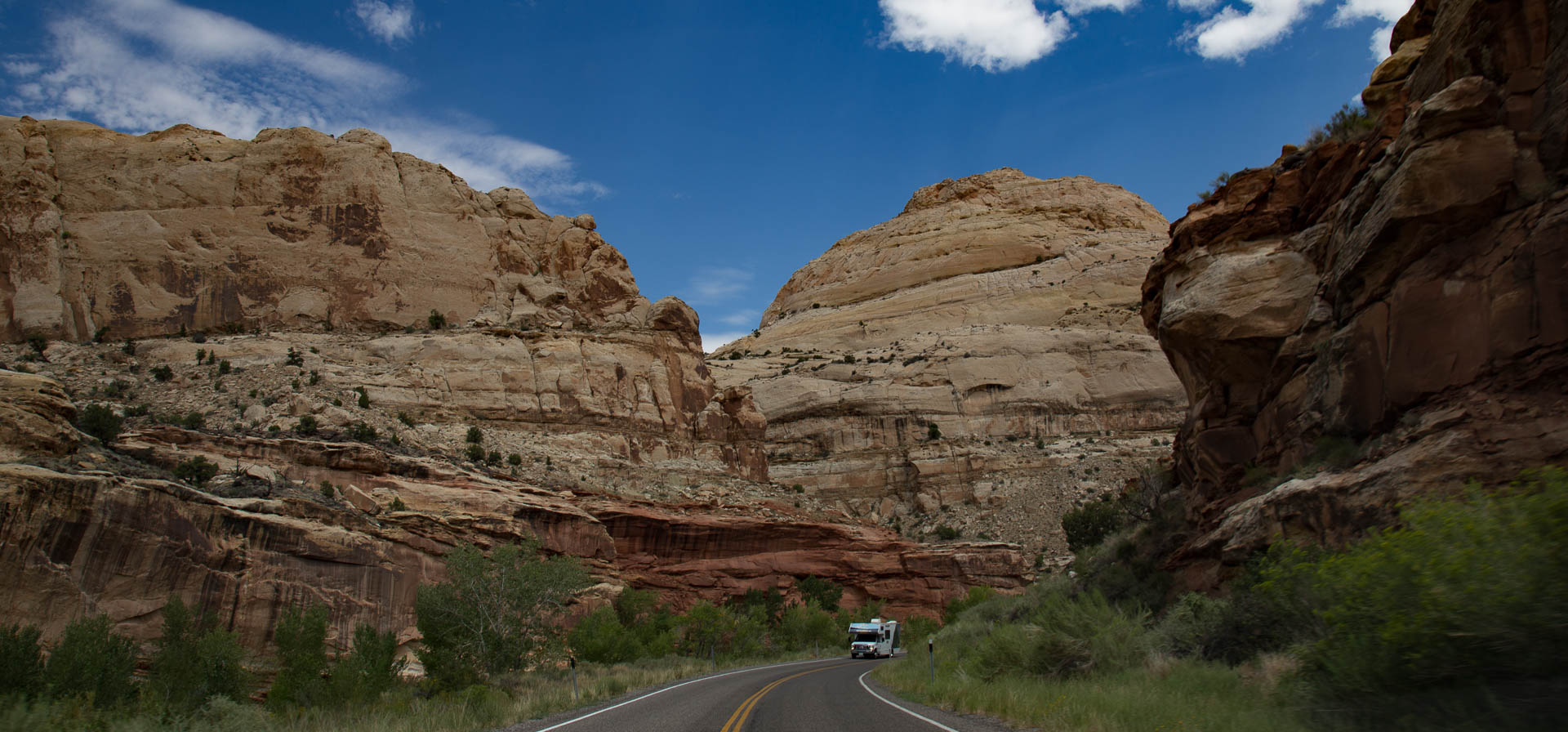 After leaving Capitol Reef behind the scenery calmed down a little but I couldn't help myself with the drone and thought that from the air, these cliffs looked almost exactly like they were missing an ocean. Geology rocks! Especially when you can see it so clearly. A quick, unavoidable, blast along I-70 was next where the speed limit was a very sensible 80mph!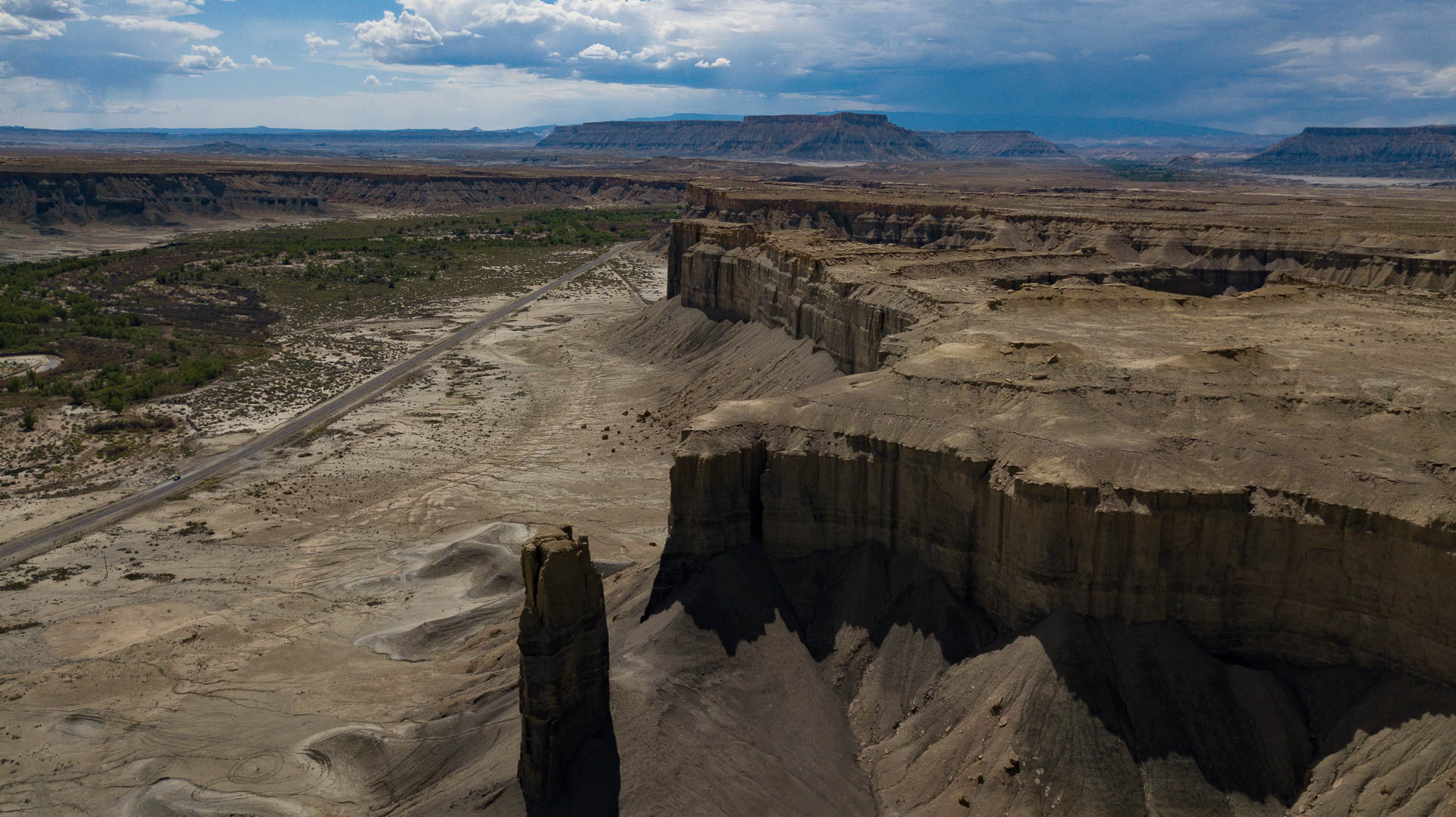 6 years ago, I married Catherine in the peak district. September marks the 10th anniversary of our relationship. I was 19 when we met. We've grown up together, learned how to adult together and I couldn't really imagine life without her. People say marriage is hard, takes work but honestly it's been easy. Living life with my best friend. Happy anniversary Cat.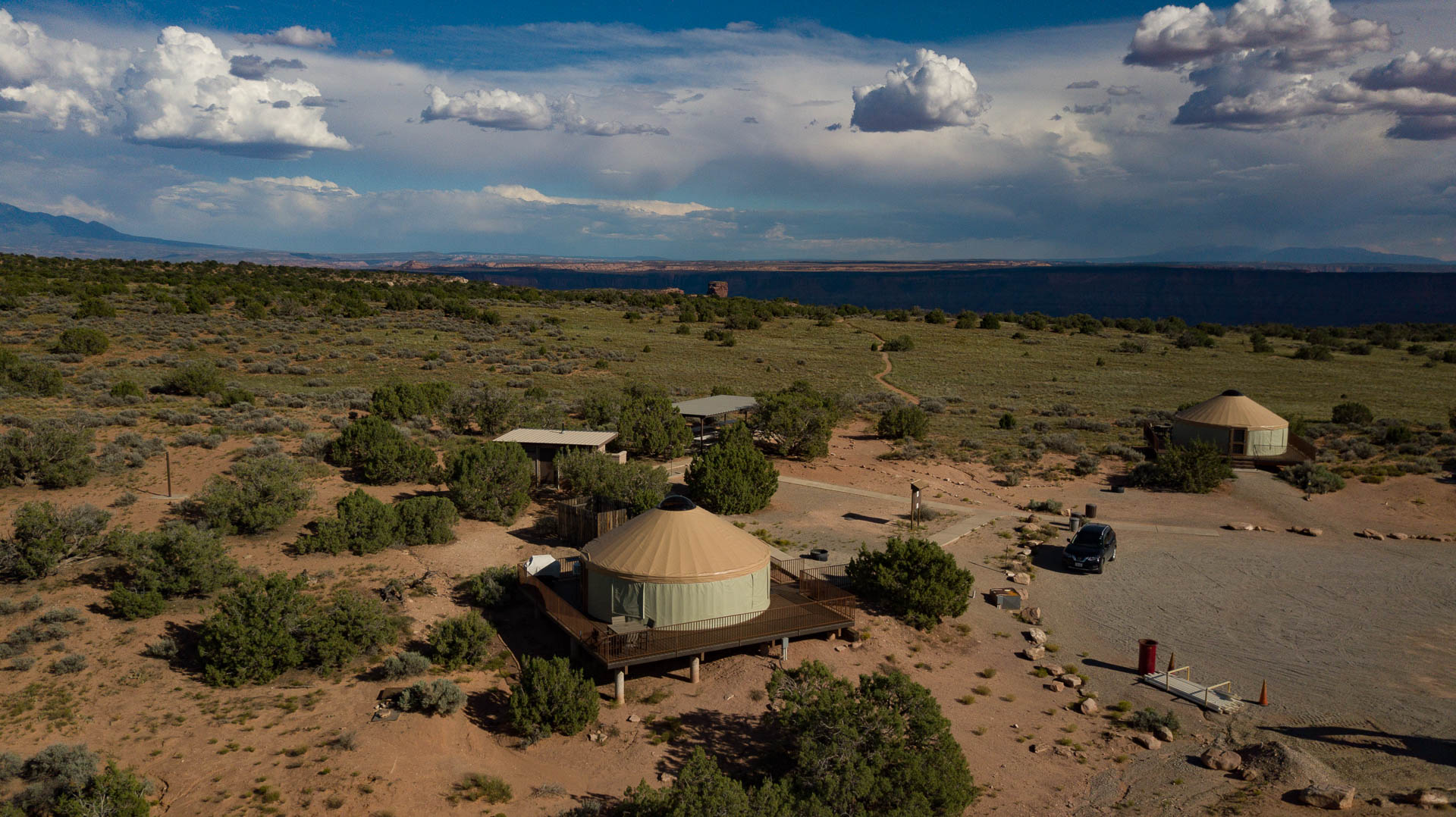 Given that it was our anniversary I booked a rather unique accommodation for tonight, a yurt. It's a posh yurt with AC and electricity, hardwood floors and a star dome built into the roof.
One of the standout new TV series we watched recently was Westworld. It was filmed here. The state park gets it's name from back in the days of Cowboys. They used to round up the wild Mustangs and force them to the point, a natural choke point and use the geography of the area to pen the wild beasts in. They picked the ones they liked and sold them at market, the rest they left to die. Why? Cruel and unnecessary in my view!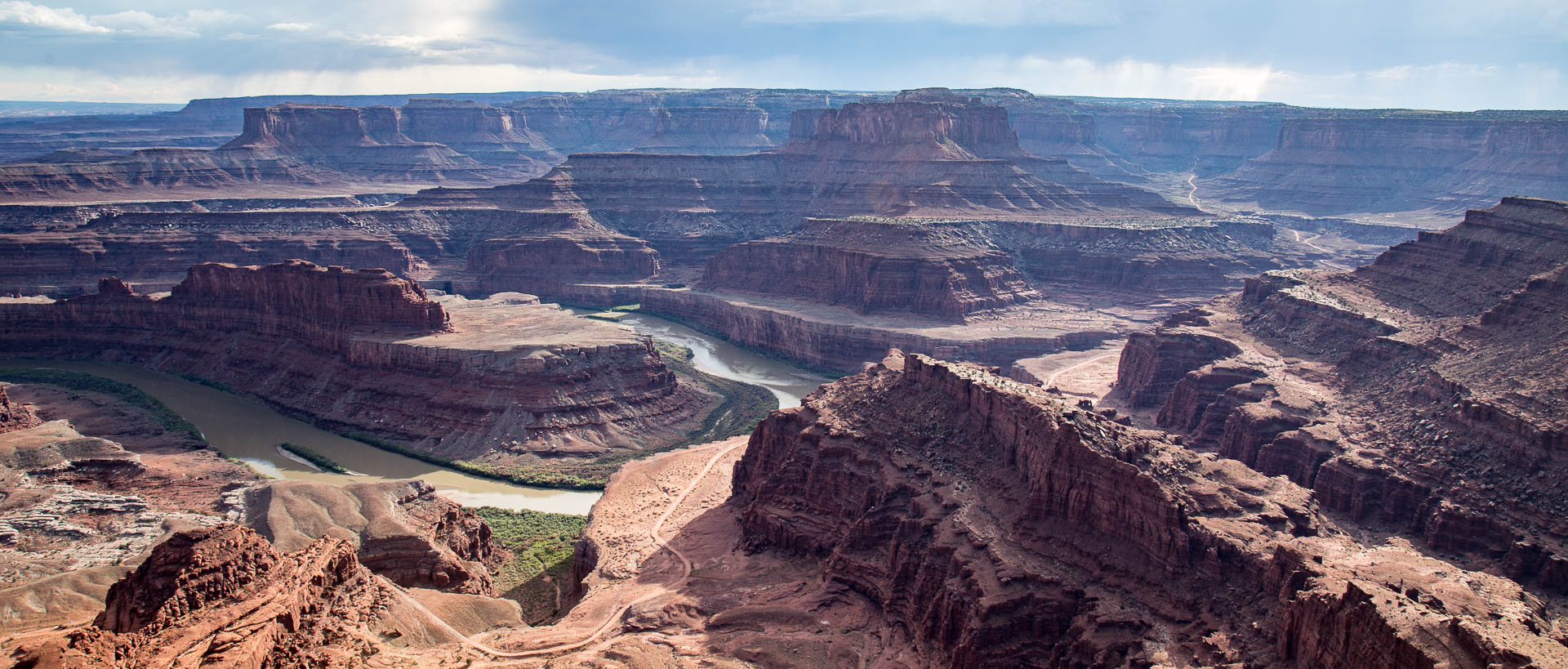 300 million years. That's what it took to create this landscape. The Colorado river 2000ft (600m) below us snaking through the bottom. Insert superlatives here. Easily missed as we're so close to Arches and Canyonlands, I'm glad we came.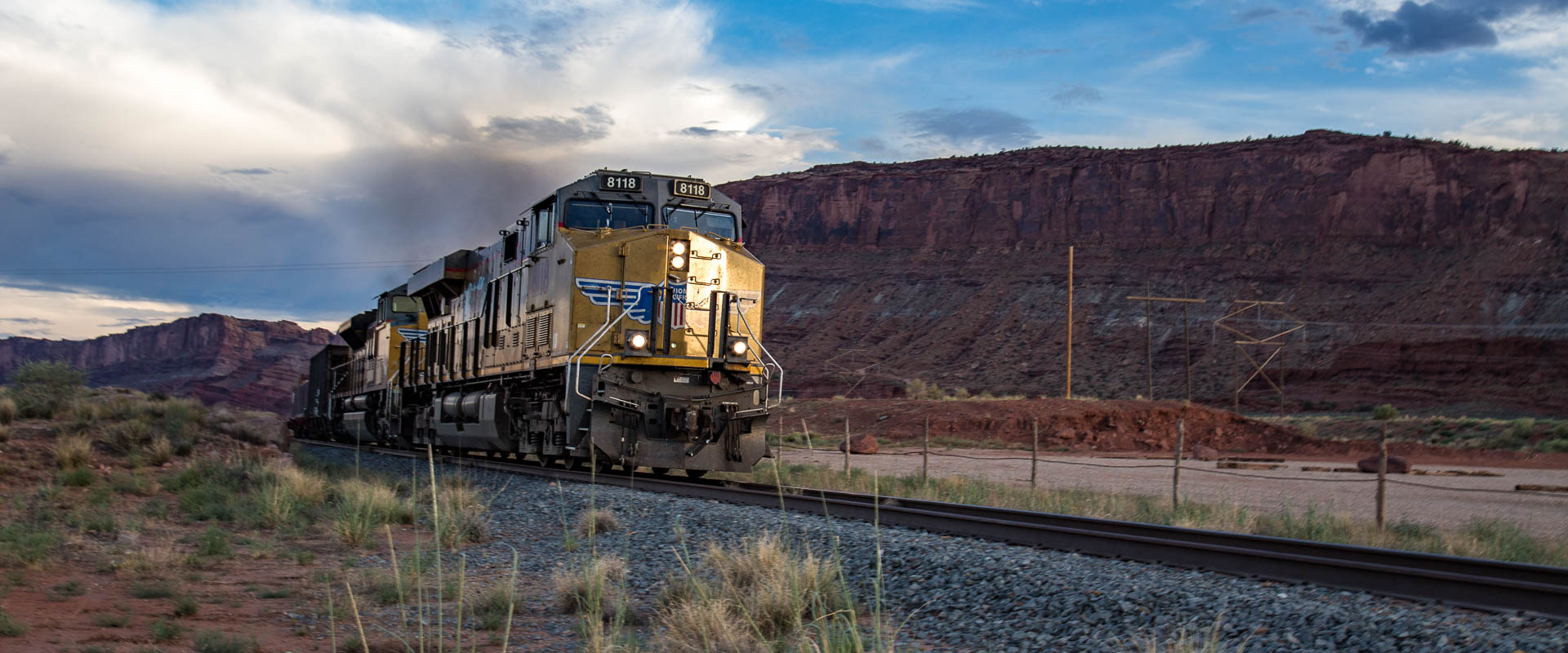 For sunset, I wanted a picture through Delicate Arch in Arches National Park - 30 mins from here. So famous a view that it's the one on their license plates! Alas, roadworks are in progress on the entry and exit road 7am-7pm Sun - Thurs. A bit miffed (why close the road just before sunset?!?!, surely 9-9 would interrupt less people!), we headed into Moab for dinner.
On the way to Moab we saw a freight train carrying radioactive containers. I couldn't pull over on the hill because the road was a fast 2 lane one but the train looked like a toy in that landscape. A very steep section of line north of Moab. There were two locos on the front and a runaway loco on the rear of the train. It was quite long, at least twice as long as a normal UK freight train, but not the longest we've seen. Not wishing to waste all that lovely golden sunset light I found somewhere to turn around and raced the train back up the hill finding a parking lot near the top to grab these two shots. The low throb of the diesel locomotives as they trundled by was awesome getting you in the chest. The horn sounded for the level crossing we were at and echoed off the surrounding landscape for an age.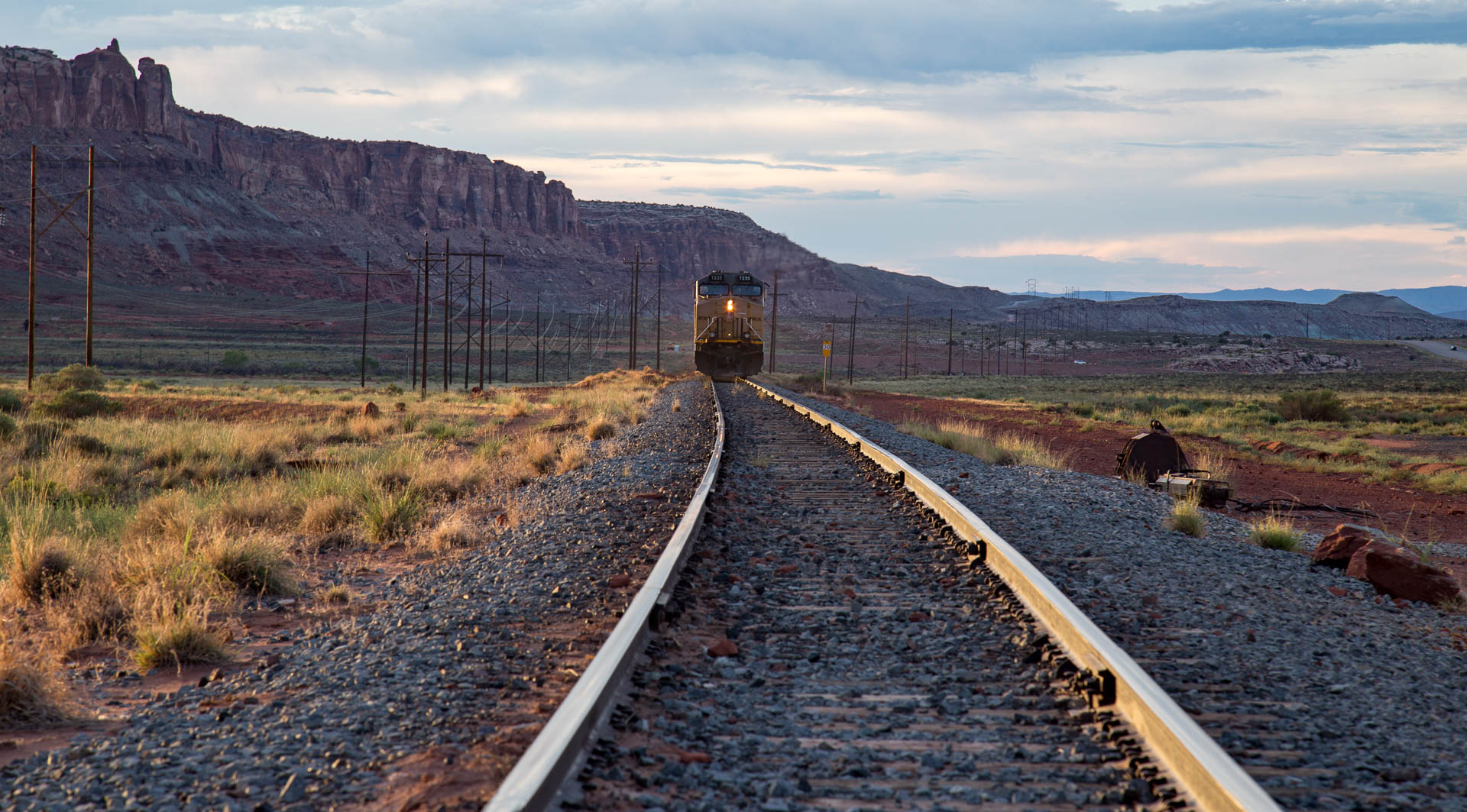 After dinner, we headed back to Dead Horse. By now the stars were out in force - the milky way visible, clearly, to the naked eye.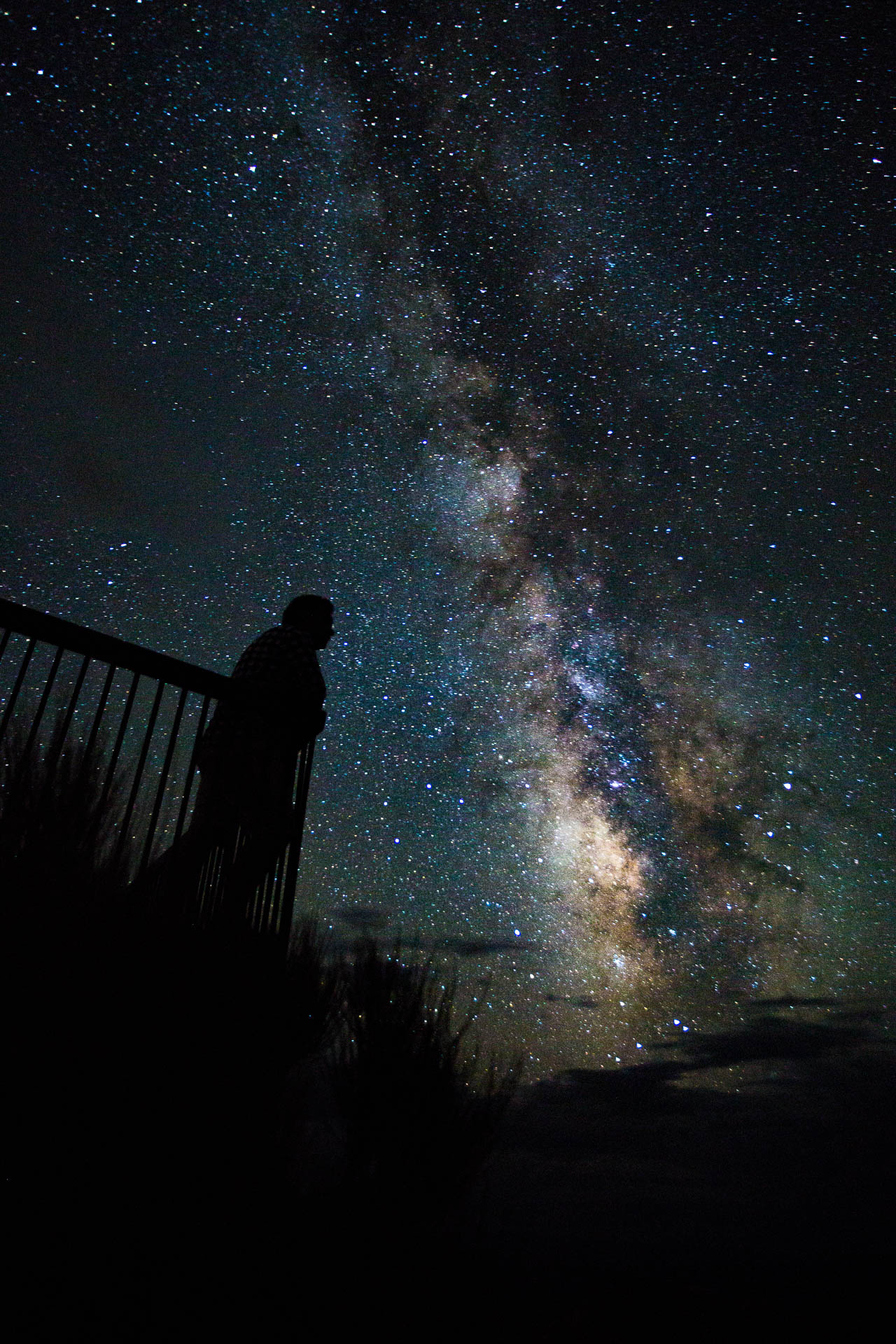 Cat lay on a bench looking up at the stars whilst I experimented. After 45 minutes or so I grabbed this shot looking out over the completely invisible canyon below from the viewing deck. If you're interested the settings were 30s, f/4.0, ISO 2500.
I think this is my favourite photograph I've ever taken.