The last of our truly big days today. Scheduling restraints with Caitlin and Dave meant that we had to do practically two (or more) days in one today. Still, we made it. Had a great time and made some great memories along the way.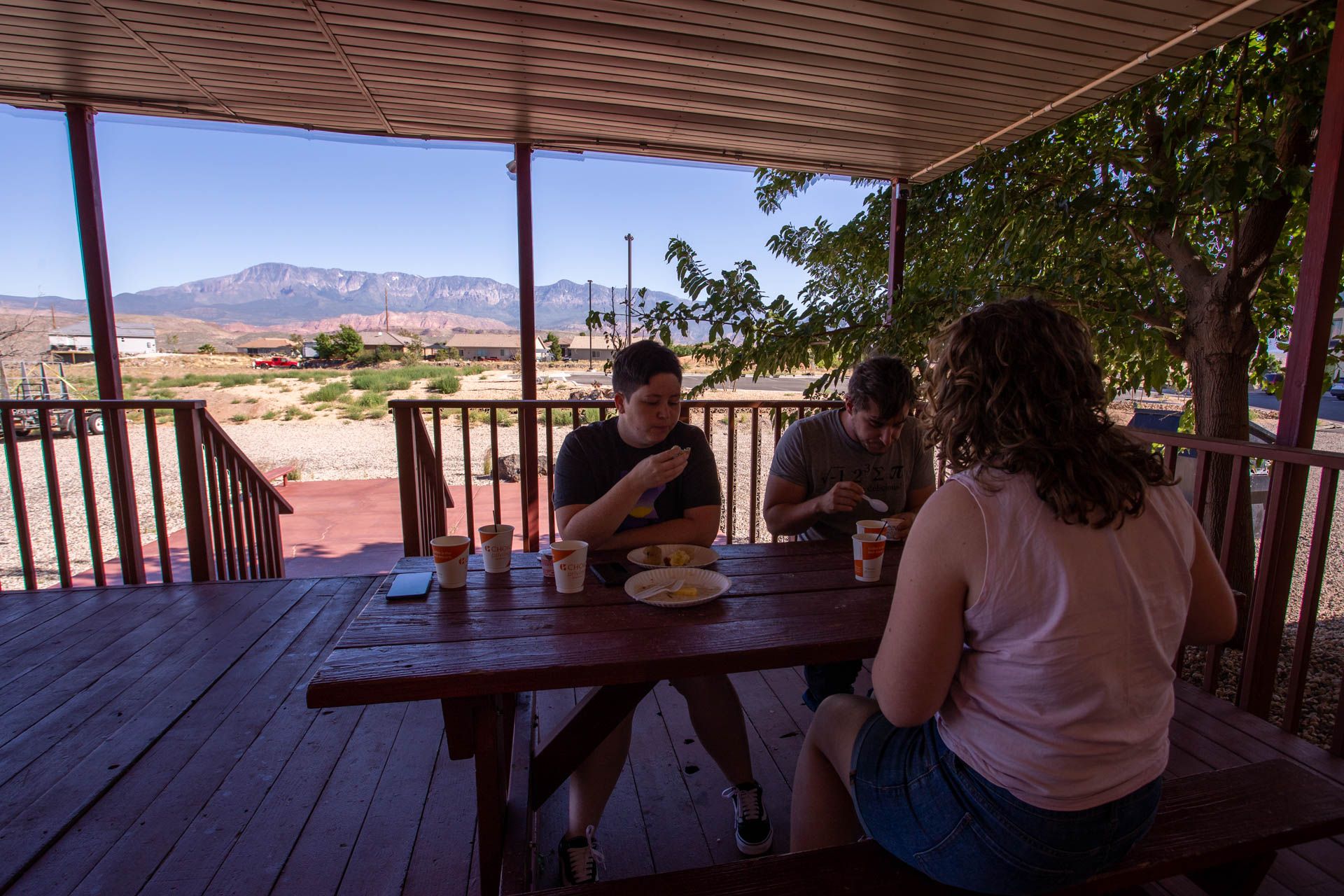 We arrived to our hotel in Hurricane last night in darkness so we had no idea of our surroundings really. This was a Quality Inn, the same chain I used when Mum visited earlier this year. My short review is that they're OK, clean and cheap.
Hurricane is about 40 mins out from Zion which we really didn't do justice today. It was absolutely stunning to drive through though, so we'll be back to spend at least a few days here in future.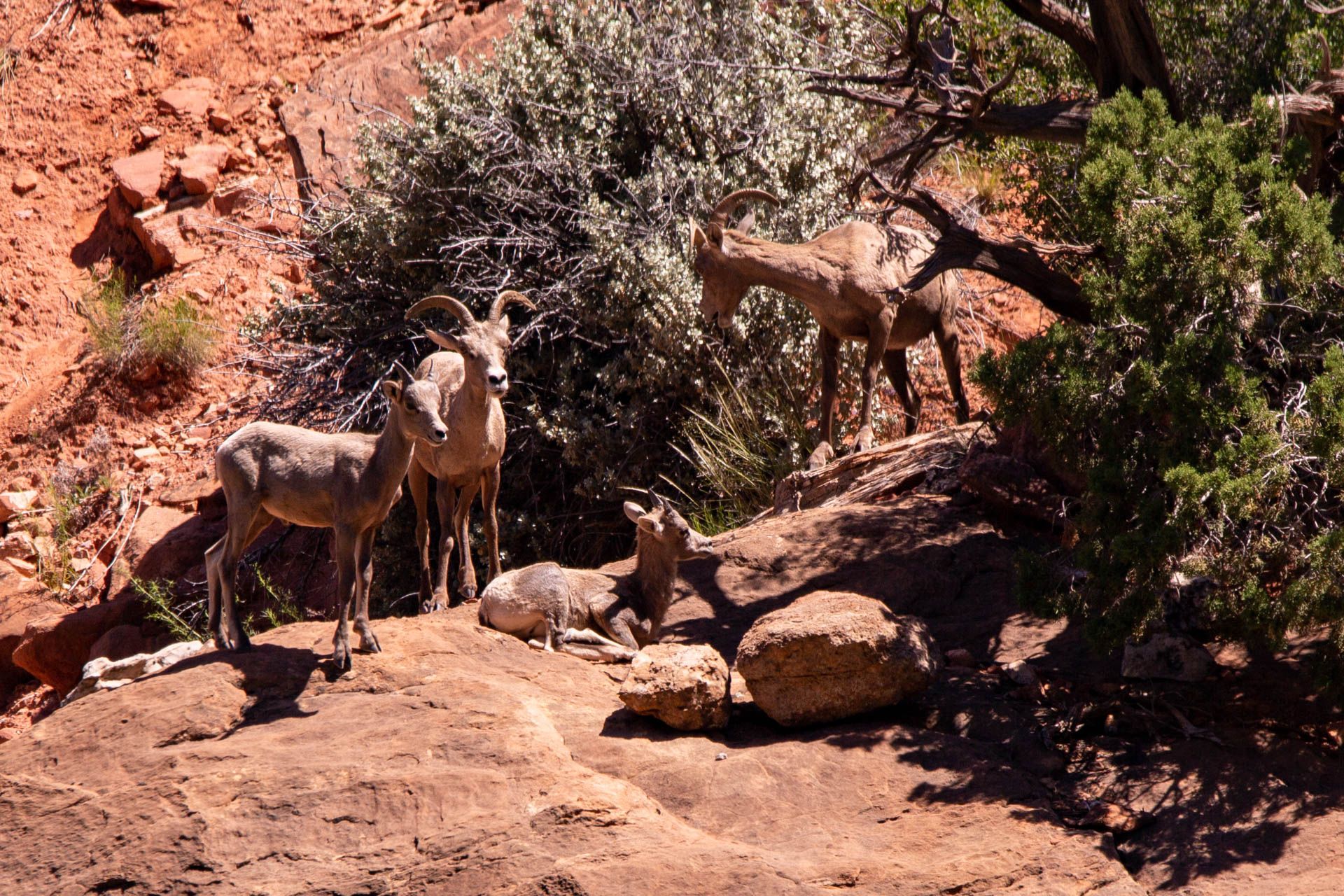 Almost all the parking inside the park was full. To be fair, we only saw at most 100 spaces inside the park. You really want to park in the town of Springdale just outside or indeed hotel there (if your wallet can handle that!) and take the frequent shuttle buses into the park. There are vast areas of the park you can only reach by bus so that was a planning oversight on my part.
A 1 mile long tunnel through the side of a mountain is how you exit the park. We set sail for Bryce Canyon about 1hr north. The road between the two is really beautiful and the red rocks Utah is known for really start to look fiery.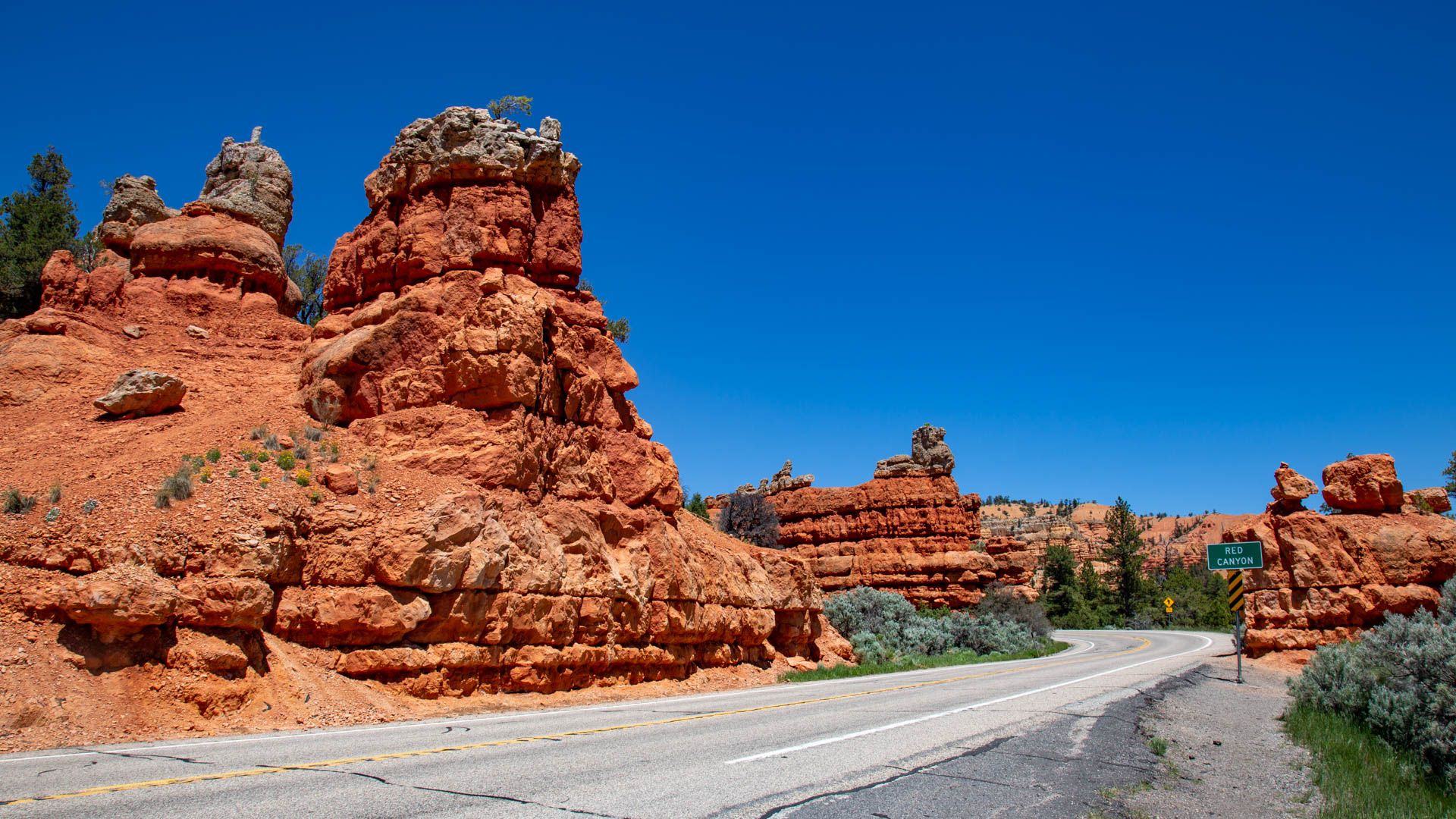 The red rocks kind of sneak up on you though. In this next drone shot you can see how the green plains of the valley quickly give way to these gorgeous formations. It's taken from pretty much the top left of the frame above as I found myself thinking "I bet this is beautiful from up there, I wish I could see from... Oh wait, you have the drone!". In fact, you can see our car in front of the coach down to the left in this shot.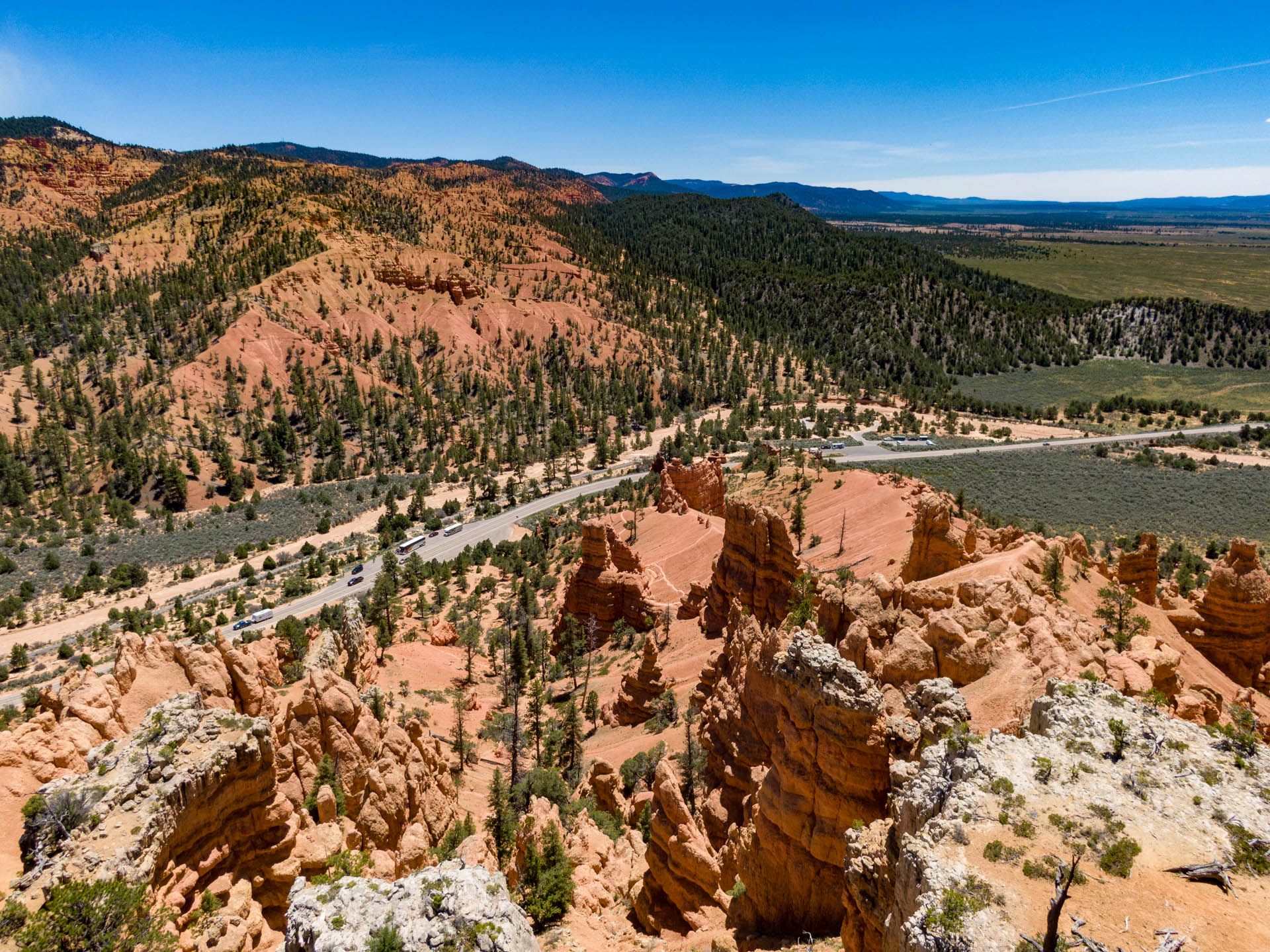 After clearing Red Canyon there were thick plumes of smoke on the horizon. Worried that this was a forest fire we were all pleased to see signs that said "controlled burn, do not report". Obviously flying a drone over an actual forest fire is stupid as that could hamper any fire fighting from planes or helicopters as they are grounded if a drone is spotted. However, a controlled burn? Seemed fine to me so I sent the drone off and here's the result!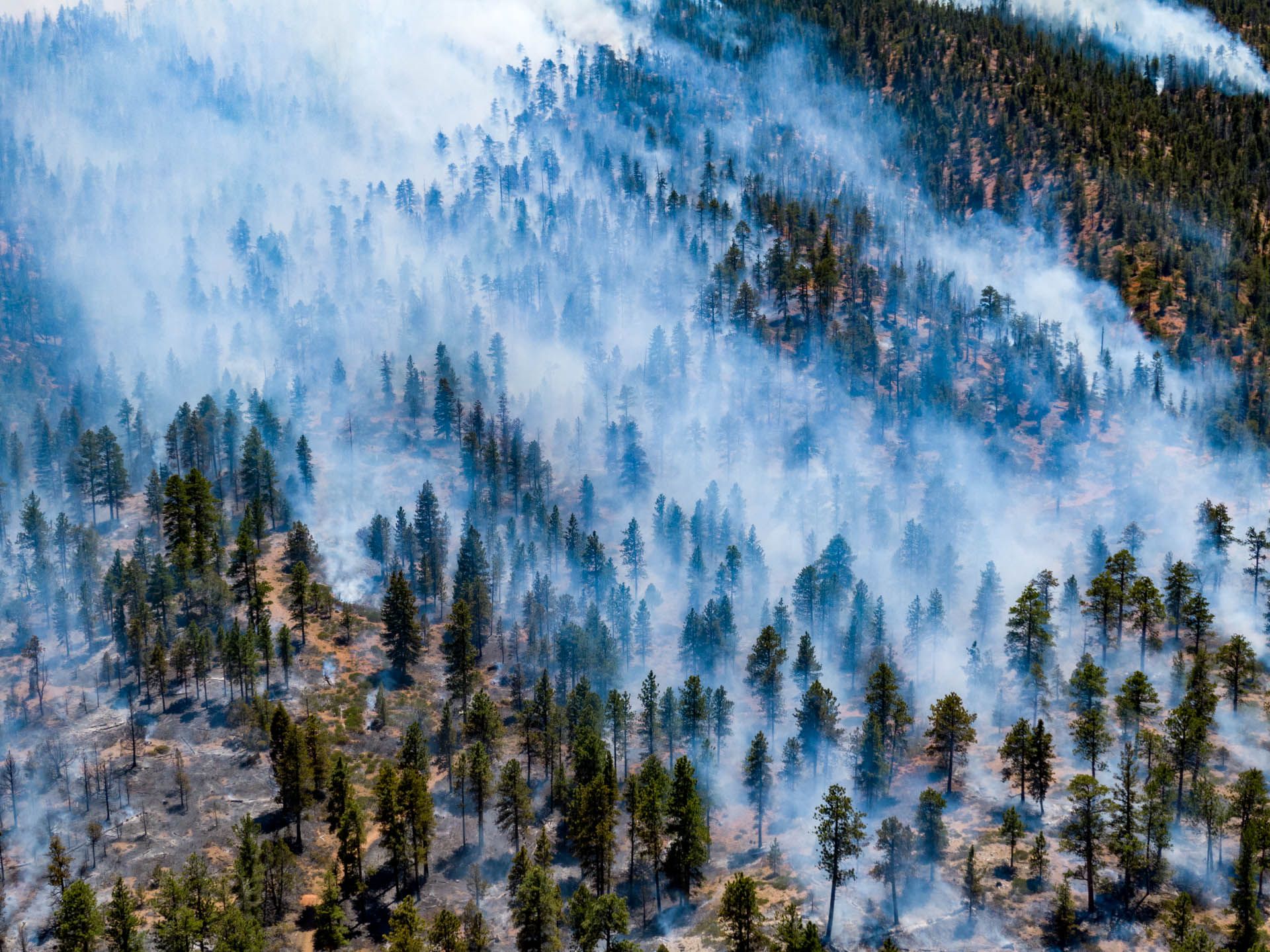 Lunch followed soon after in Tropic, UT. Tropic was where Catherine and I stayed 2 years ago and we had some fantastic pizza then. So, naturally we went back to "The Pizza Place" and were not disappointed. You can tell a good lunch when all conversation stops for 15 minutes as everyone is too busy inhaling.
Bryce Canyon is one of those places that pictures just don't do justice. The Hoodoos (hoosits!) hide an incredible amount of detail. 2 years ago we hiked up from the tree lined valley to the right all the way to the rim underneath the plume of smoke from the controlled burn you can see here. Not knowing then how driveable Bryce Canyon was we took the opportunity this year of driving all the way round to Bryce point. It's higher than the others and offers a stupendous view of the entire bowl.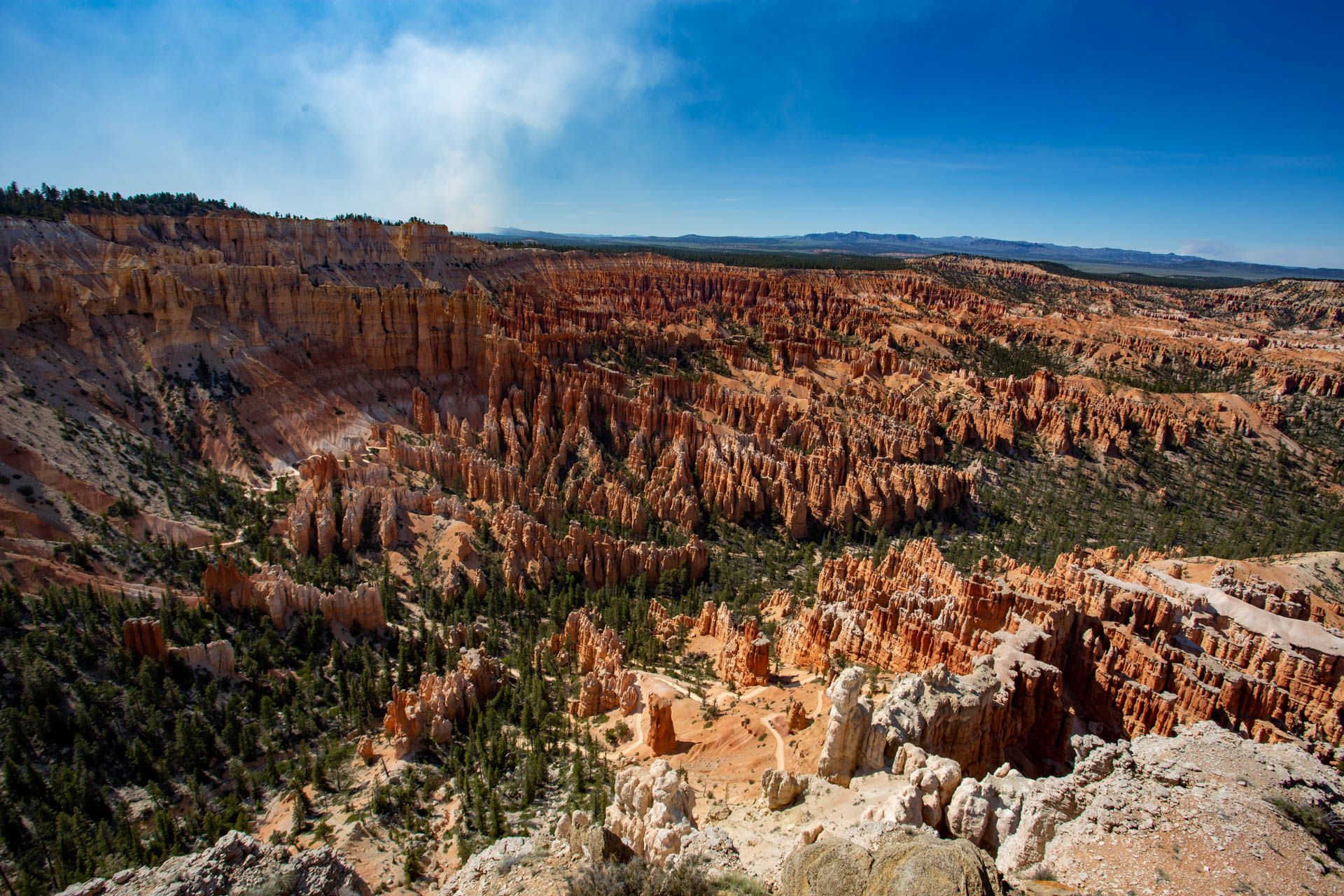 That hike we took 2 years ago was a real toughie but it really bonded us to this place. Catherine proclaimed multiple times that this is her favourite National Park and I think I agree. Although, we have Yellowstone coming up next week so watch this space.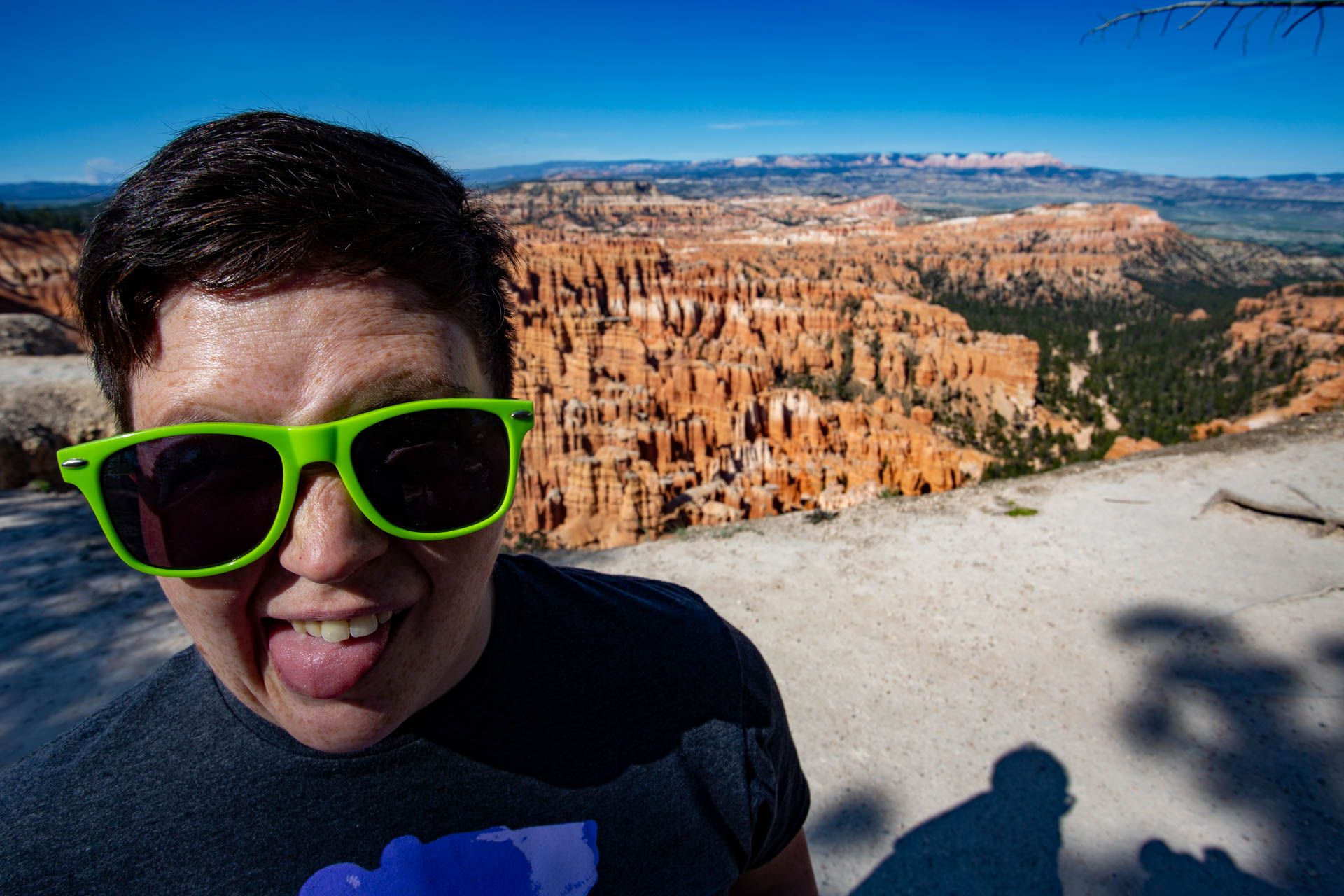 Moab was still a 4 hour drive away along scenic byway 12. This drive 2 years ago really stood out as a highlight from the trip so I was really excited to share this Caitlin and Dave as it's so unassuming until suddenly you take one corner and this vista greets you. You then have to drive across it! Utah is EPIC!

Caitlin took over the driving at this point for the next while as we climbed and twisted and descending throughout that landscape. We stopped for a Drelfie high up on a ridge somewhere in that view.
Sunset was fast approaching as we crested the highest point of highway 12 at 9600ft. The view from up there was a big one, here's a beautiful chunk of it with a large lump of red rock catching the light.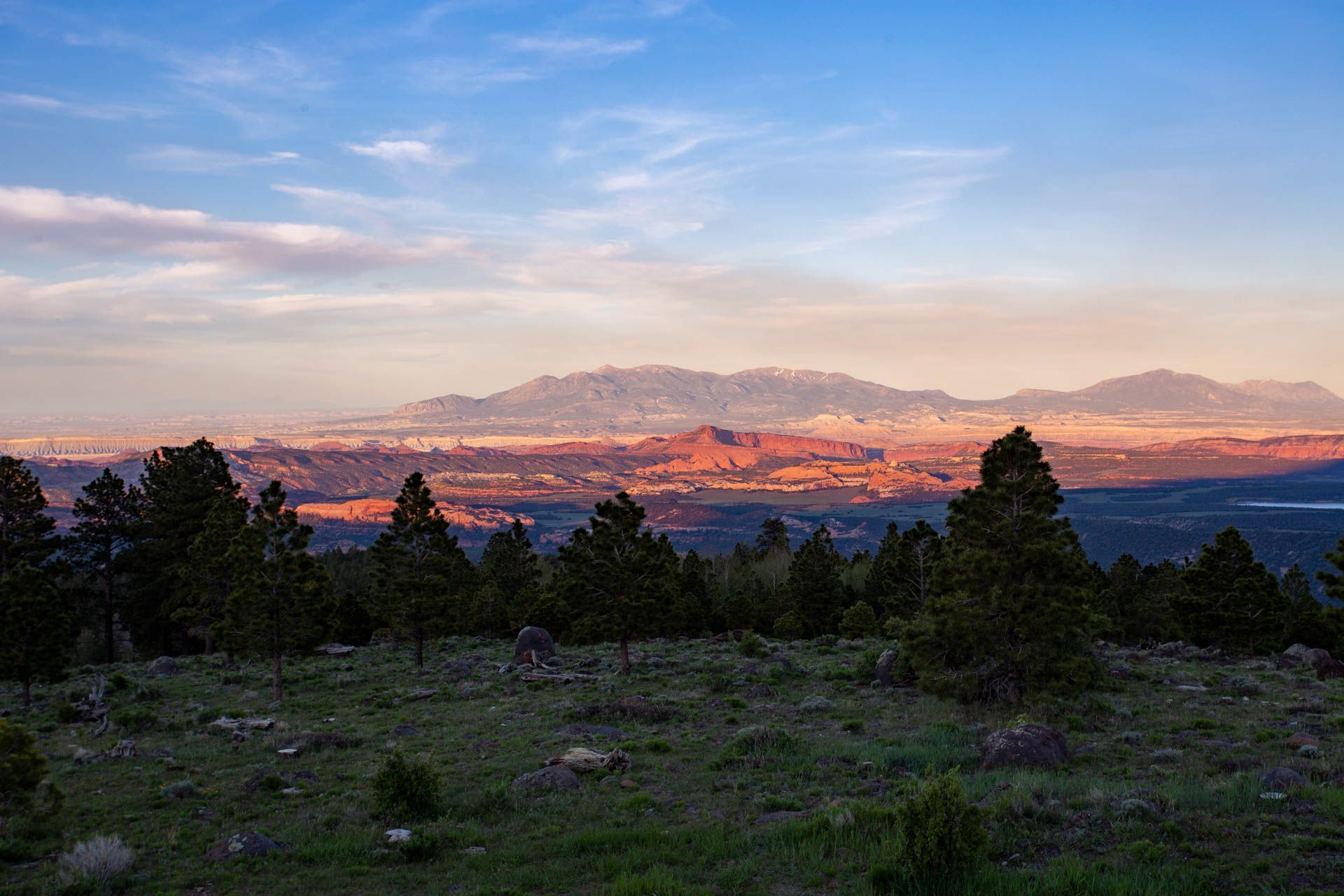 Capitol Reef National Park was next, our third of the day. Sunset had been and gone, it was now twilight. A short walk away from the car I found this tree with a twisted trunk.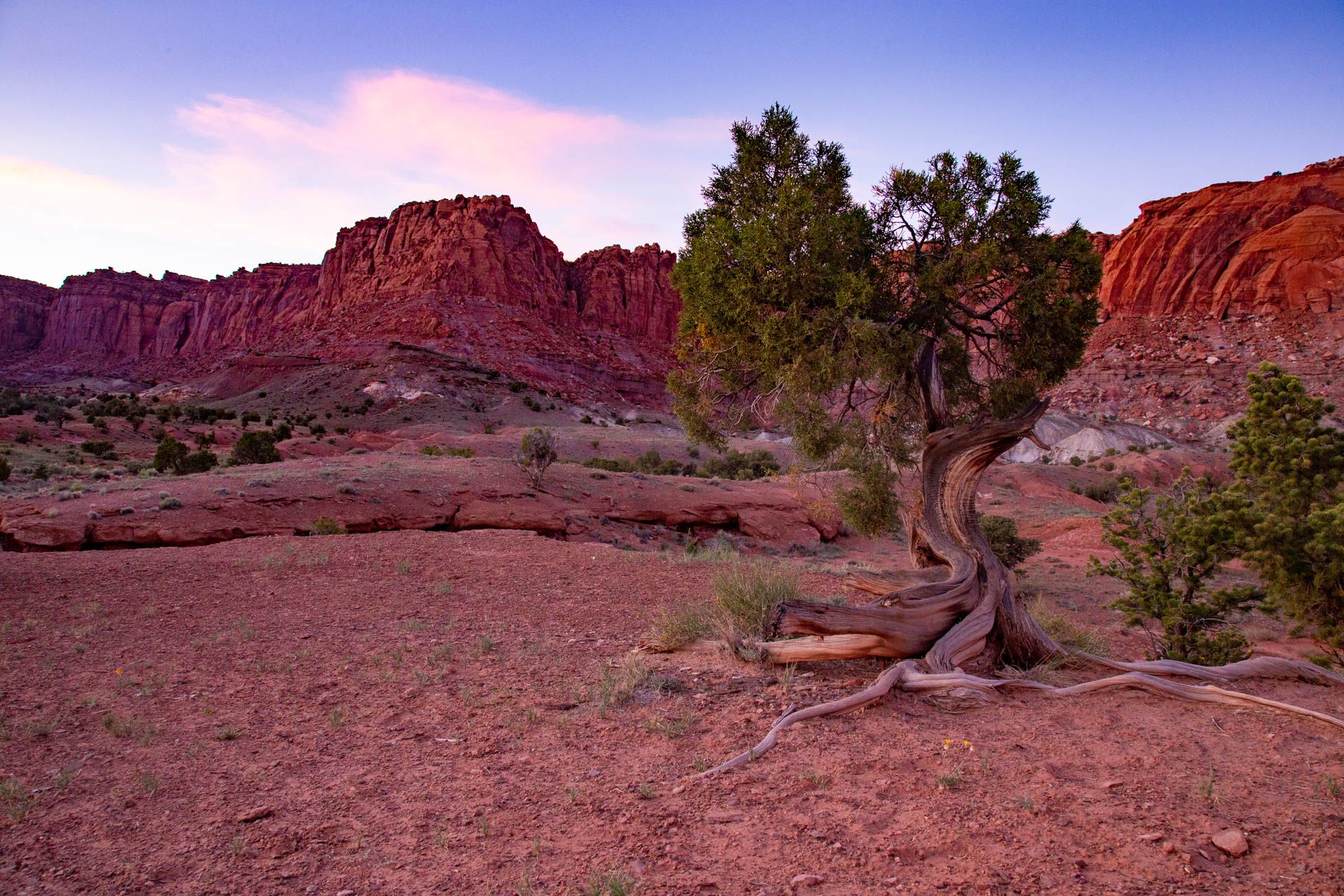 And nearby to that some wildflowers too.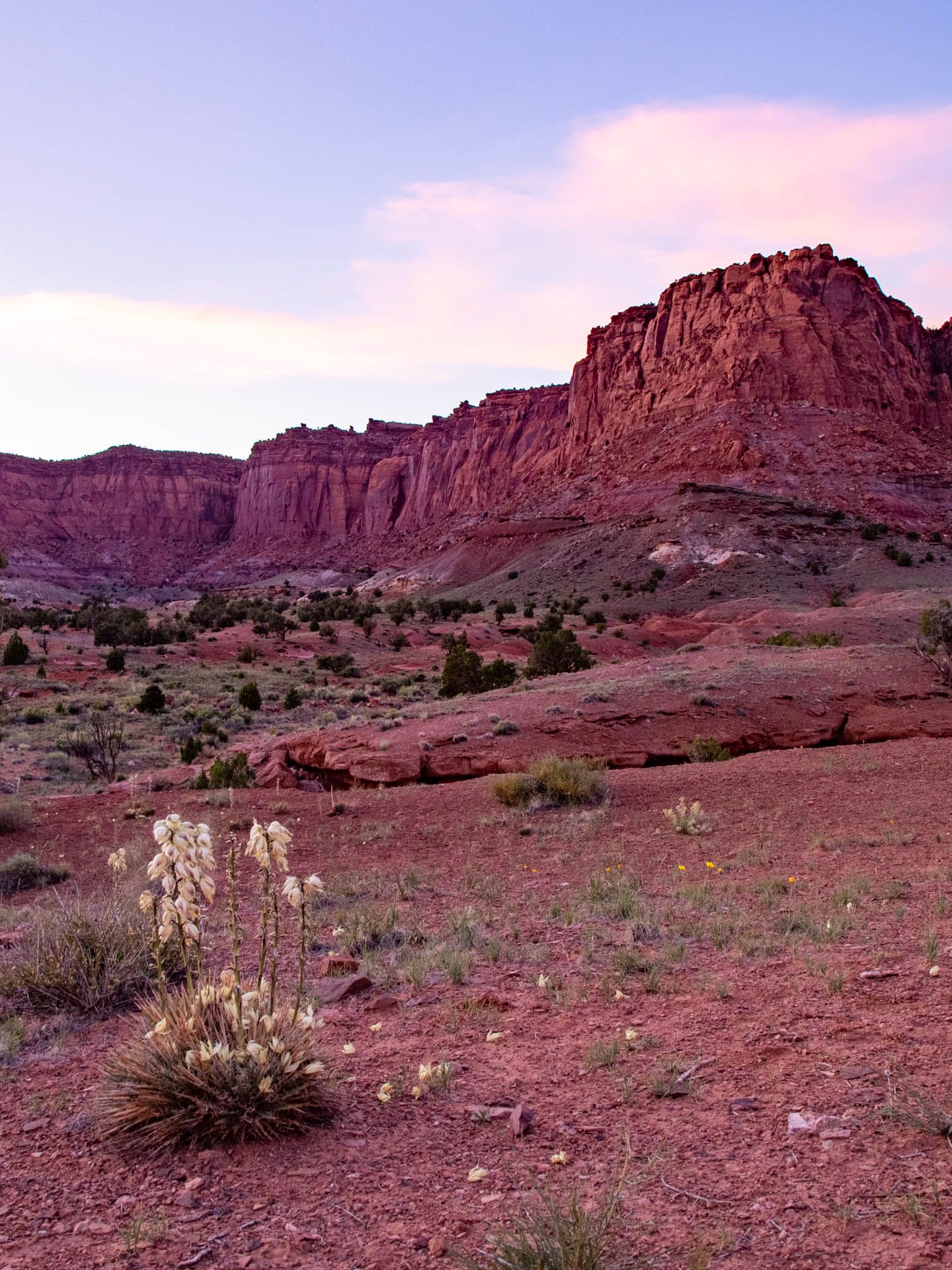 I absolutely love Utah. The red rocks, the vistas and the lack of people. It's just so wonderful and I think all of us had a fantastic, if a little long, day today.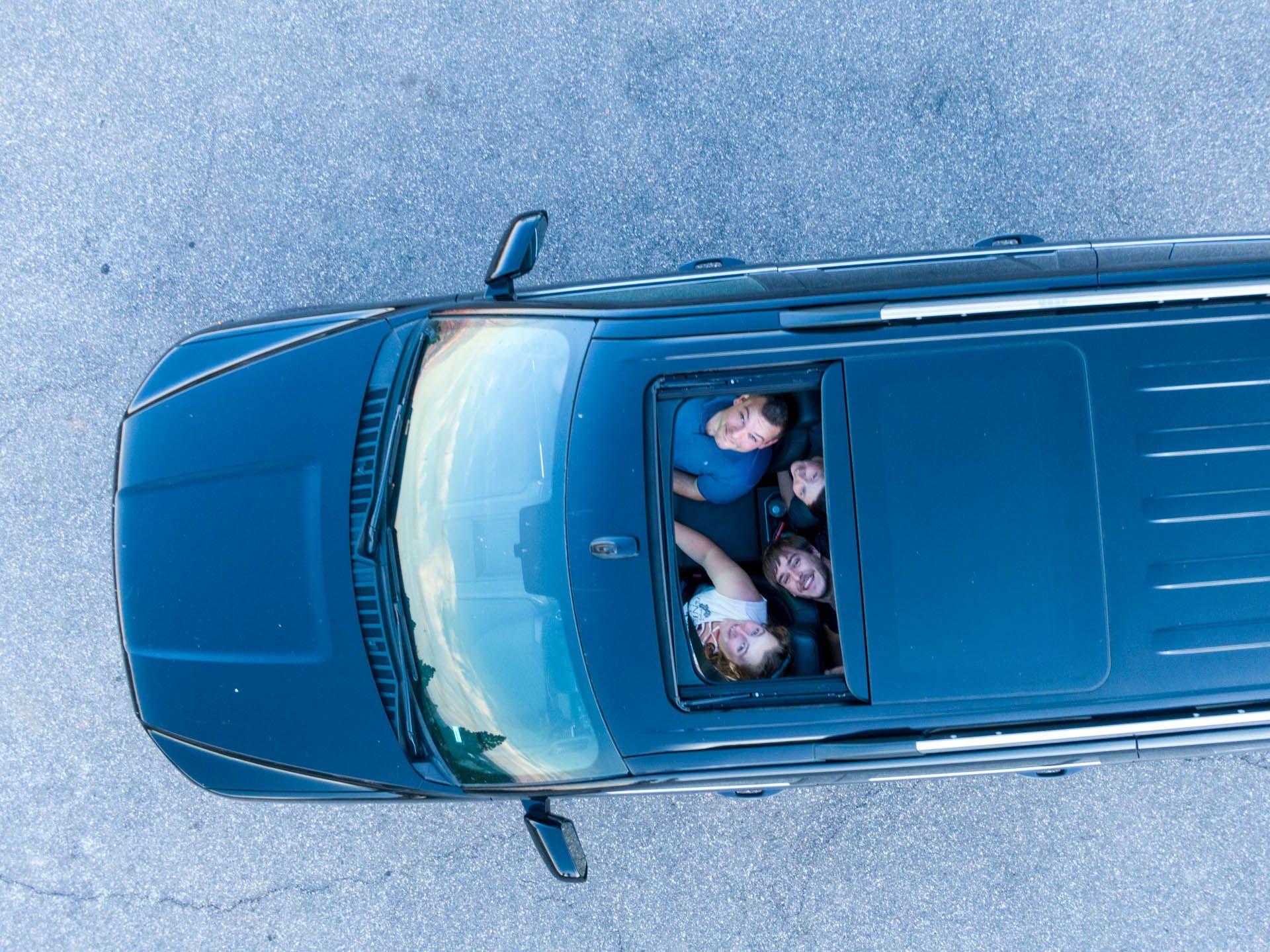 We rolled into Moab, UT just shy of midnight. Our Airbnb is great, just out of town and has laundry facilities etc which is useful at this stage in a trip! Tomorrow we're going to chill a little and then visit Arches later in the day to catch the sunset.