Day 8. Today was relatively quiet day as "all we did" was drive from Žablajak in the North to the Bay of Kotor in the South via Podgorica and Budva. 1500m above to sea level in such a short drive was a pretty great example of the diversity of this country.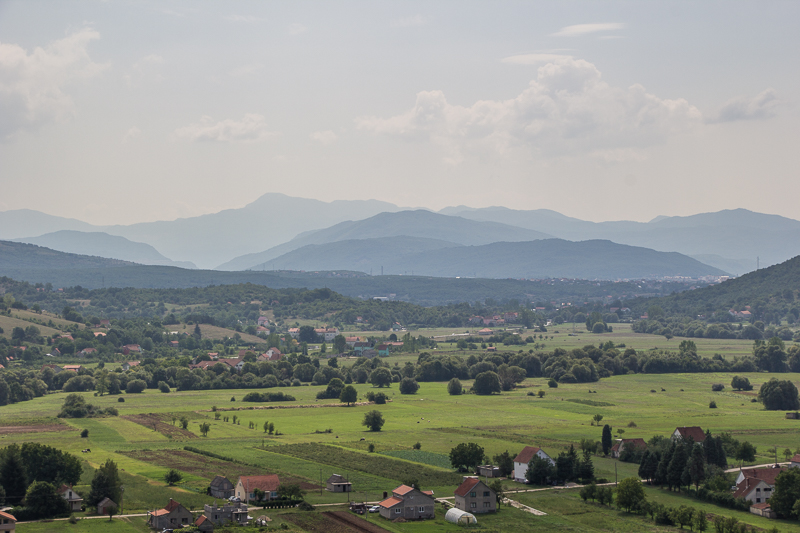 The image above is the centre of the country. A mix of wide, flattish plains punctuated by glacial deposits (spot the drumlins) with the mountains providing a backdrop which borders on the ordinary it is so common here. It is of course not ordinary but hopefully you know what I mean.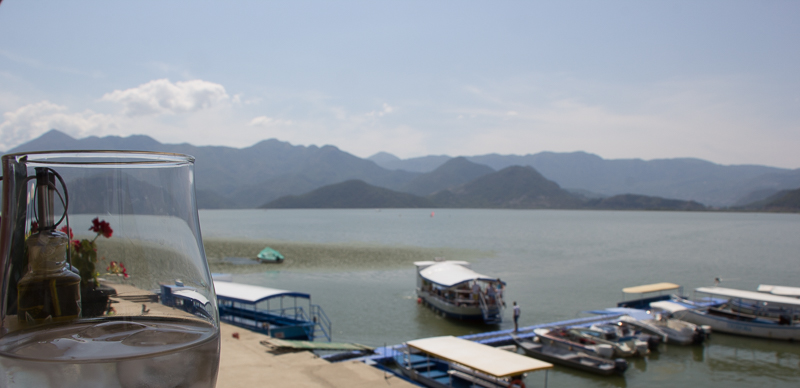 When we left Žablajak this morning it was a cool 13.5C at 9am. By the time we hit Budva at the coast it was 32C. What a difference 2 hours and 1500m makes! En-route we took in Lake Skadar which lies on the southern border with Albania (we didn't cross the border). It's a huge lake, bordering inland sea. We stopped and had lunch, two absolutely delicious salads with ingredients so fresh they may as well have been picked out the back - mmmmmm. (See what I mean about the mountans? They're stunning but they're EVERYWHERE!)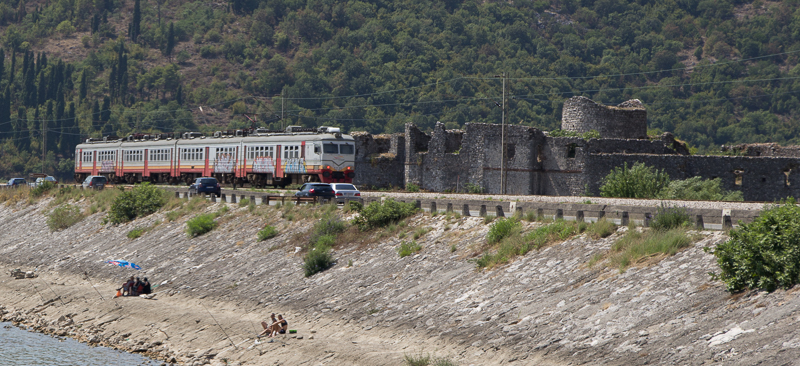 The road followed the route of the Belgrade - Bar railway across the lake and one of the local stopping services trundled by as we ate. The ruins of an old fort provided an interesting background for this shot.

We arrived at our next Airbnb accommodation in the Italian lakes Bay of Kotor. We've inadvertently booked to stay the weekend of their biggest annual festival. There's only one road through the town on the shore of the lake and it's being closed tomorrow as apparently 30,000 people descend on the place. So much for getting away from the crowds! All adds to the fun I guess.
Between lunch and Kotor we took the coastal road through Budva and Petrovac. Avoid it if you can, it's a 10km long traffic jam. Wonderful views all along the road but because it was so busy I wasn't able to do my usual pull in and snap pictures bit, so there aren't any! Honestly, it was just like driving in Rome at rush hour at times - avoid the coast road.
Waiting for us on our arrival was a special surprise from our host. Maybe she knew it was our wedding anniversary today (how could she?) or maybe she'd just like a good review and thought bribery would ensure one (it's a good start)! Airbnb works on a review based system, similar to eBay. Hosts list their properties and live or die by their reviews. After you've left a place you and the host have 14 days to complete a review about each other but neither is made public until both parties have completed. This approach prevents revenge reviews like you sometimes get on eBay and I like it. It means the hosts go the extra mile to make your stay that bit special and we as guests make sure to clean up after ourselves.
So far we've stayed in 4 Airbnb places and all have been great. It isn't an experience without its quirks but I feel we've had a more authentic cultural experience with the locals because of it. They've all, without exception, given us tips on where to go to eat / explore and which taxi companies to use without the usual commercial angle I always feel hotels are pushing (maybe this is a hangover from when I used to work in that industry). Anyway we've had a great experience so far and if you decide to give Airbnb a go please use my referral link as we both get a kickback.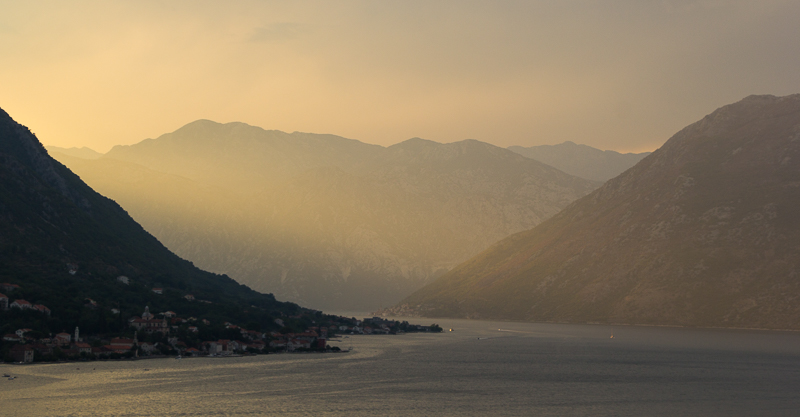 Almost as we arrived a beast of a thunderstorm rolled in off the Adriatic. We hunkered down during the resulting power cut and had a nap. Afterwards the world seemed calmer, as if it were letting out a big sigh, "aahhhhhhh". The clouds lifted and as the sun set behind the hills washed the bay in a sublime golden light.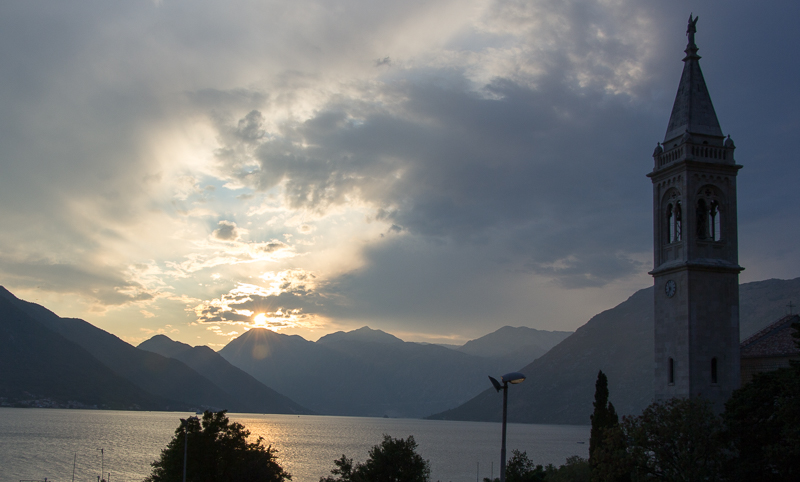 We drove to the next town along the lake shore and found a spot to pull in a capture this just before the sun disappeared for the day.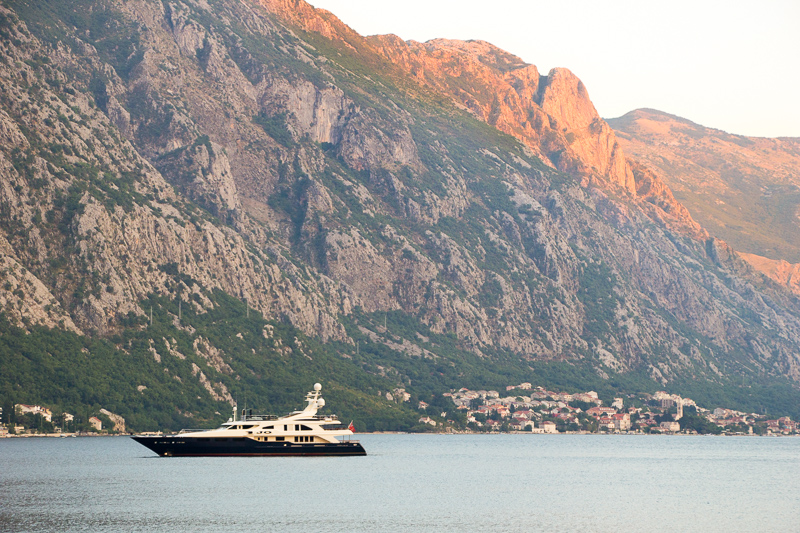 As we rounded the top of the bay the golden light was just clipping the tops of the mountains behind our apartment. When we checked in our host made sure to tell us to visit "Porto Montenegro" as it's the biggest super yacht port in the area. Apparently frequented by Djokovic drinking coffee, "you might even meet him" our host said. My cynical internal monologue thought "uhuh" but I just smiled and nodded. Still, there were some beautiful boats bobbing around in the bay tonight and this one, named Jo, was in the right place at the right time.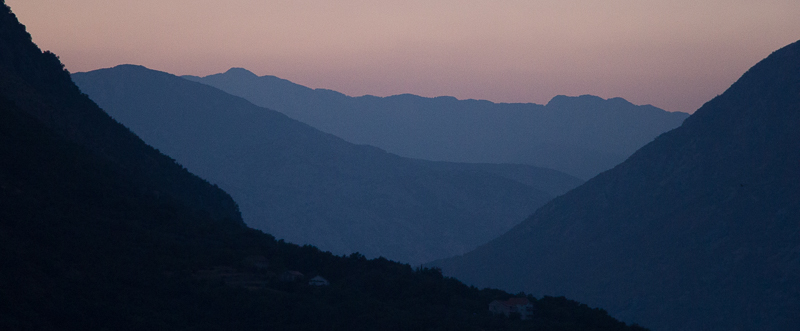 The sun was long gone by now but the mountains are just too beautiful to ignore sometimes.
Tomorrow we'll go and explore the last remaining National Park, Lovćen. See you then.