This post is part of a series encompassing our 2015 summer holiday to the Balkans. We spent Friday 14th August (happy birthday Mum!) in Belgrade, a city with much more to offer than the guidebooks led me to believe.
The first full day of our holiday began. After a delicious buffet breakfast, which was included in our room rate we headed towards Belgrade railway station to purchase our tickets to Podgorica, Montenegro the following day. We walked for around 15 minutes down a steep hill before finding ourselves in a large square filled with trams, buses and trains.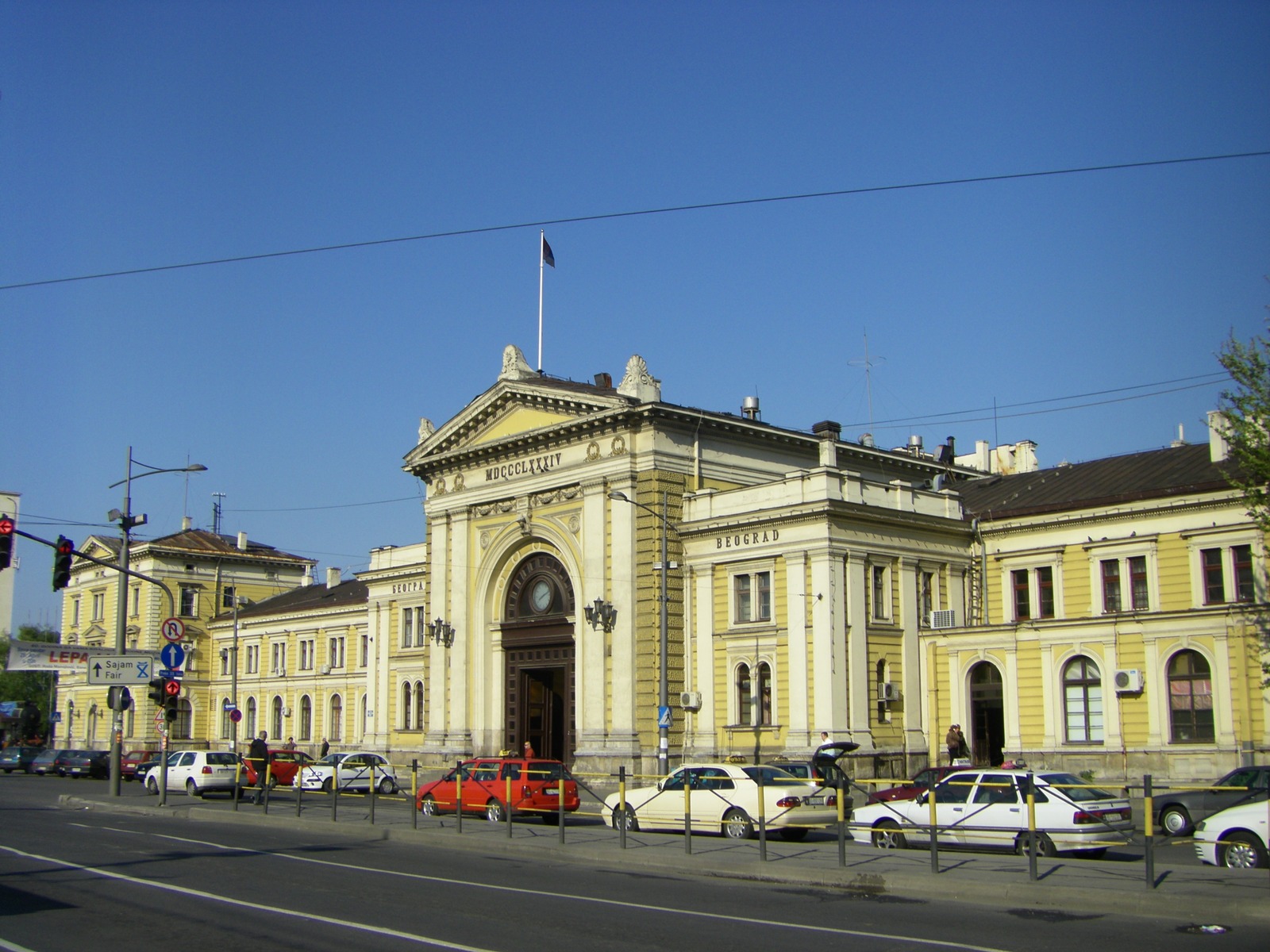 Belgrade station itself I suspect has seen busier days. The ticket hall was mostly deserted save for 3 ladies selling tickets behind marble facaded counters who all looked rather annoyed at being there at all. We purchased the tickets for 4700RSD (about £30) for two people. Cheap vs english prices! Knowing we had the travel sorted for the next day we headed back to the hotel to catch up on some sleep till around lunchtime.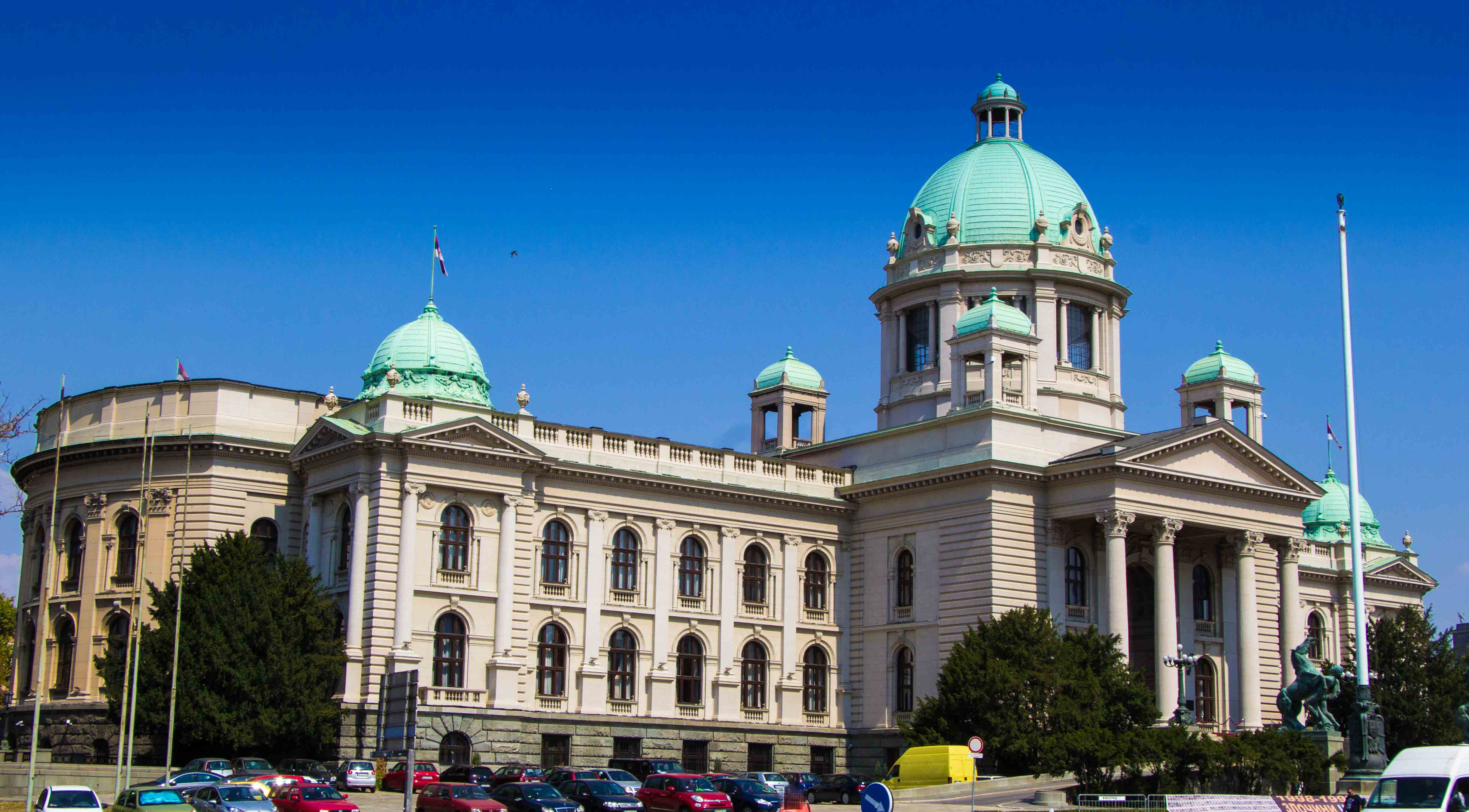 After our mid morning nap (recovering from our 3am arrival due to a delayed inbound flight) we surfaced and decided to go on a walk across the city. We had no particular plan and just headed toward to the Serbian National assembly building we could see from our hotel room window and took it from there.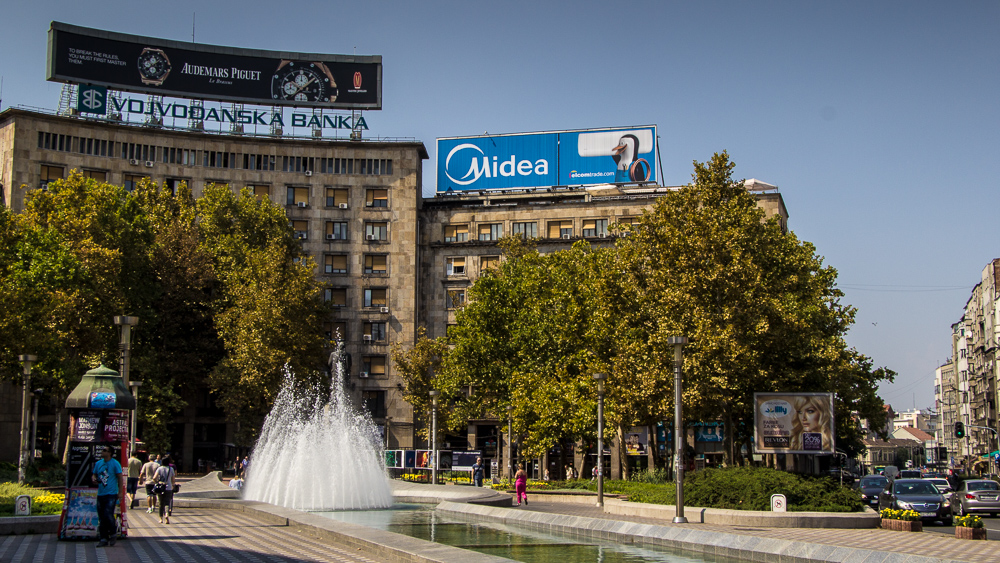 I've never been to Russia (Cat has) but I imagine it would feel fairly similar to Belgrade. The buildings are mostly of uniform design, usually with a concrete construction. Adorned across the top of the larger buildings is usually a brand logo. Many of the vehicles were old and 'communist' types and had almost all seen better days. These little guys were everywhere!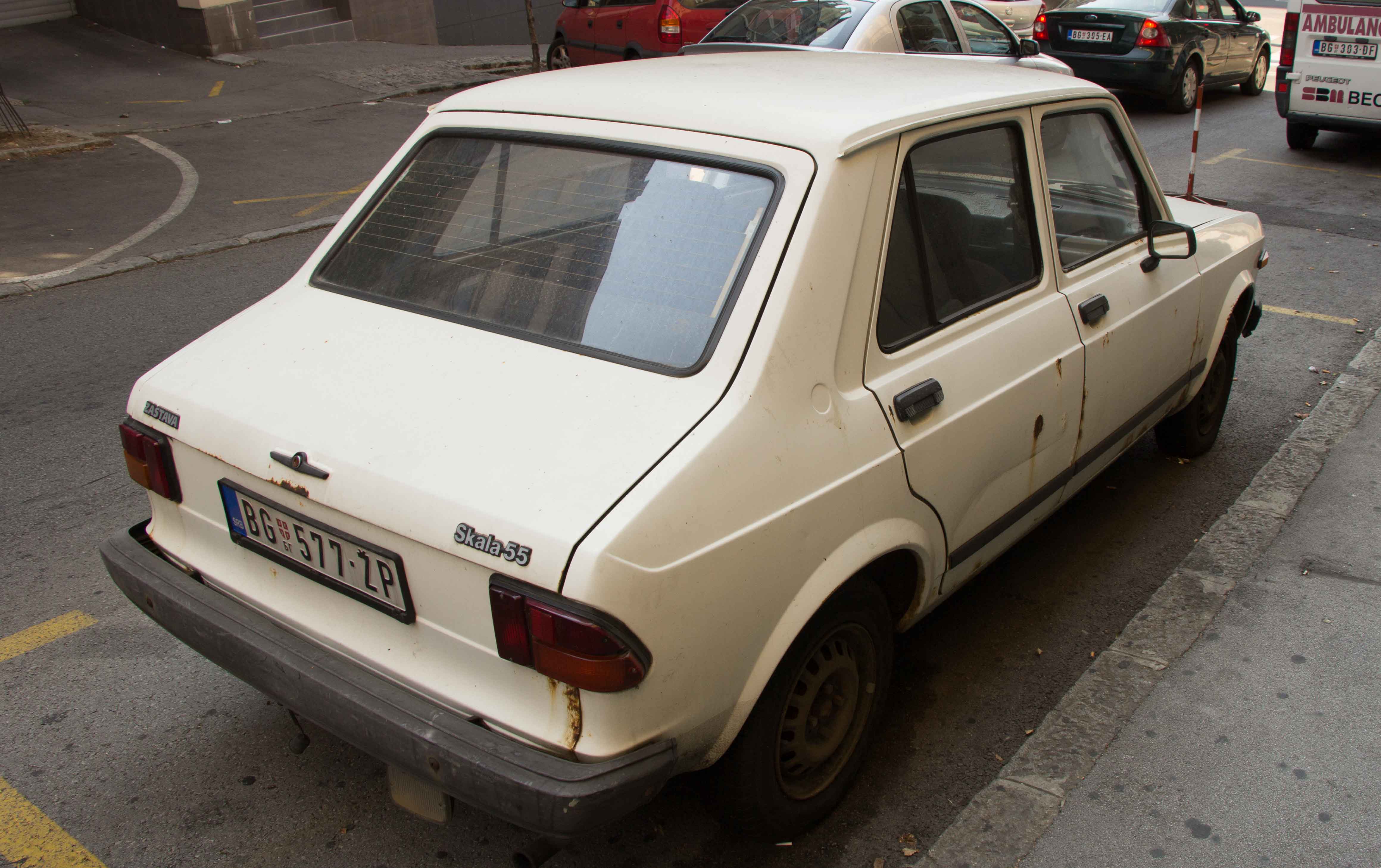 Hard to explain I guess, just one of those things you should go experience. Despite this feeling there were hints of 'The West' everywhere though. Maybe it was to do with the Cyrillic alphabet mushed with Latin that contributed to the way I felt about this.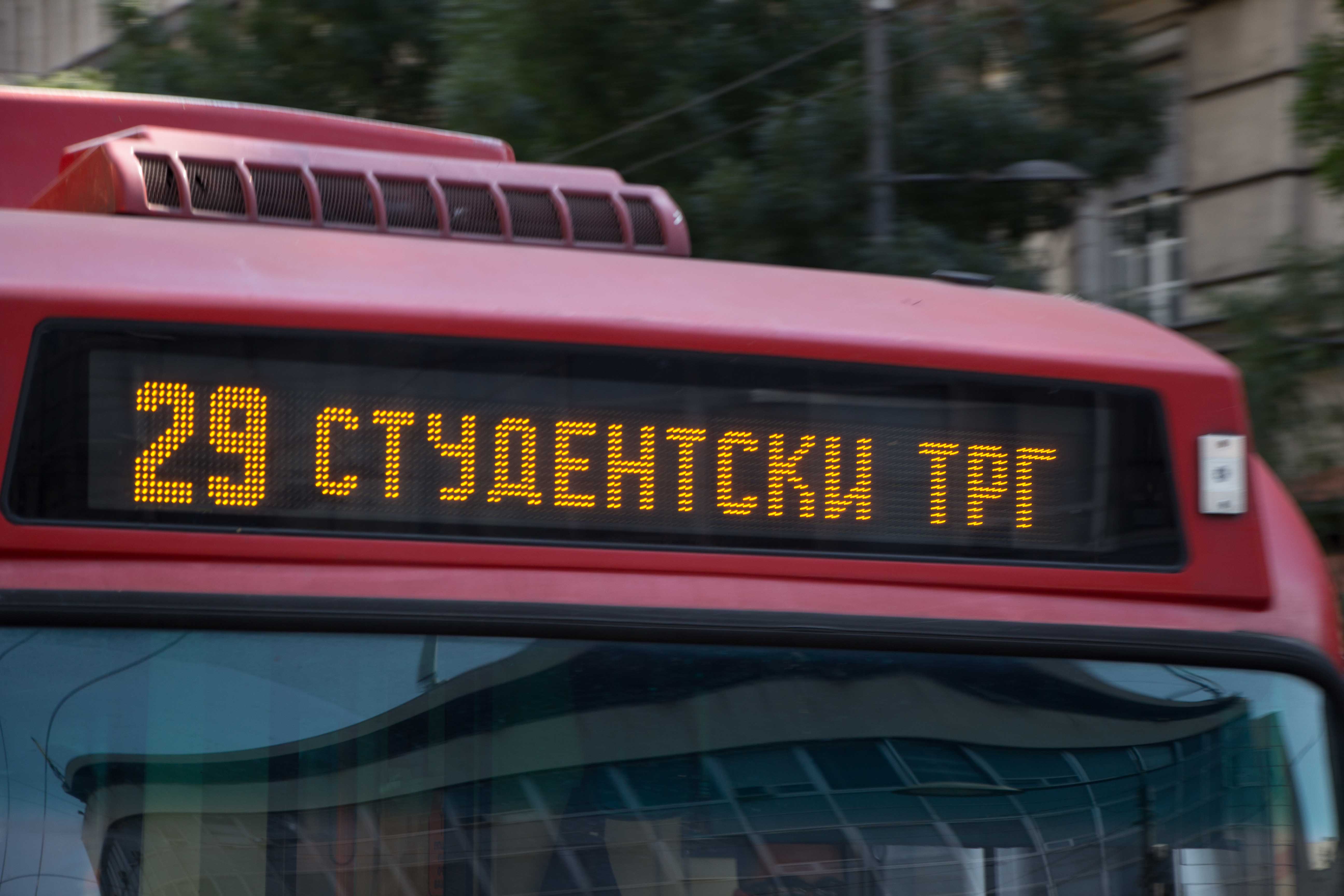 Man was it hot. It was around 12pm when we left the hotel and the mercury was registering 39C. We weren't the only one who thought so!

We continued to walk a few blocks (as they say bloks) and neither of us expected to see a bomb site in downtown Belgrade. It was really shocking and brought it home how lucky I am to have lived in England for most of my life.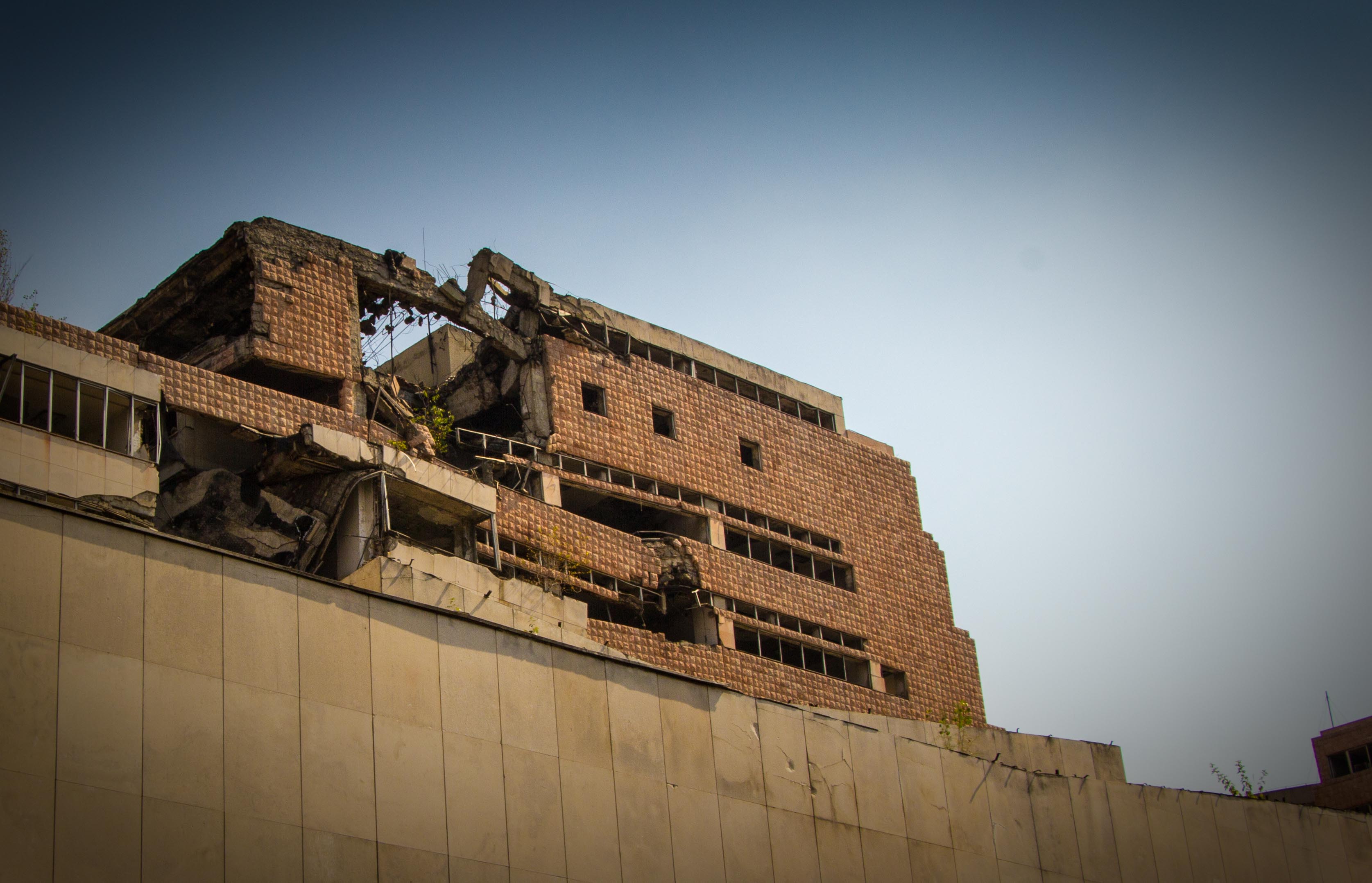 This is / was the Yugoslav Ministry of Defence. We walked past several Policemen with guns guarding the remaining part of this building which is still in use. Yup, still in use.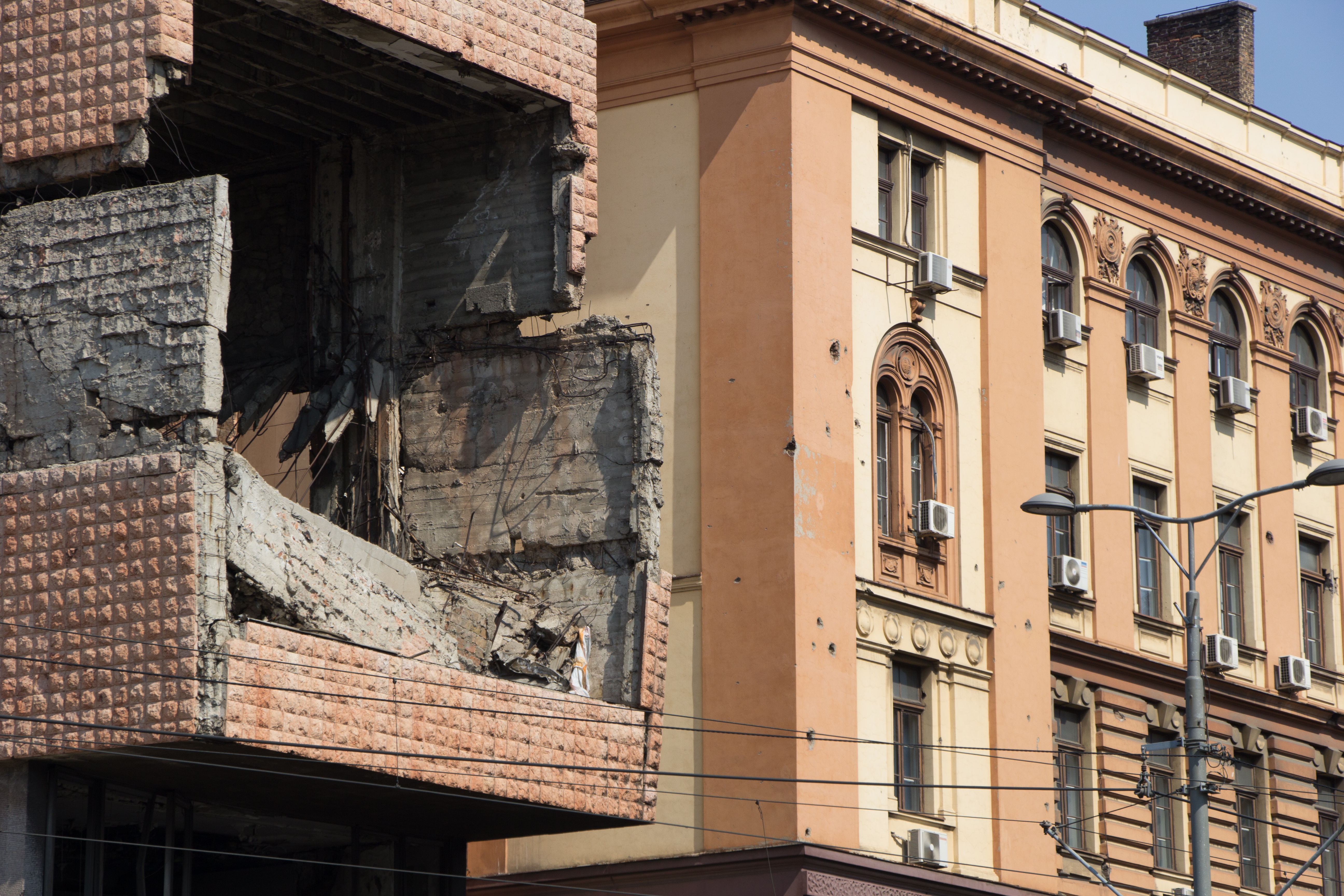 We just stopped. Dead in our tracks staring in disbelief. We found a shady place to drink in the scene for some 20 minutes.
Across the other side of the street are the Government buildings. Old, fierce and grandiose buildings made of stone. The juxtaposition is really striking.


Click here to view the panorama full size (it's well worth the load time).
I grew up with the Yugoslav wars on the news, Slobodan Milošević committing war crimes in Kosovo. What hadn't really registered with me was that NATO bombed Belgrade. My country did this. The reasons appear to be sound but it really must have been a dire situation to deteriorate to this stage. You can read more about it online but the Wikipedia page will probably cover enough of the basics. The history of this region is unstable, potted with dictators and of course had a lengthy communist chapter. I found it fascinating upon returning to the hotel that evening and spent ages just reading. It's sobering to think that in my lifetime this country was really not somewhere you'd want to visit. Many people died.
We wandered a few blocks further down the street towards what I believe to be the Ministry of Internal Affairs and found another bomb site. I took a picture and walked off, as normal. I heard footsteps behind me and a firm tap on the shoulder from an armed(!) Serbian military official. "No photo!". He watched me delete my previous snaps and let me on my way. All rather disconcerting really! Still not sure why I couldn't take a picture of one ruin but fill my boots of another. Oh well, politics. Here's another bomb site we did find that allowed photos.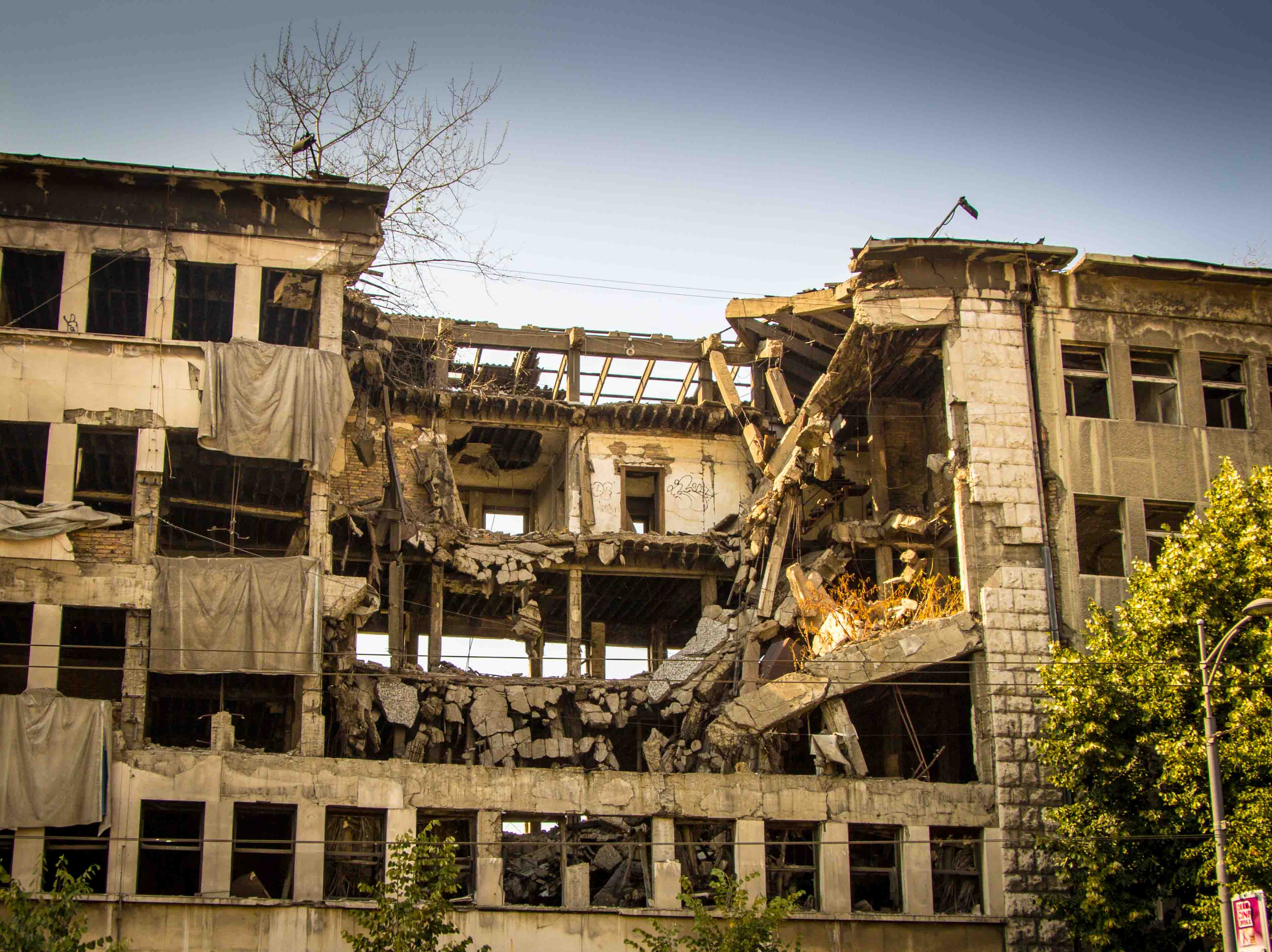 Tripping across sights like these when you don't expect them is really surreal. It certainly made me stop and think of the gravity of war on the regular people in a country. Serbia is clearly emerging from its communist hangover. On that note, we headed for a "Temple of the West", the USCE shopping mall.
I don't think I expected a big, bright, shiny shopping mall in Serbia that rivalled the Trafford Centre but there it was. Nike, Marks and Spencer, Diesel, McDonalds and many other brands all present and correct. We stayed for an hour or so and had some food but really we stayed to absorb the air conditioning. Did I mention it was hot?

Eventually we stopped being wimps and headed back out in the heat and headed to the site of a World War 2 concentration camp (Парк Републике Српске) on the banks of the River Sava. Lest anyone have any doubts as the prevailing feelings of those in power in the country towards the war, the plaque on the monument lets you know.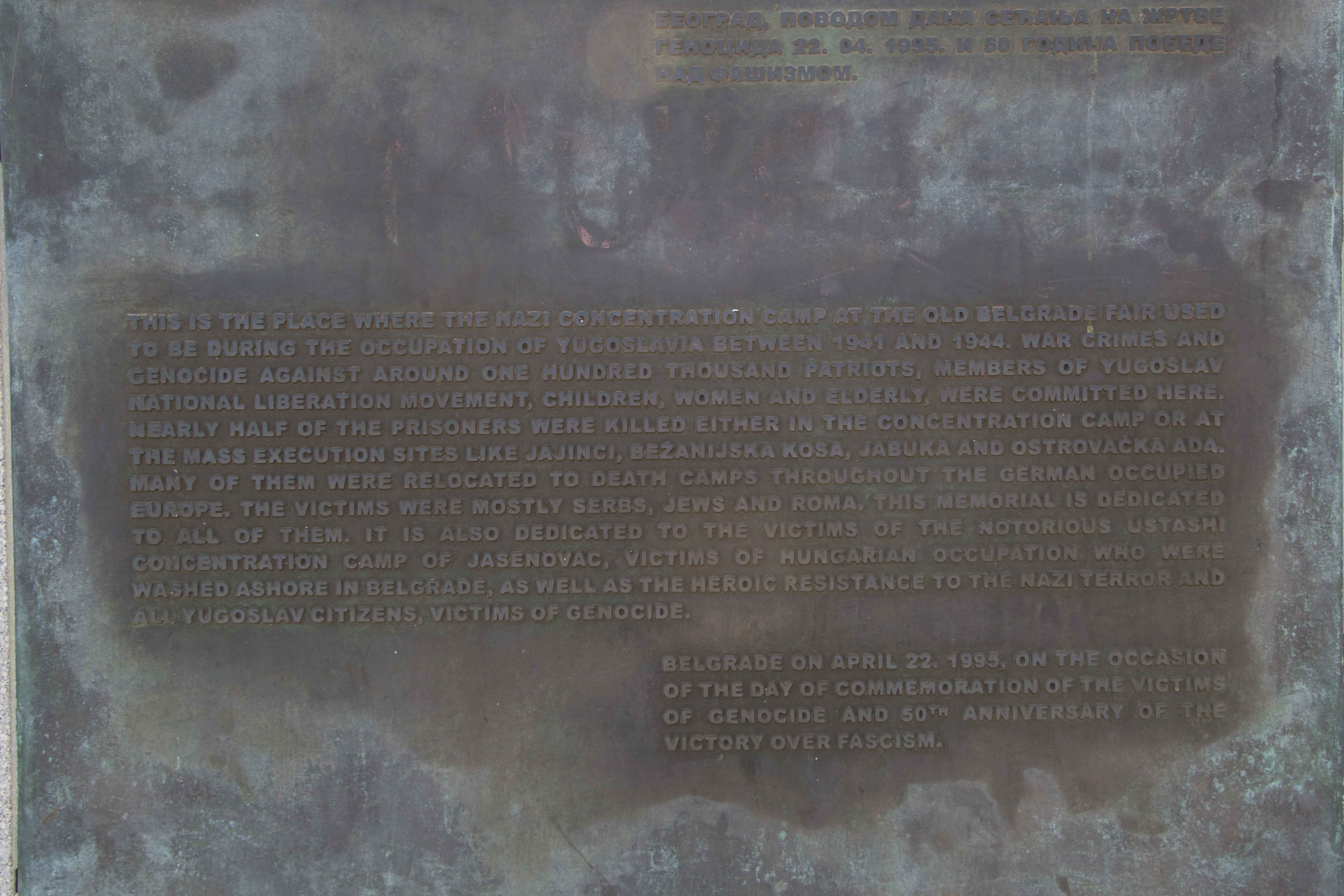 The grand monument above the plaque. This city has seen enough war, I hope the time of peace it is currently enjoying lasts.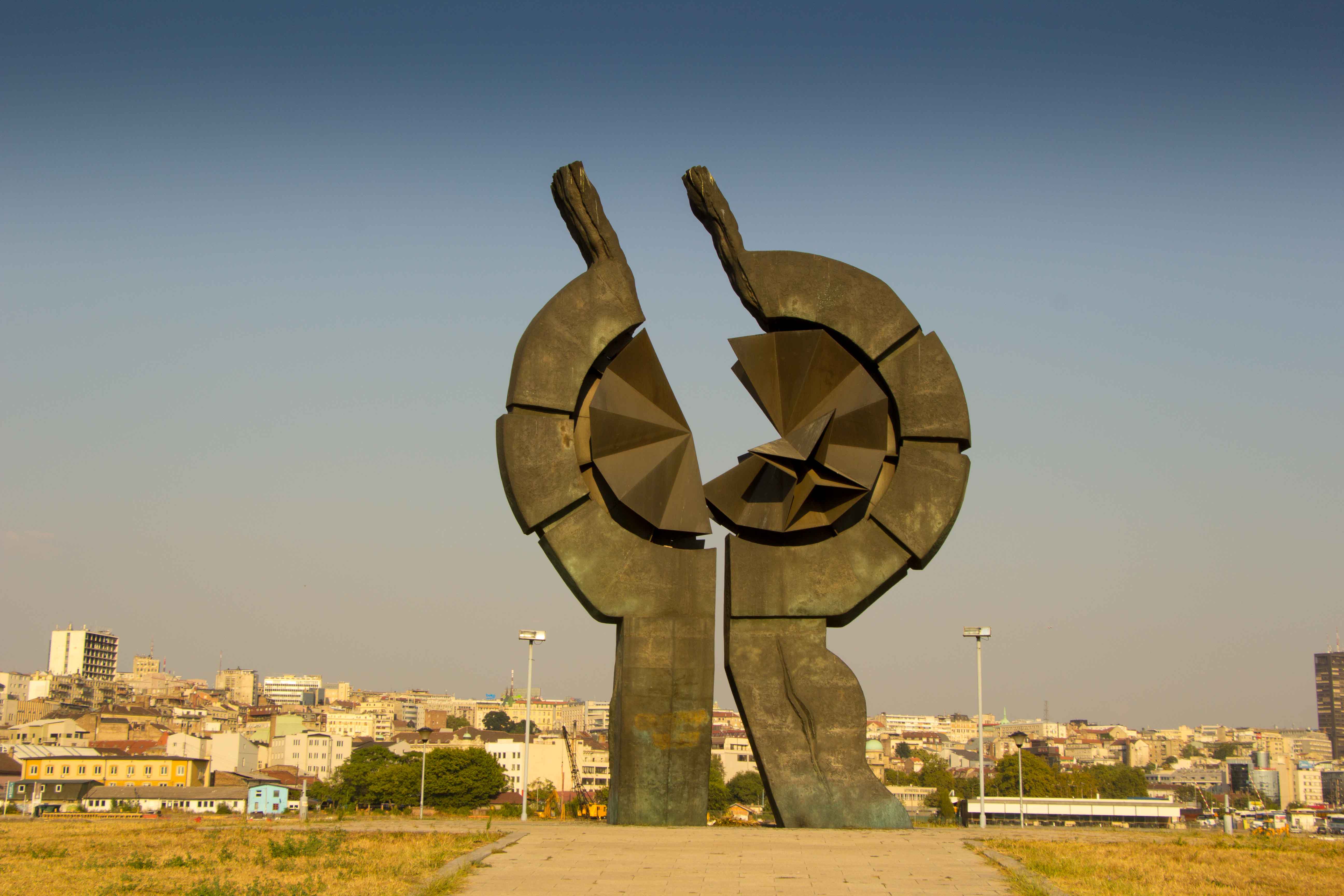 The site was rather deserted, save for a cycle path. It afforded us a rather spectacular view of the city though.


Click here for the full sized version.
We headed back to our hotel by walking back across the bridge on the left of the picture above. It took some 15 minutes to walk across to give you an idea of its scale. We passed 3 McDonalds branches between the river bank and the hotel, a distance of about .25 miles. They must really love their Big Macs in Belgrade! Time for a rest and a drink in the hotel bar before heading out to visit Belgrade's Fortress later in the evening.
---
The Fortress sits high on a hill above the confluence of the Rivers Sava and Danube. The area around the Fortress is known as the Kalemegdan and locals refer to it as "the heart of Belgrade". I wanted to be there around dusk (between 7-8pm) but the speed with which the sun sets this far south caught me out so I ended up with only a handful of nighttime shots.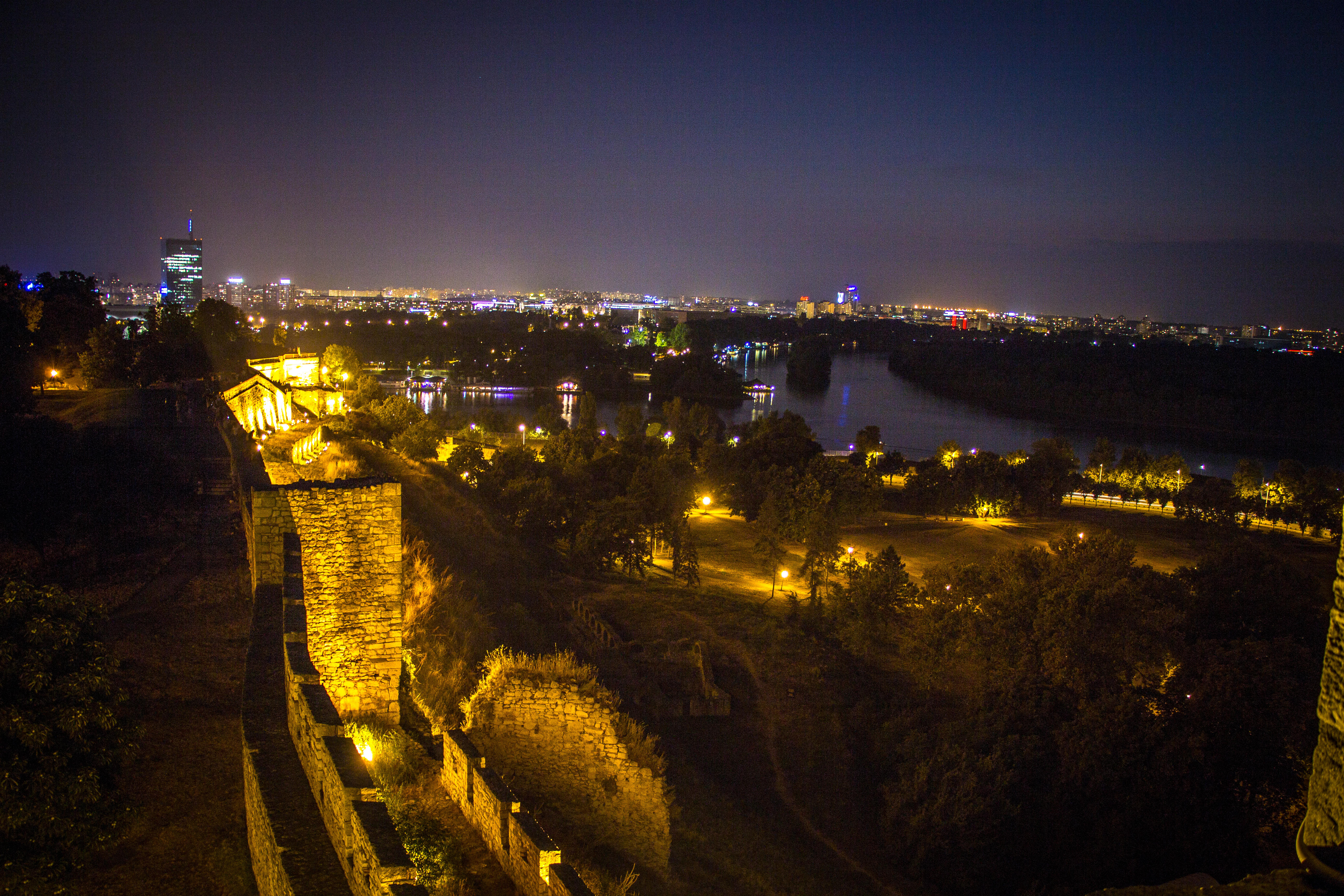 We found the atmosphere in this place to be enchanting. A wonderful mix of couples enjoying some time together, teenagers indulging in teenaging and locals walking their dogs.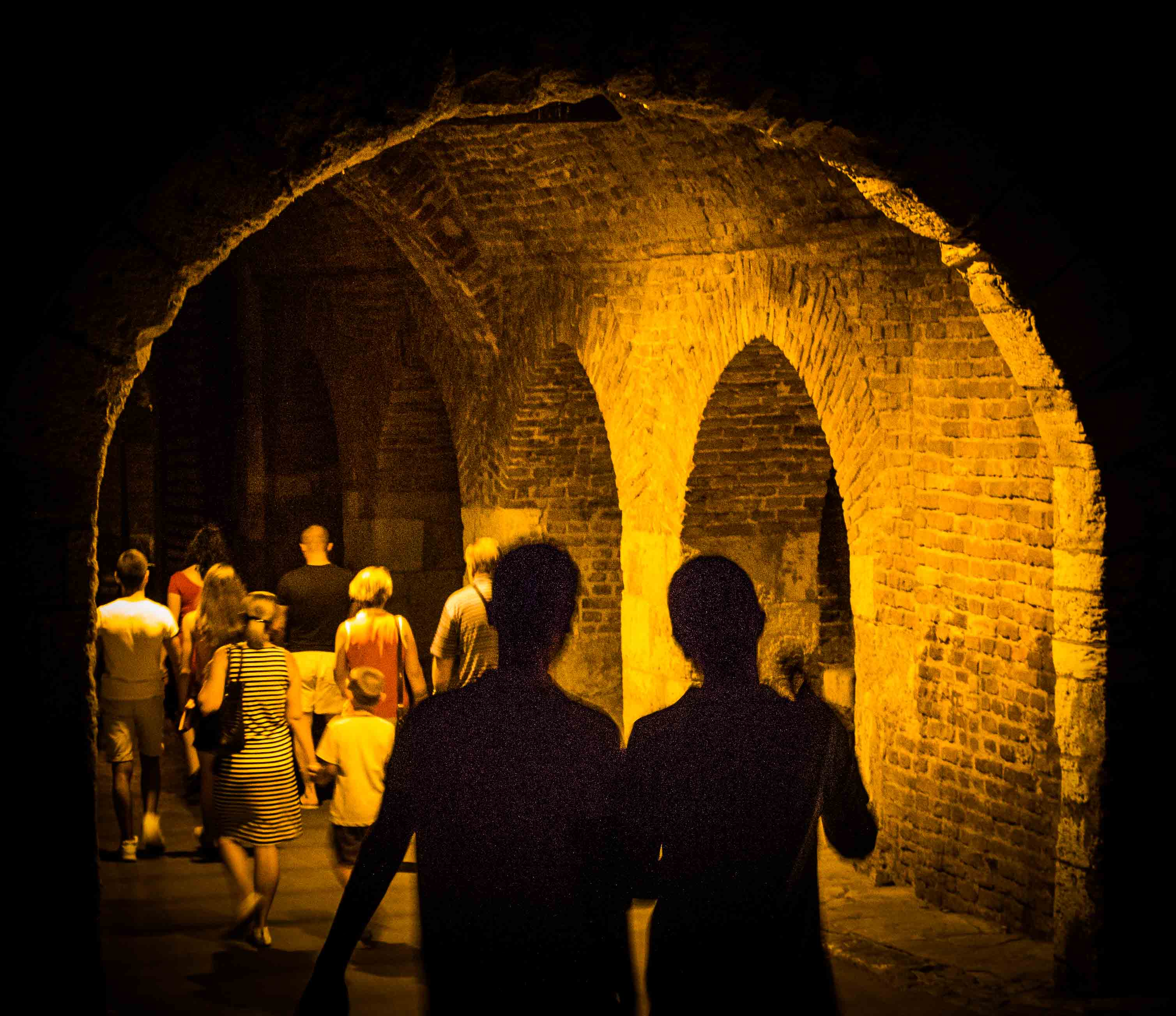 We lay on the walls of the Fortress enjoying the cool night air whilst gently toasting our backs on the still warm stone.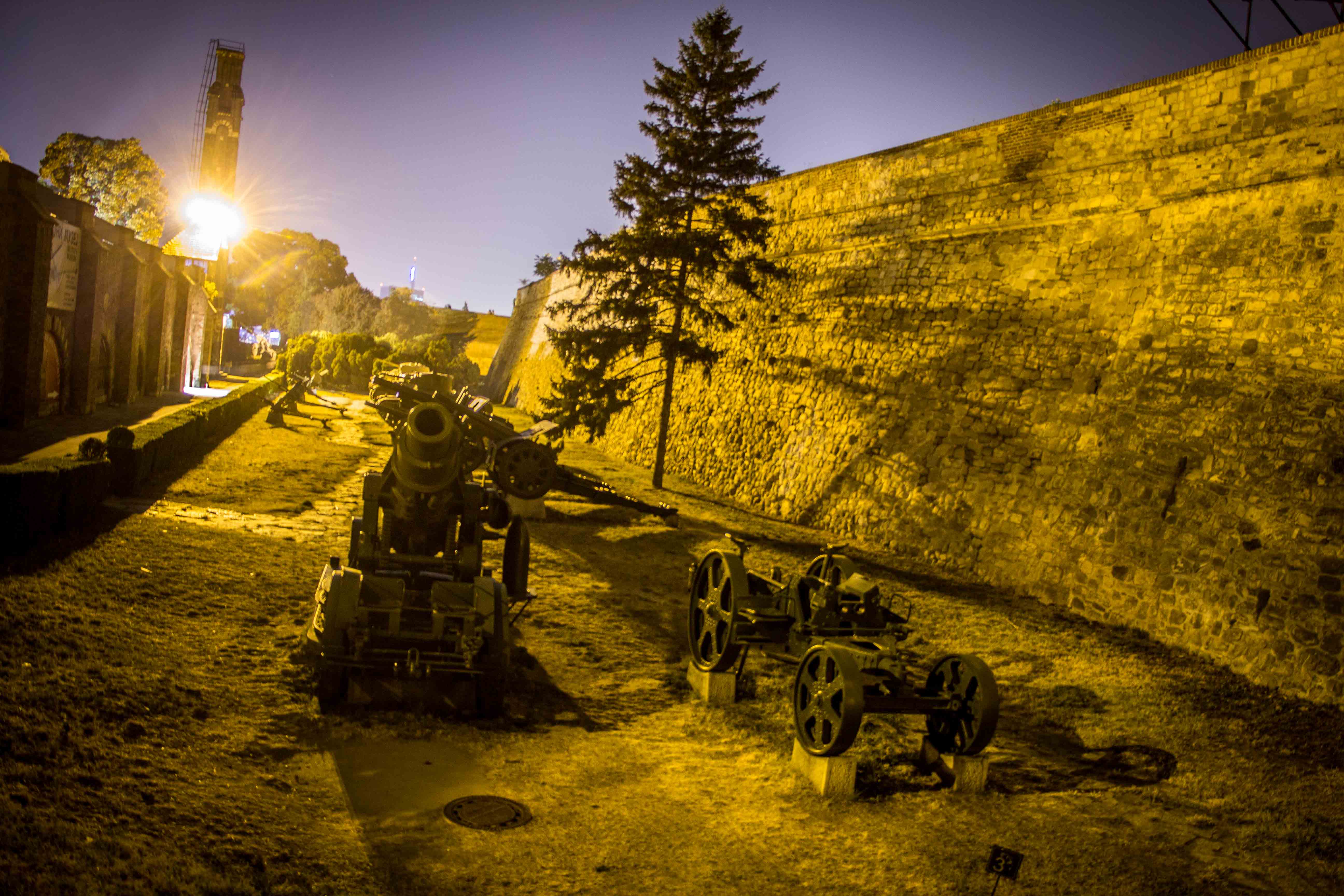 We walked back to the hotel down an entirely pedestrianised street which had a real buzz. Bars, restaurants and frozen yoghurt shops (don't ask and we won't tell whether we had any delicious yoghurt or not) lined the street. Shops remained open until 10pm and I cannot speak highly enough of the atmosphere at night in this lovely city. It really came alive without being rowdy or full of drunken mobs like English cities suffer from.

The whole day we didn't see anyone else I could identify as a tourist which I found really liberating and rather refreshing. You won't find many locals who speak English (at all) but they are very friendly and seem a convivial bunch.
We both absolutely loved this city and if we're ever passing nearby will be sure to visit the Tesla museum (which we ran out of time for) and the Fortress in daylight! I'm pleased to have seen the communist hangovers ranging from the architecture to the vehicles on the roads. I imagine this is going to change quite quickly as the country looks to distance itself from its turbulent Yugoslav past.
If you can, visit this charming city before it turns into a tourist hotspot just like the rest of Europe.