Day 1. Vegas to Grand Canyon. Here we are again folks! Another road trip across America. This time we've got company in the form of my sister and her boyfriend (Caitlin and Dave) who've joined us from England.
The trip is split into two legs. Caitlin and Dave are with us from Vegas to Denver and then we split. They head home from Denver as Catherine and I turn to head North for Yellowstone in week 2. I have brought my full compliment of camera gear and this time have a backup tog who's already proven useful today!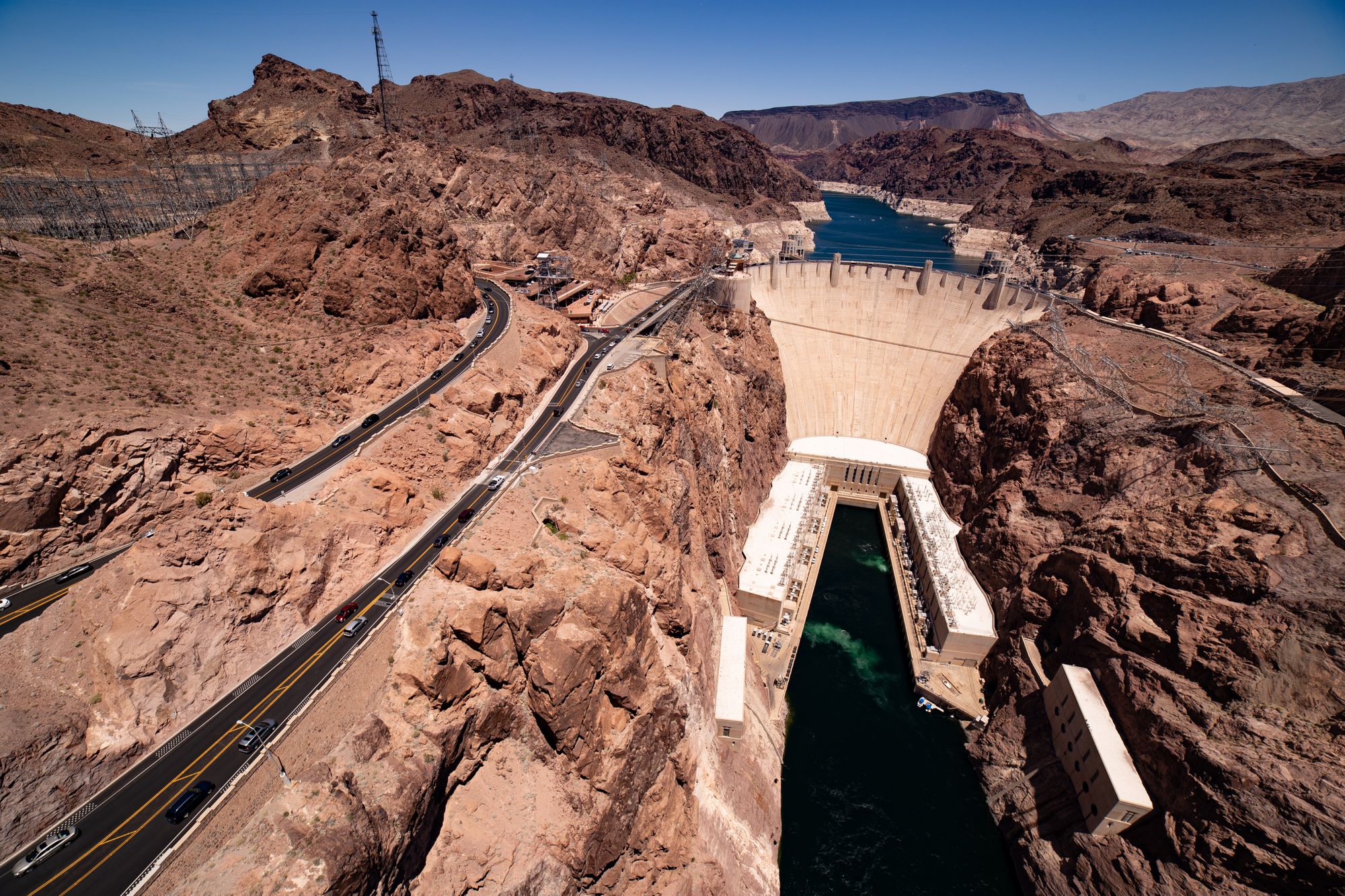 We left Vegas behind after a couple of nights staying at the Delano (Mandalay Bay). It was quite fun watching Caitlin experience Vegas for the first time. I must admit I'd forgotten just how nuts it is. Some highlights from our time there included glow in the dark mini golf, me doubling my money in an hour on a Poker table and the Mandalay Bay pool complex - with wave pool!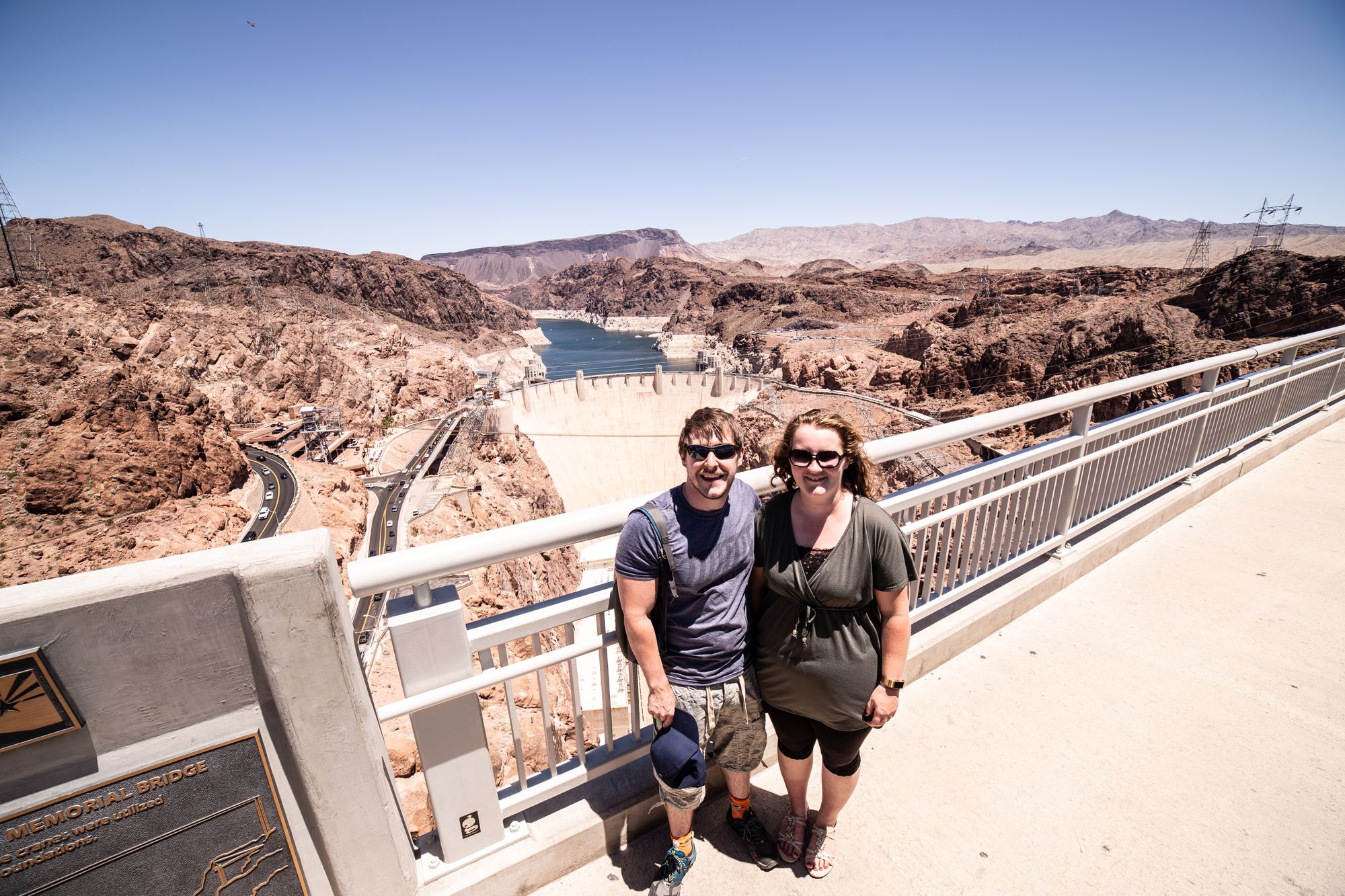 Collecting our rental car from the airport went smoothly and the Hoover Dam was our first stop. It's only about an hour out town and it's fun to time travel as you drive across the top from Pacific Time to Mountain Time.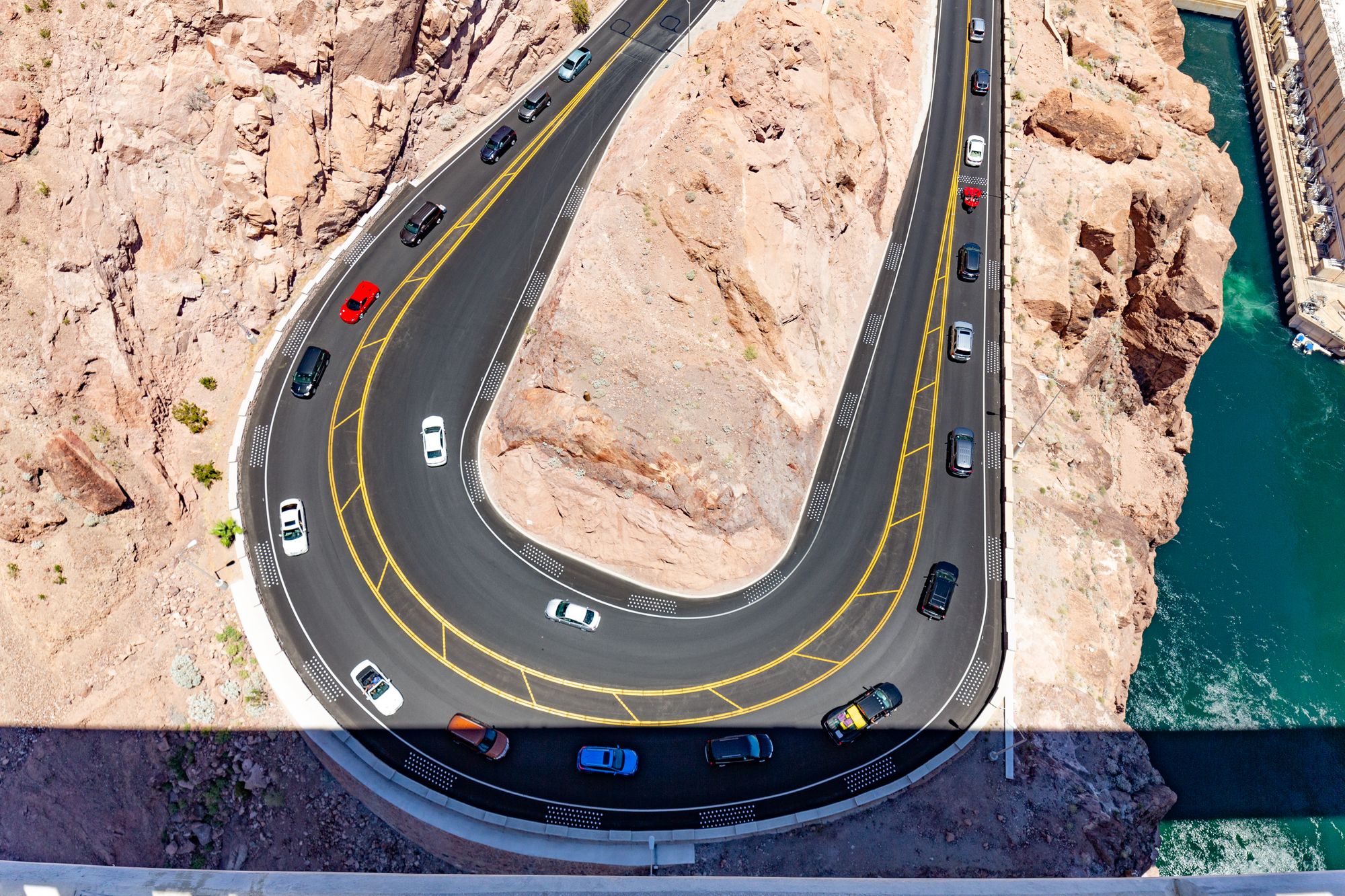 The new, large bridge which was built a few years ago means that nowadays you don't need to drive across the top of the dam to get anywhere - it's just for tourists. That said it's still nose to tail traffic (spot the Ferrari 458 down there) and this spiral was aesthetically pleasing.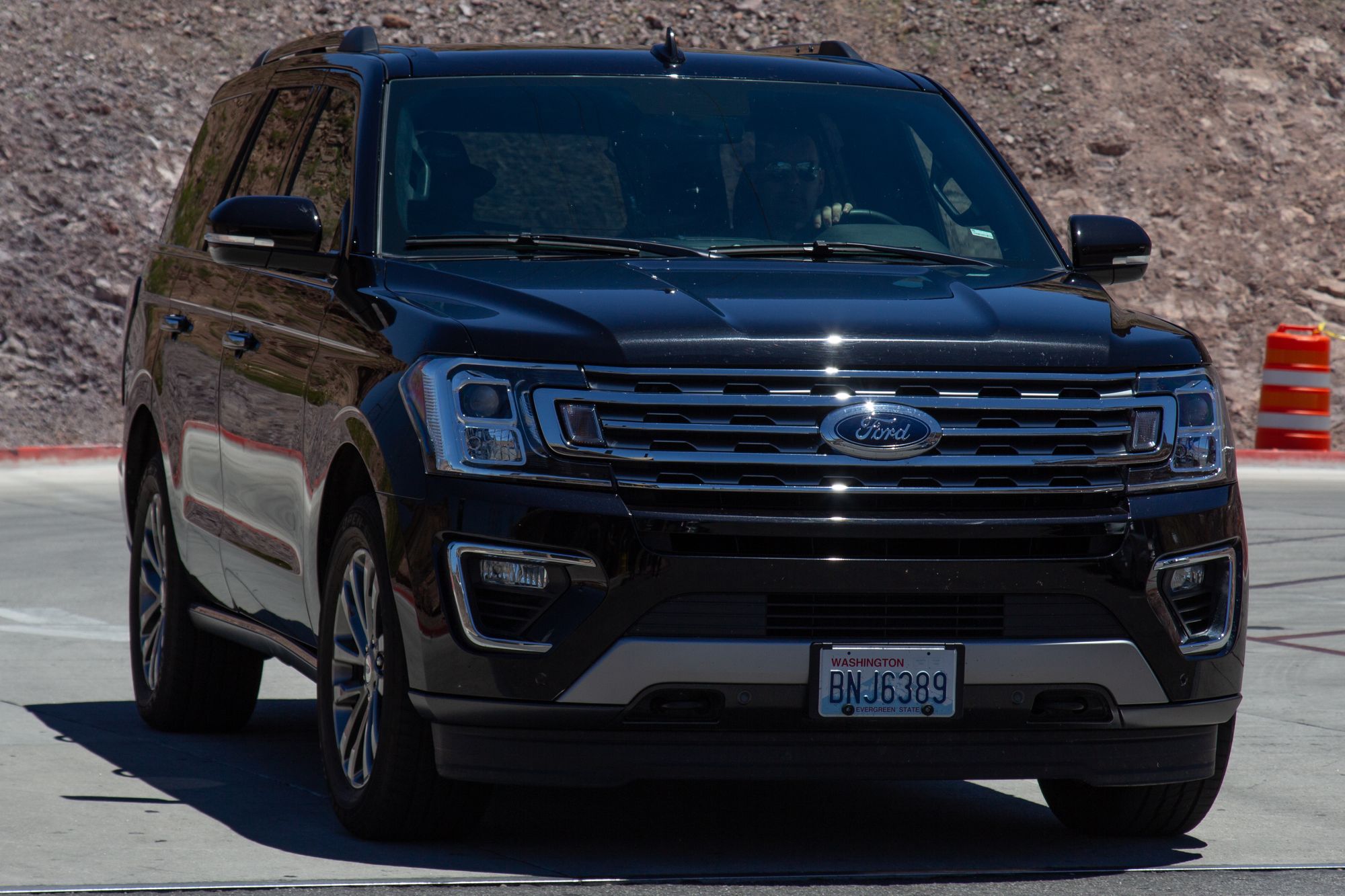 Our rental car is everything I'd hoped it would be when booking a 'full-size'. It's a Ford Expedition and fits 4 adults extremely comfortably with all our luggage too. Costs about $80 to fill and gets around 400 miles to a tank so it's not great in that respect, but not horrible either.
Caitlin had her first go at driving on the wrong side of the road in the States. After a couple of hours she'd settled down and was starting to get the hang of it.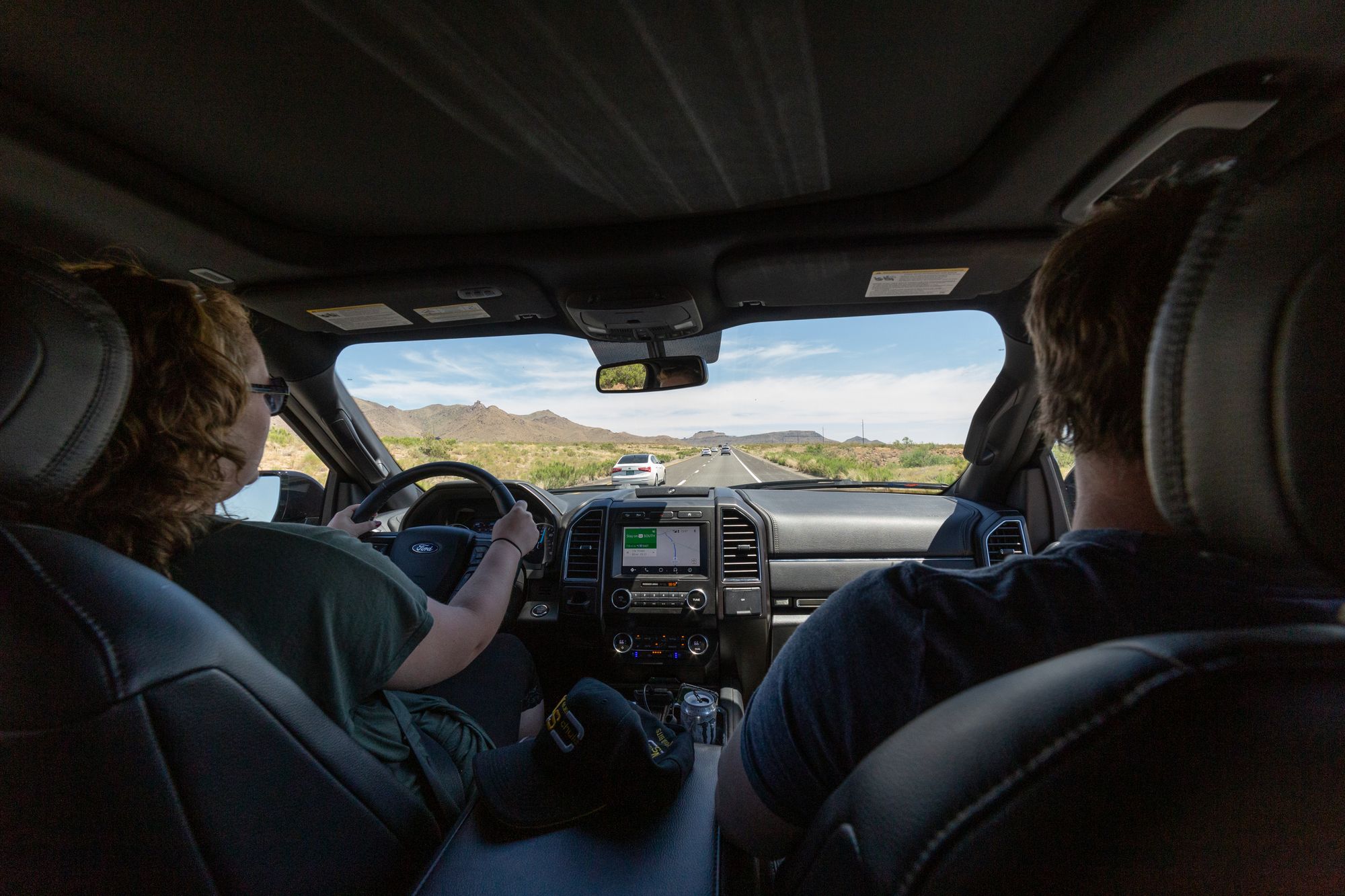 We took a diversion down historic Route 66 at Seligman. This runs parallel to a major BNSF trunk freight route for intermodal traffic (map) and is a great spot for a nerd like me.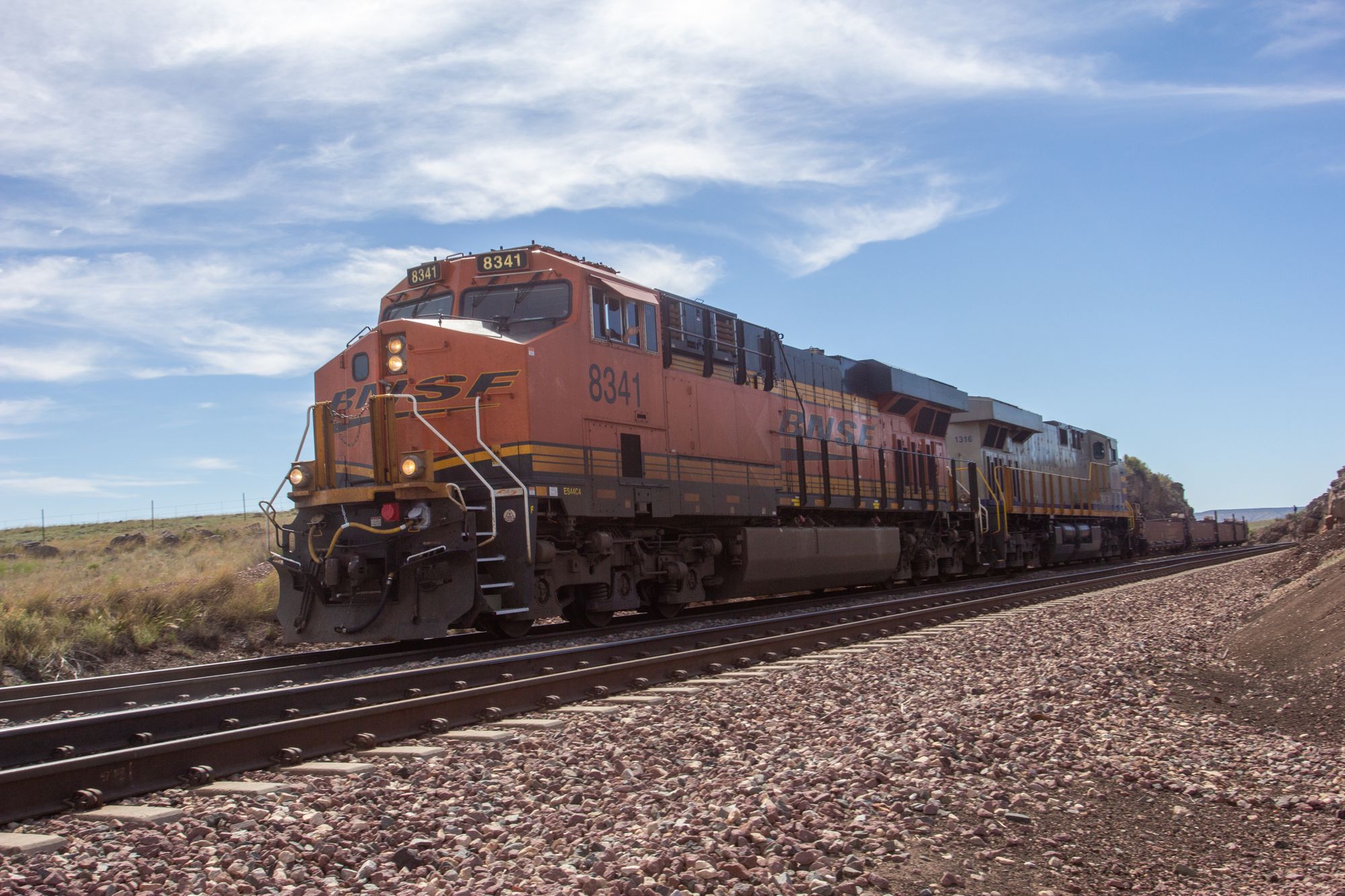 Wide reaching vistas are the name of the game around these parts. Lots of tumbleweed and horizons that never seem to arrive. God I love the West.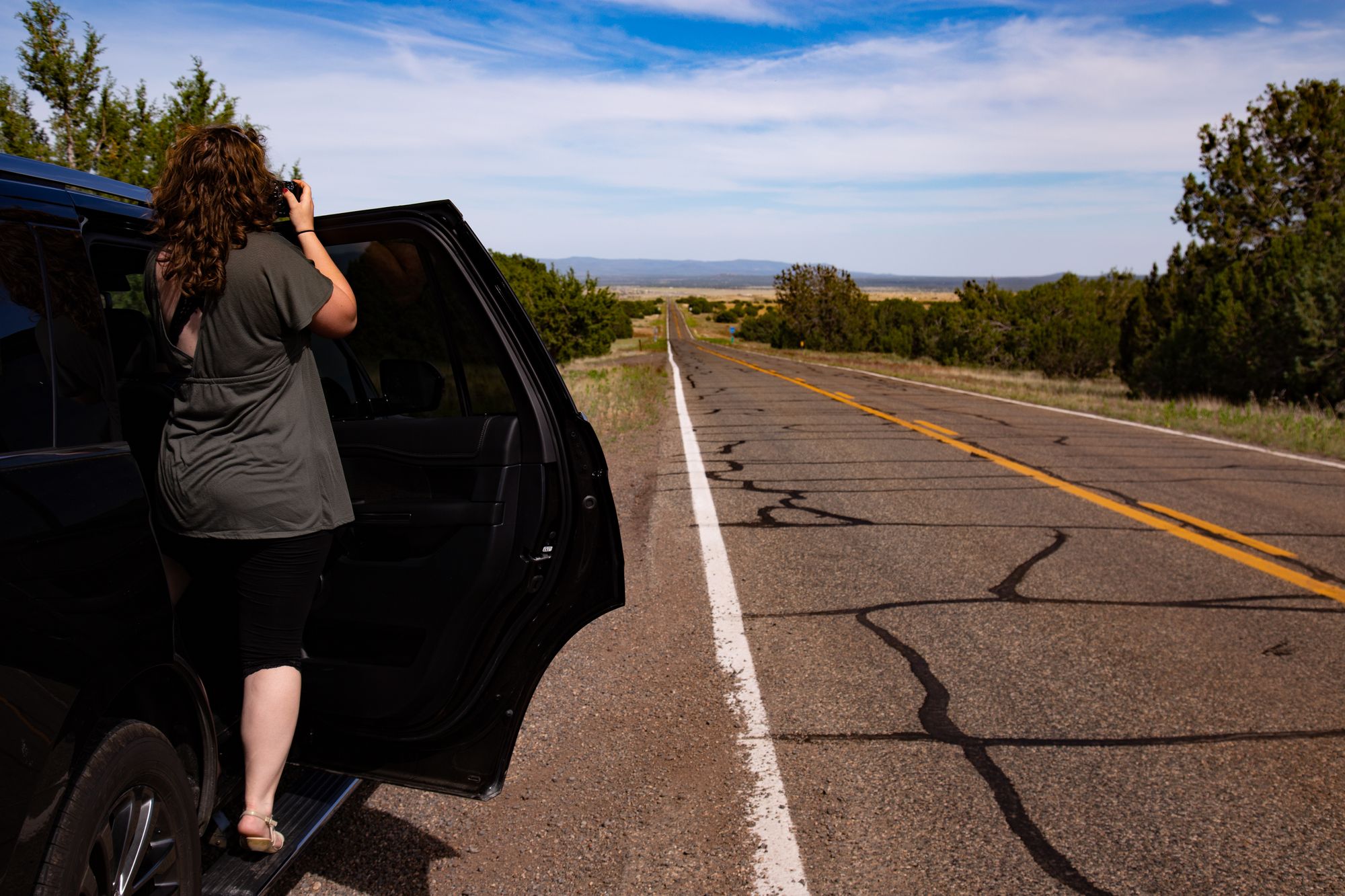 It'd be daft not to immortalise moments like these.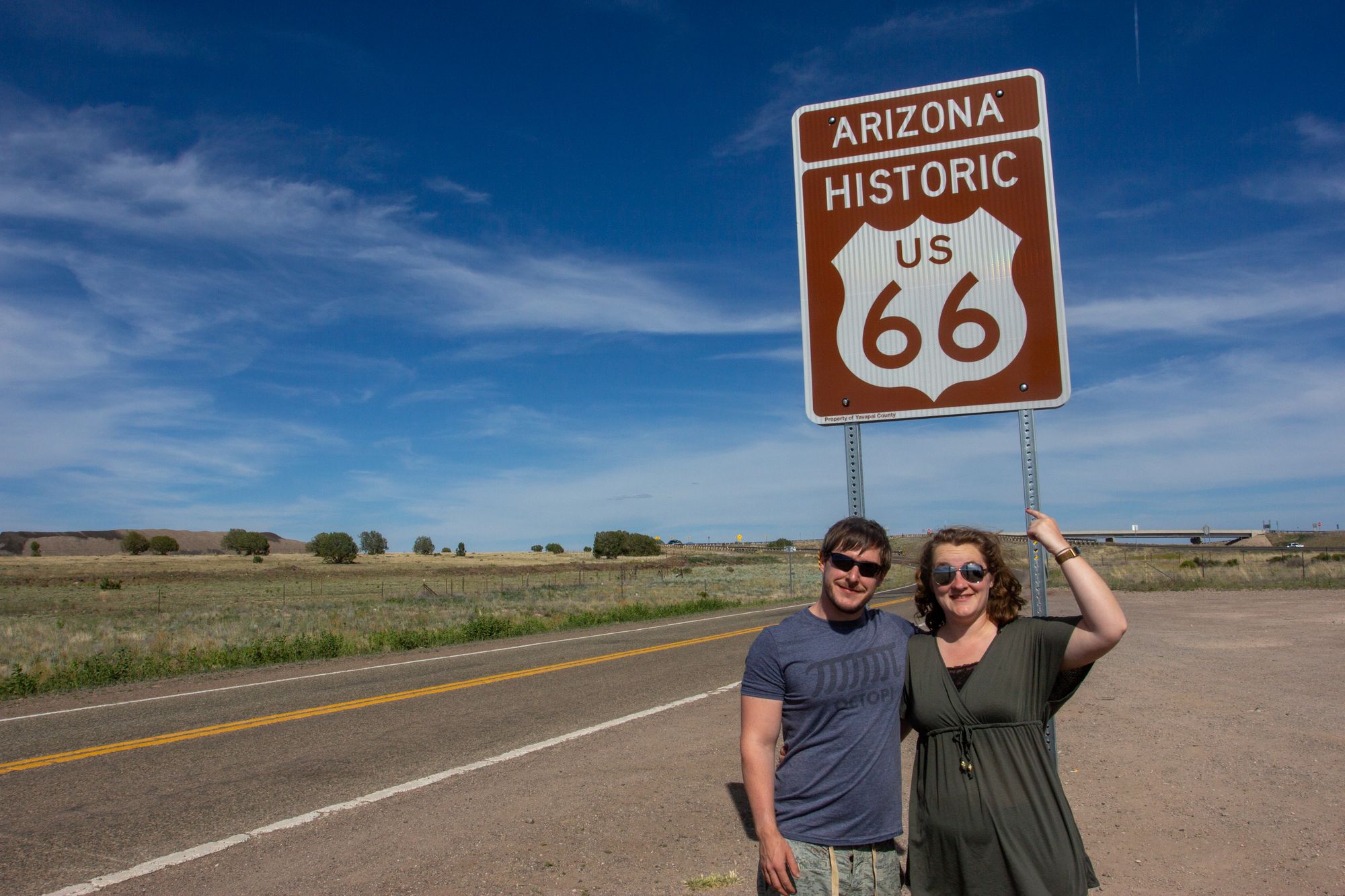 As you might expect driving such a gargantuan vehicle we needed to stop for gas before heading to the Grand Canyon. We pulled in and were greeted with this absolute behemoth. According to the pump it costs $360 to fill up and the driver told me it gets approximately 3mpg. Great luggage capacity though.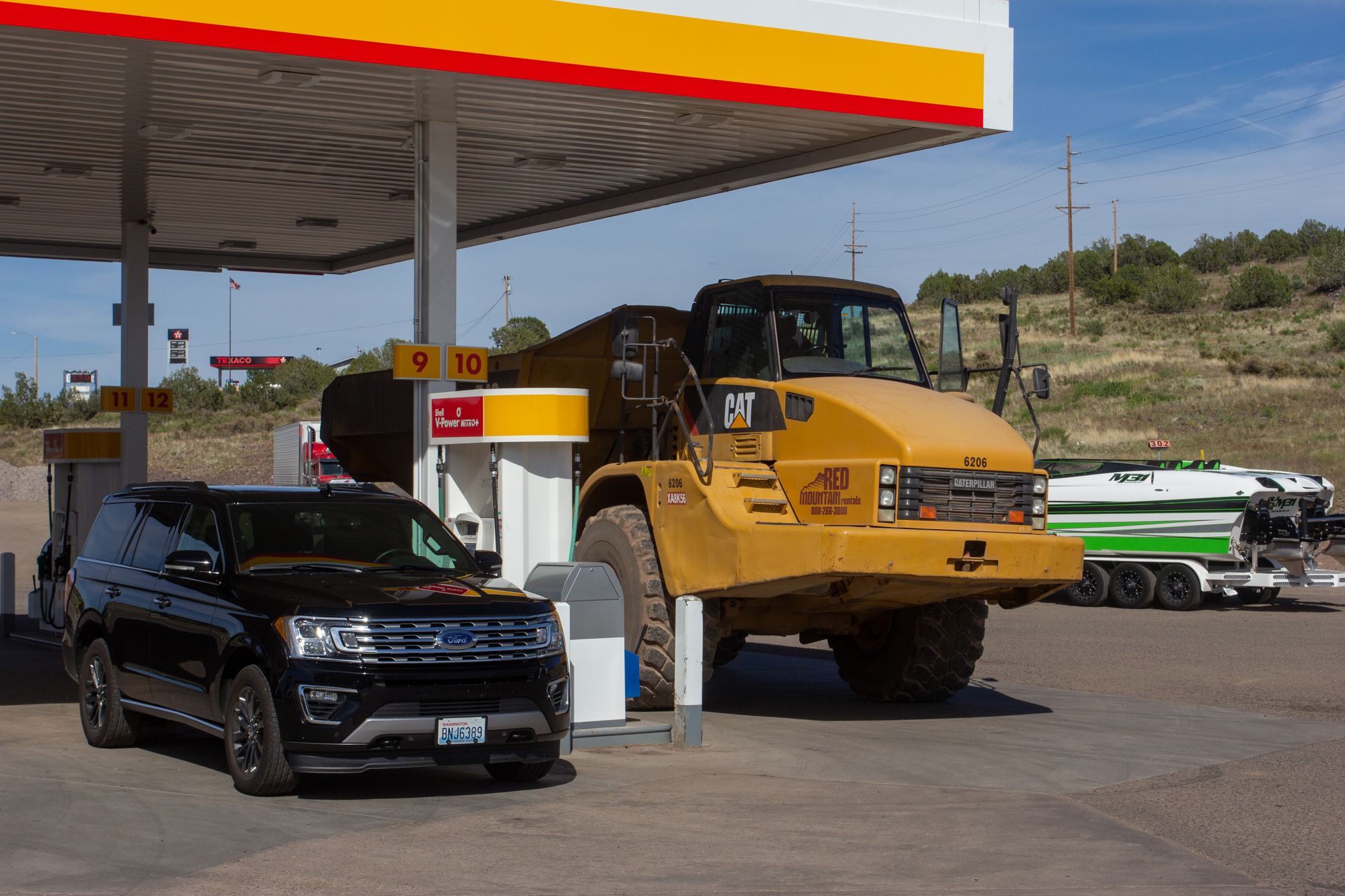 We checked into our hotel in Tusayan, just outside the park. And then attempted to complete our mission that we'd been aiming for since early that morning. Viewing the Grand Canyon at Sunset. It did not disappoint.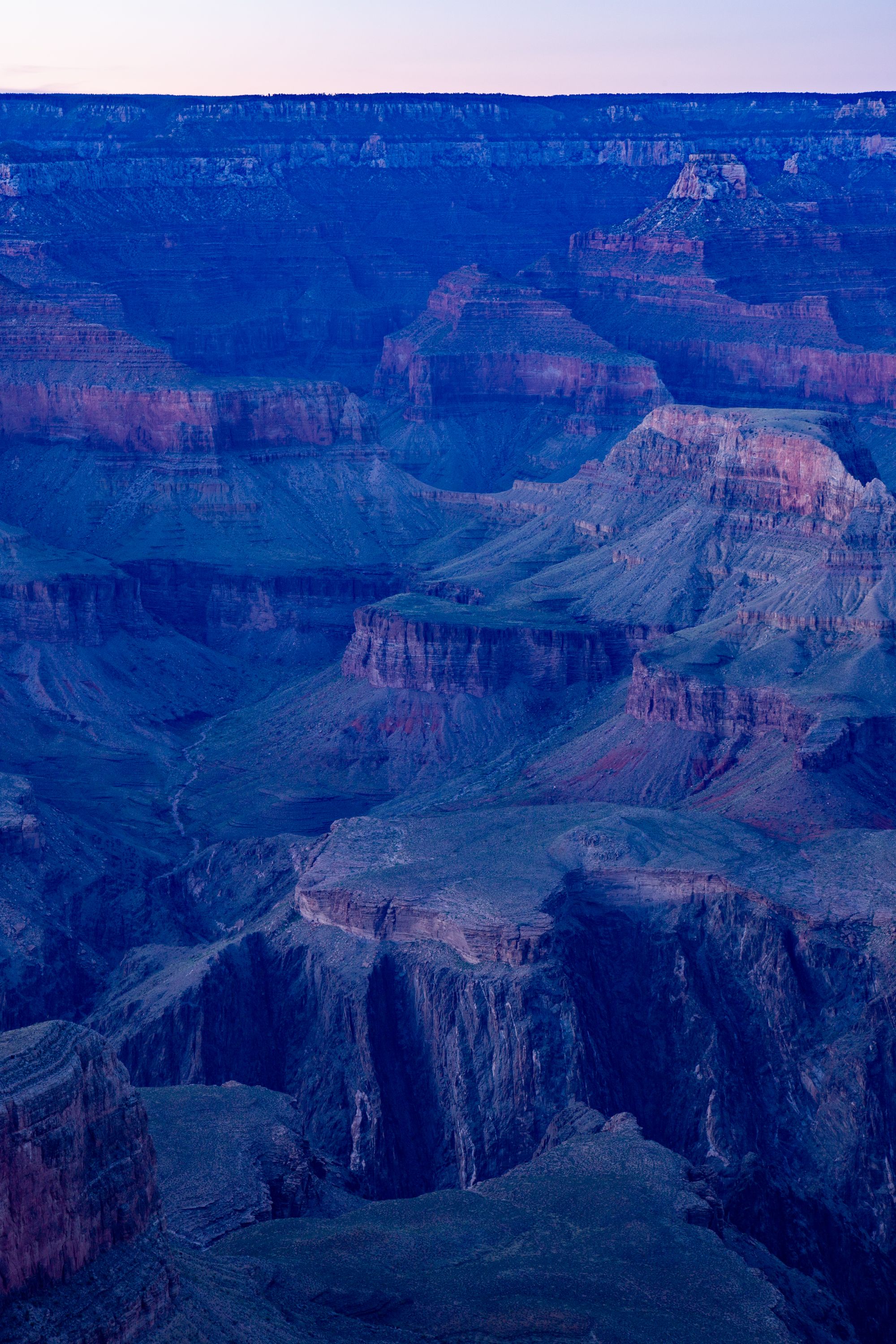 Closed to regular traffic in the summer season we took a bus up the Hermit Road, toward Hopi Point. It's a popular spot with photographers this one as you get pretty much unobstructed views in both directions. A little cloud helpfully appeared around the horizon to lift the scene too.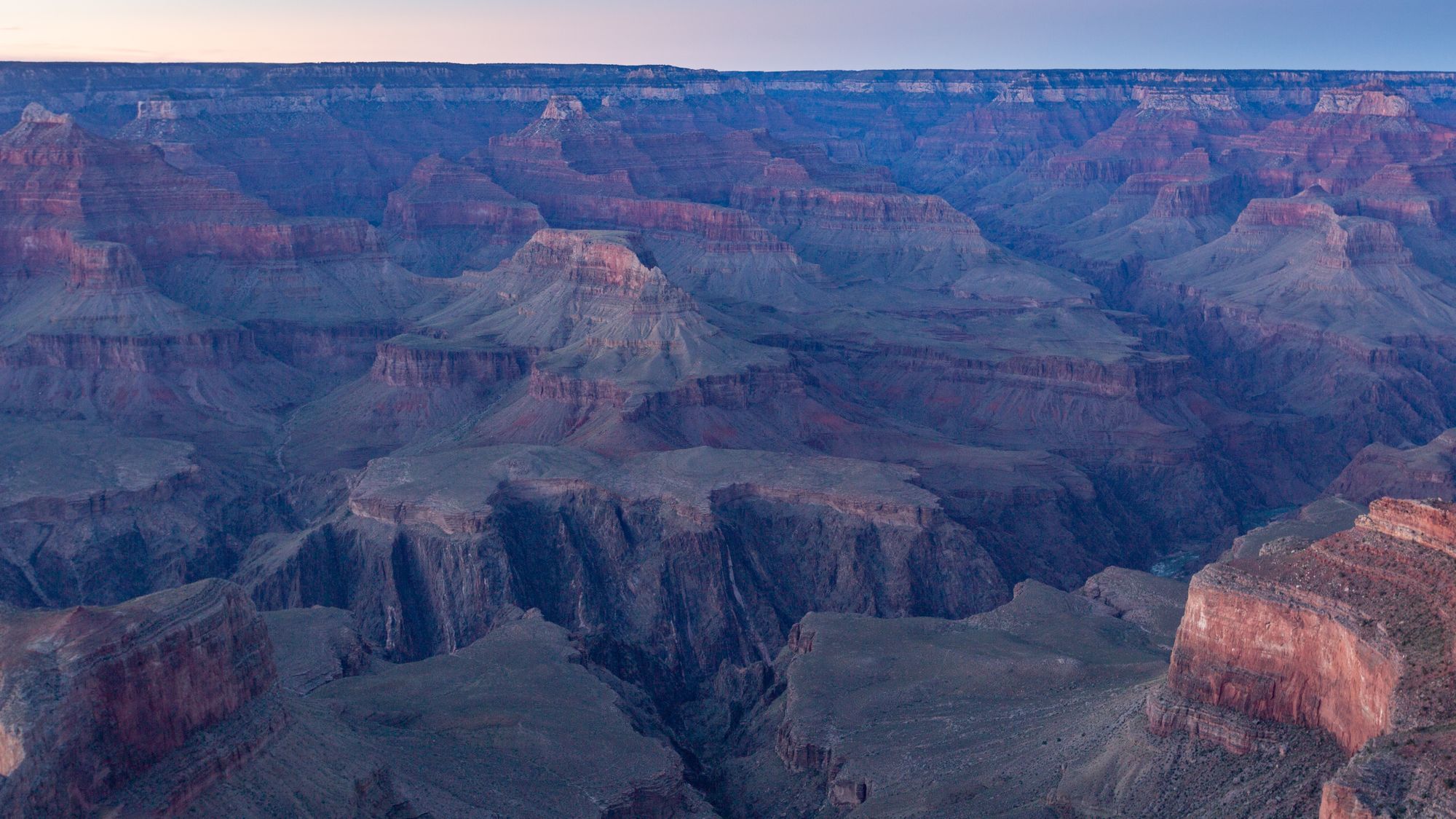 So glad we made it here in time for sunset, last time Catherine and I were here we arrived at about midnight in complete darkness! It was a thing of beauty to behold.
Tomorrow we're heading through Page up towards Zion and Bryce Canyon.