Wow, what a day. We saw several Bears, an Otter, a Wolfpack (no, not the NC State kind) and Mammoth Springs. It snowed blizzard style, in June. I'm writing this at our new hotel for the next 3 nights, Shoshone Lodge just outside the East entrance to the park. Internet here exists but is pretty much dial-up speeds!
Where do I start? Let's try this morning which feels like a long time ago right now! We spent 1 night in West Yellowstone at the really quite good Elk Cabins. Cheap? No. Good? Yes. We'd exhausted our supply of clean clothing so a trip to the laundromat was a necessity. Luckily the best rated breakfast in town was 2 doors down from the best rated laundromat. We had some delicious pancakes and fruit bowls for breakfast at Running Bear Pancake House. This place comes highly recommended if you're in West Yellowstone.
And, honestly. If you're visiting Yellowstone I can't really suggest a better place to stay than here now we've visited ourselves. The town is about 0.5 miles outside the Western entrance. Within 30 minutes you're at the grand loop road and down to the business of touristing. That's after you traverse a long, wide valley filled with Otters and Bison.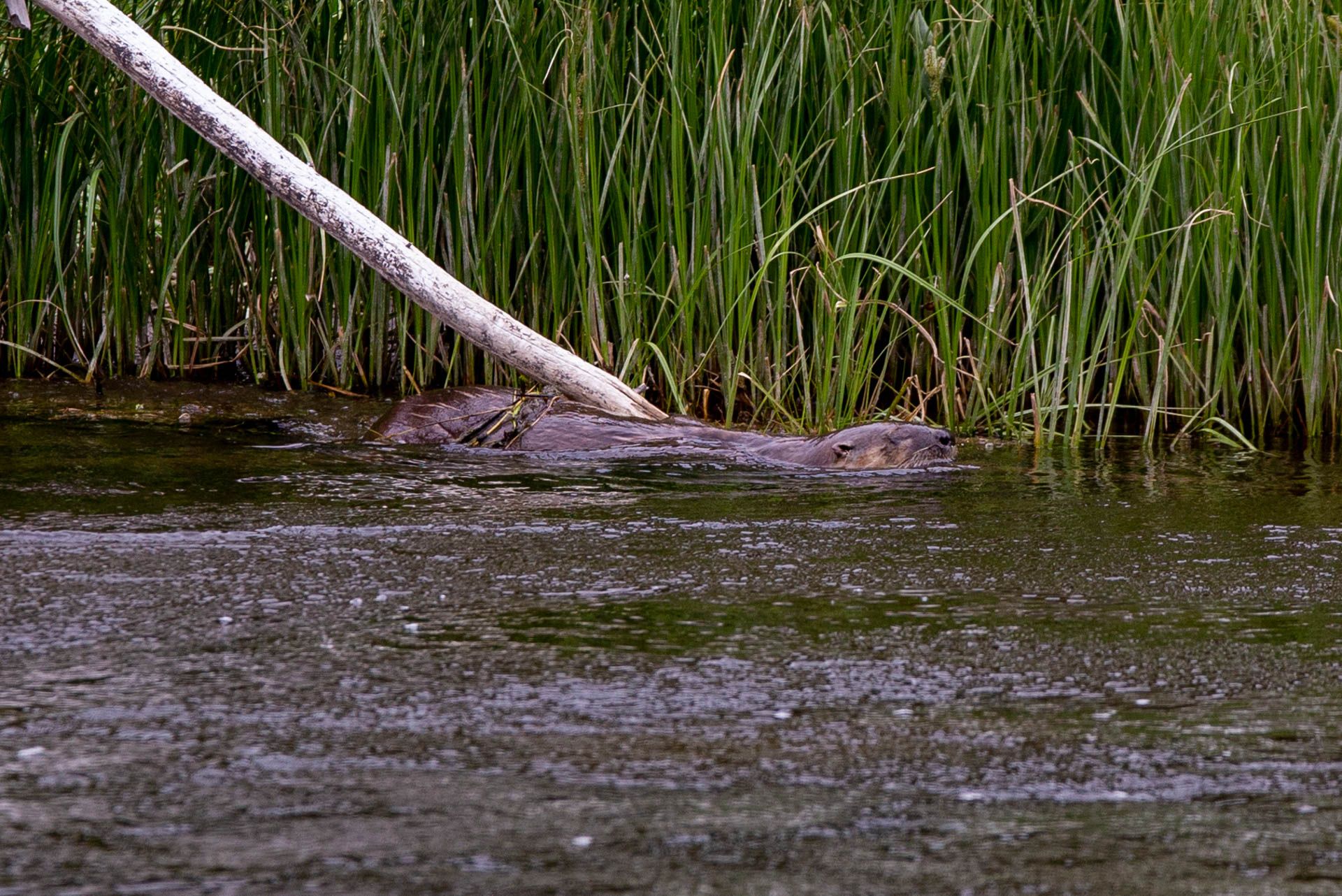 And for our first animal of the day I spotted an Otter in the river from the car whilst swapping over the driving duties. He was a tricky little blighter to photograph but we did see him perform a butterfly kick flip to launch himself underwater before surfacing triumphantly with a fish a few moments later.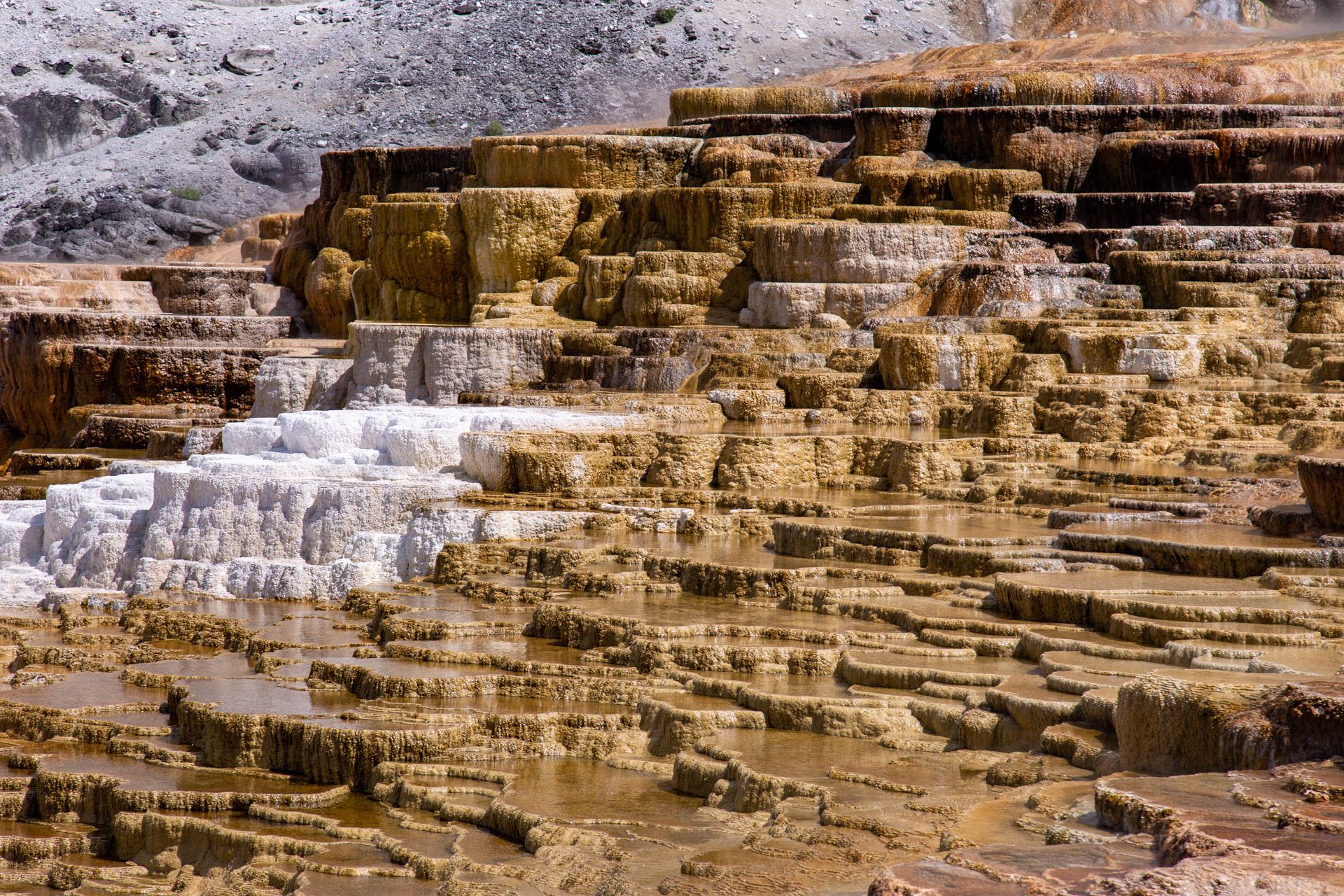 Our target for the day today was right up in the North West corner of the park. Mammoth Springs. These springs "litterally create rocks in front of your eyes" according to the guidebook. The mineral rich springs here leave deposits to create Limestone and Travertine.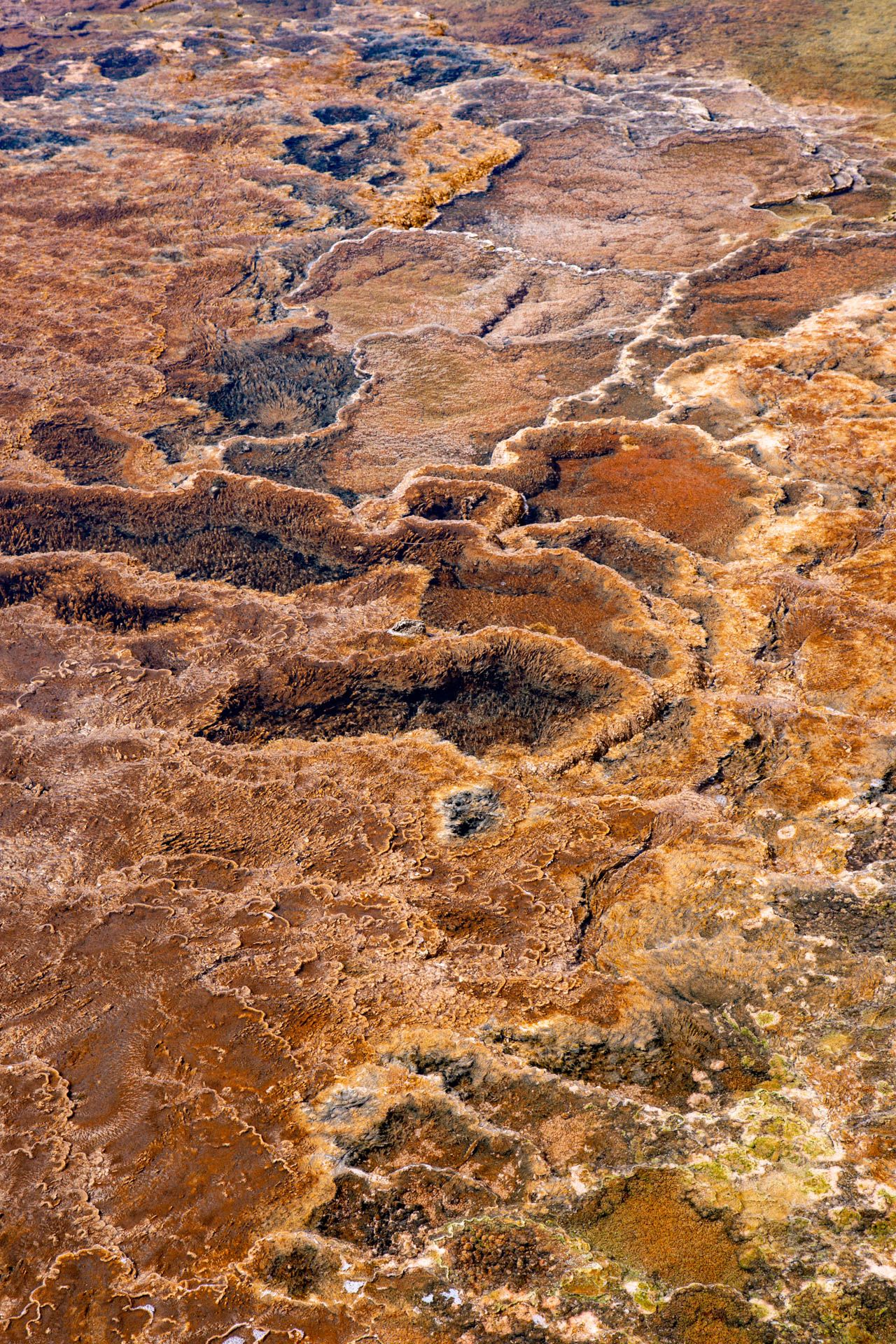 Dotted around the park in each small town that forms a 'visitor campus' are post offices! This one in Mammoth Springs is by far the most formal and grand of the bunch. Some are just wooden huts.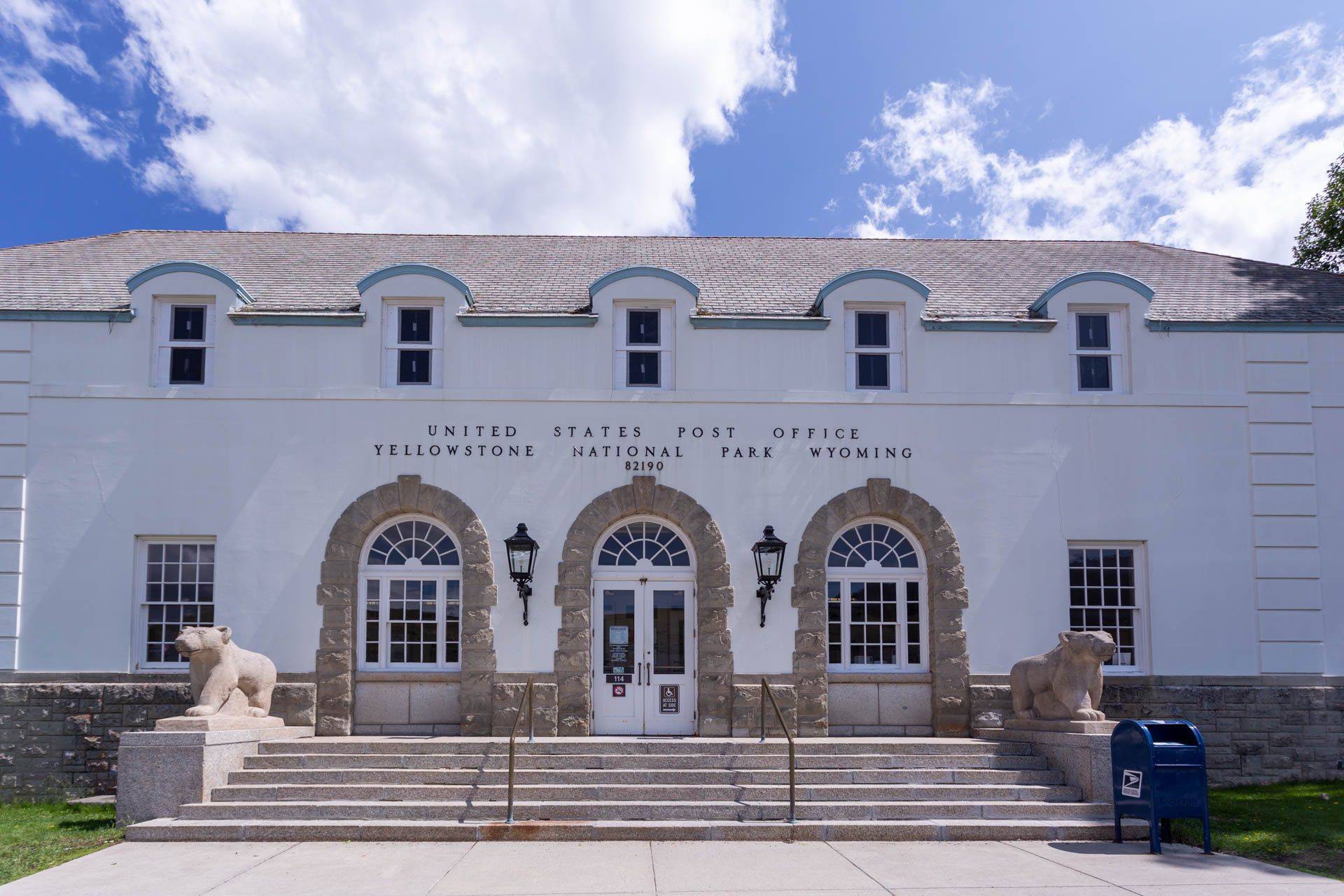 After a delicious lunch in the Mammoth Hotel restaurant I deployed one of my favourite tourist hacks. Should you require, mid roadtrip, some alone time - if you know what I mean - then try the following. Find a nice hotel in town, maybe a Hilton brand or something that is of a decent size (say 50+ rooms) so that you fade into the background as you enter. They'll almost always have bathrooms in the lobby and somewhere comfy for your long suffering companions to wait should they need to (and wifi!). Not only are these likely to be an order of magnitude cleaner than the average park or gas station toilet but they'll also probably be completely deserted. And, you'll probably get at least 2 ply depending on how nicer hotel you chose!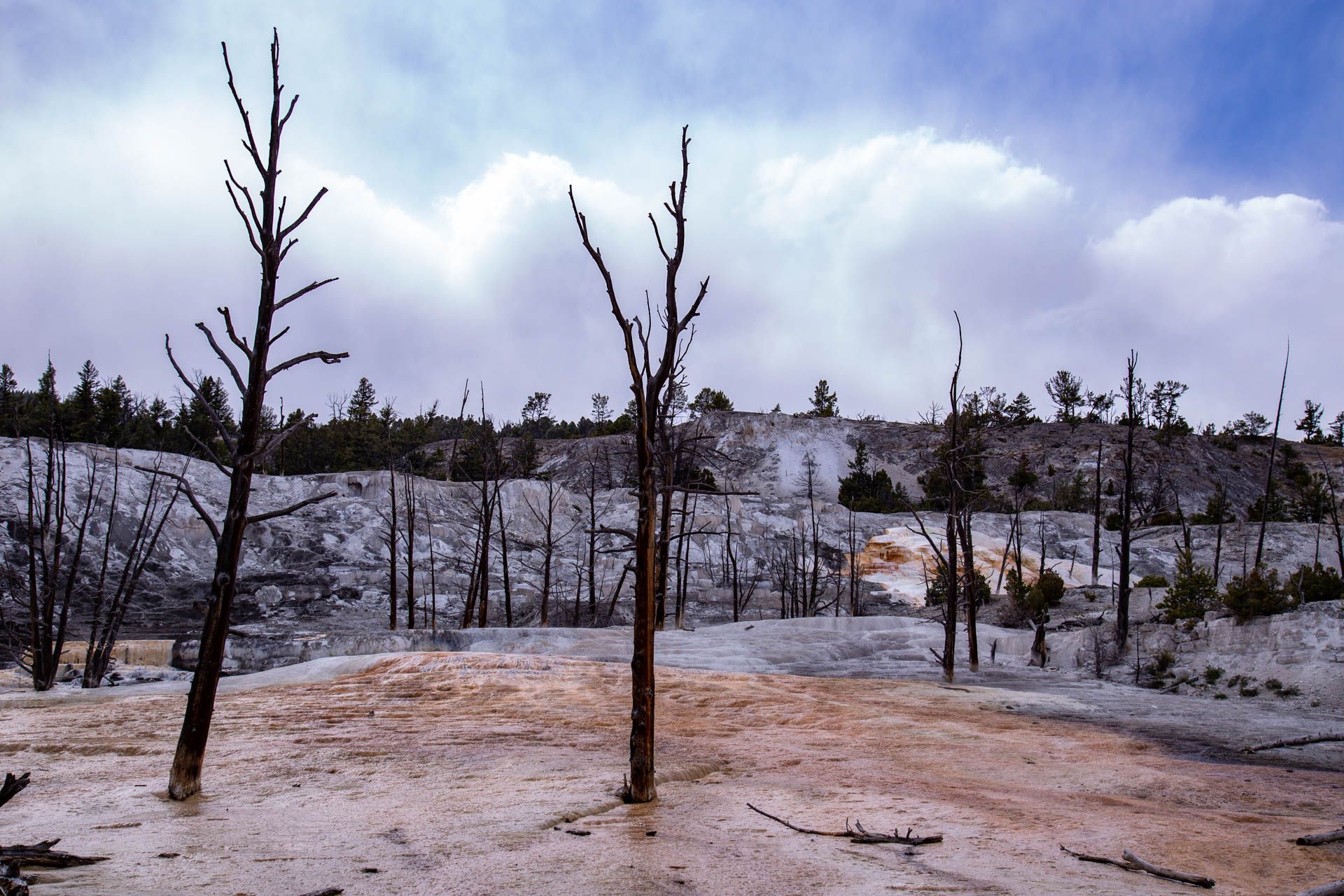 We took a post lunch stroll around the springs and soaked up the sulphurous pong that hung in the air. In a fine example of the drive-by tourism that I bemoaned a few days ago we found a spot by the "Orange mound" that captured my opinion perfectly. We noticed that most people drove by this amazing spring and slammed on their brakes in almost the exact same spot everytime. Scrabbling around in their cars after a second or two, sure enough there was the phone camera pointed at the spring. Snap. Ok, next! I'm sure their pictures were fine but it made for an excellent timelapse.
As we left Mammoth Springs behind it was mid afternoon. We set the sat nav for Shoshone Lodge approx 2 hours away and had an ETA of around 1730. We didn't arrive until gone 9 such was the incredible afternoon we had.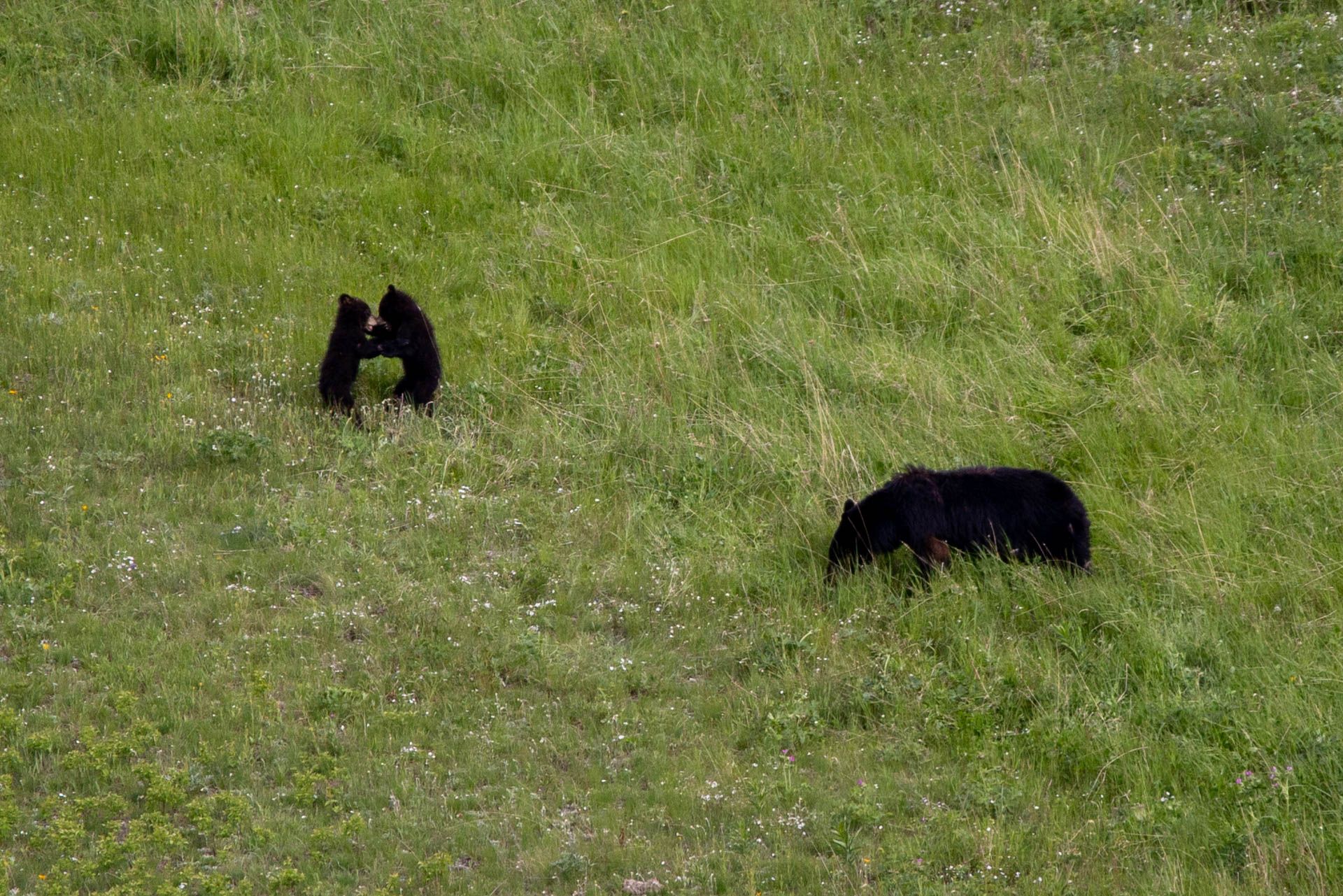 Driving around the Northern loop of the Grand Loop road towards the North East of the park we saw a Ranger directing traffic. That usually means one thing, wildlife. Sure enough, a black bear was just off the road.
A few miles down the road, no ranger this time, a bear and her two cubs on the other side of the valley. My 150-600mm sports lens got a good workout today. These guys must have been 0.5 of a mile away and it was extremely windy which made getting a stable shot, even with a monopod quite tricky.
I just watched the two bear cubs play fighting for what must have been half an hour. The long suffering mother occasionally splitting them up. But as soon as her back was turned, guess what...
We drove onward only for a Wolf to run across the road right in front of us. A hot second and it was gone in the undergrowth, so no picture.
A few minutes later and we were caught in a blizzard as we crested Dunraven pass near Mt Washburn. The weather changes so fast here that 5 minutes later and we were in bright sunshine again.
Thinking that we'd seen all the wildlife for the day we were wrong. We just cleared highly trafficked Canyon village and joined the back of a short queue of cars strewn all over the road. The reason became apparent quite quickly as another bear sauntered across the road about 5 cars in front of us. We overtook the bear, respecting the rules and not getting out of our vehicle (unlike many others). It was frankly unbelievable how many people were maybe 1 or 2 car lengths away from a BEAR just snapping selfies and phone cam pics. How can you be so STUPID!?
Anyway, that's their lookout I guess. I popped out the sunroof of the car and fitted the sports lens again thinking I'd need all the zoom range I could get. However, the bear then started mooching along the side of the road right towards us.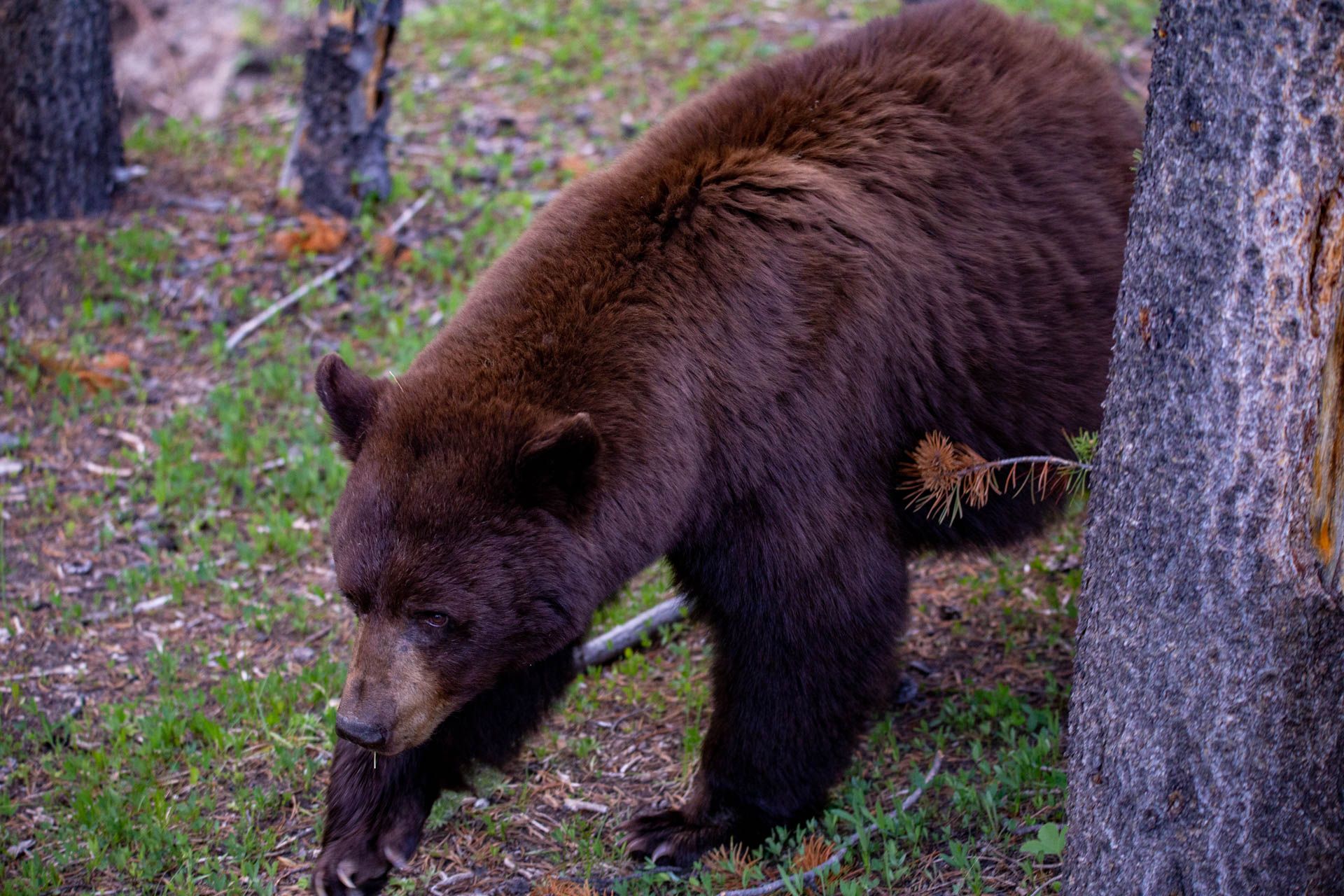 I do mean it when I say our intention was to remain a safe distance but the bear walked to within touching distance of our car. If Cat's window was rolled down she could have shaken his paw. It was a little butt-clenching moment even inside a car but so cool and extremely memorable.
That was us for the day then. We weren't going to see more than this? Right? A pack of Wolves decided to make themselves visible as another snow storm rolled by, this one more potent than the last. These shots were taken across a huge valley, perhaps a mile or so wide. So this was really pushing the zoom lens to the limit but I'm quite pleased with the results considering. The fuzz is rain.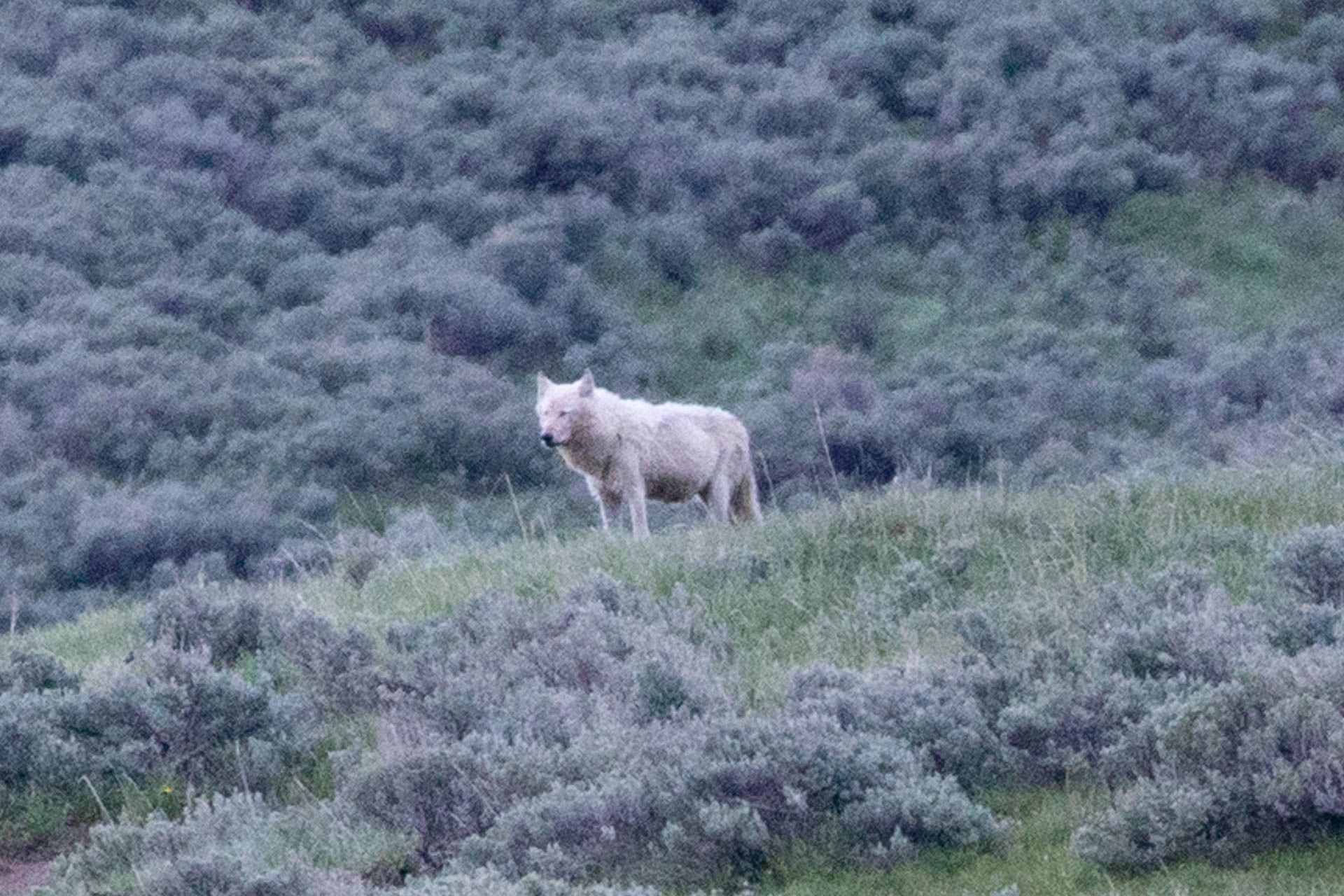 Now, can you spot the third Wolf below?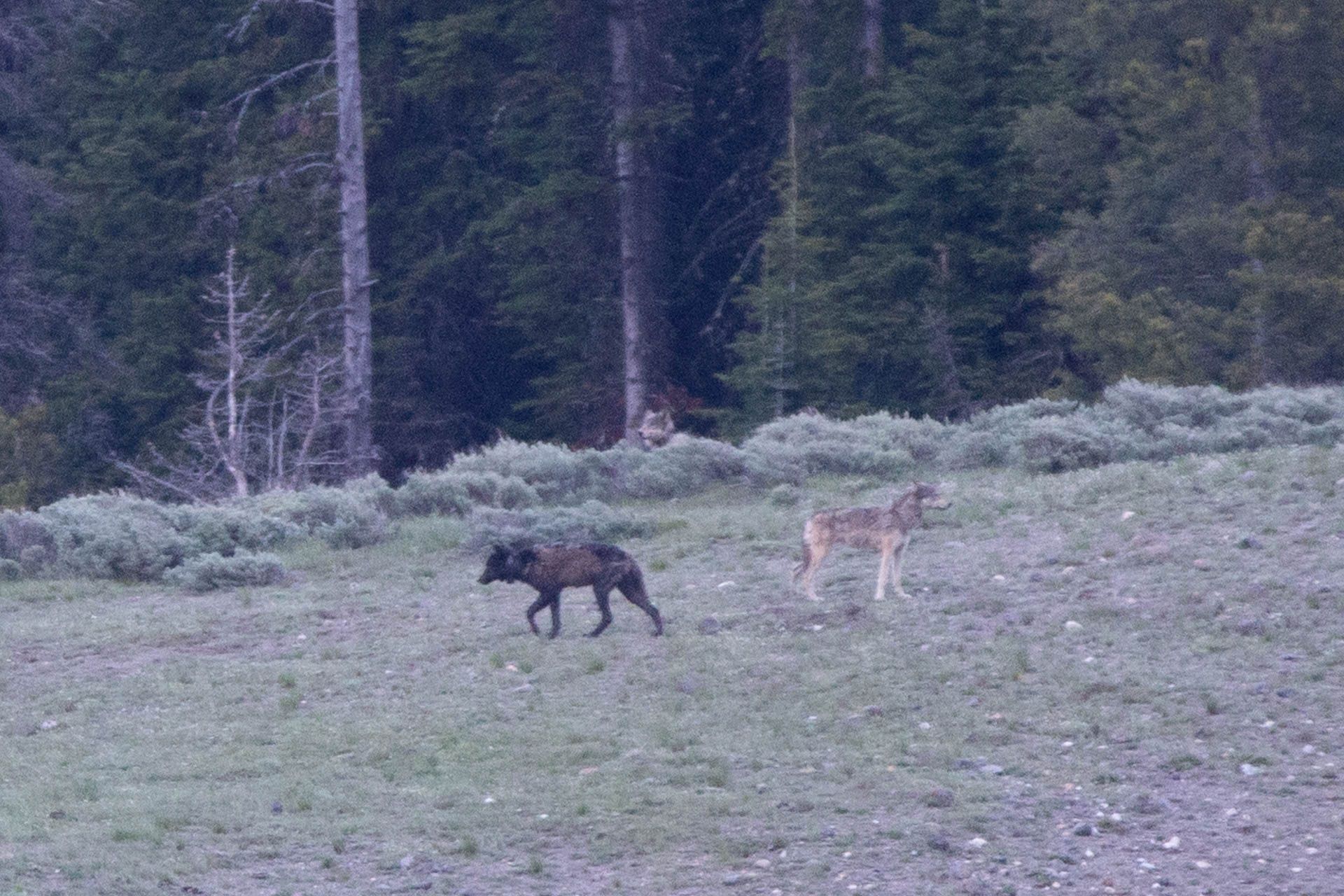 A herd of Elk with young were a little further down the valley. As we were watching our own version of Animal Planet unfold between the Wolves and the Elk the snow closed in and we decided it prudent to get out of there before we were unable!
What an incredible day. Just one thing after another. The temperature dropped considerably today compared with the last few days and we wondered if this made the wildlife more active as they weren't out sunbathing any longer? Maybe a top wildlife spotting tip from me to you there!